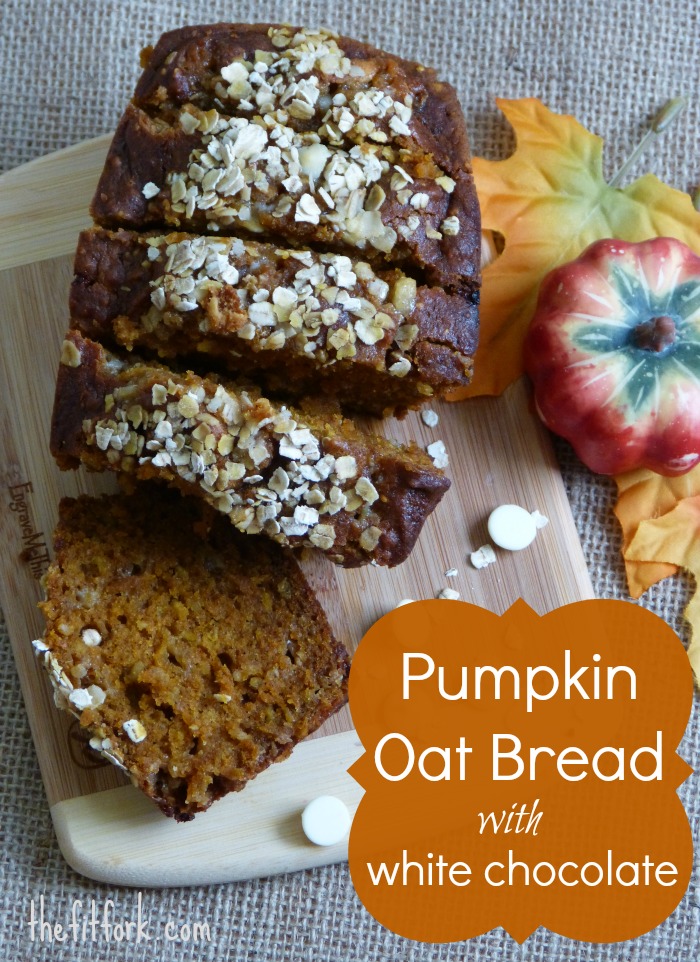 Feed your face . . . I mean soul . .  with this wholesome recipe for a fall season-inspired, no-fuss pumpkin quick bread.  This autumn recipe for Pumpkin Oat Bread with White Chocolate Chips is all treat with just a few tricks tossed in to make it a touch healthier than the traditional pumpkin bread I grew up baking. For example, in lieu of some of the sugar, I've used a Stevia blend and also reduced part of the oil with extra pumpkin puree for added moistness. Additionally, instead of using entirely all-purpose white flour, I swapped in oats for extra fiber and texture. Oh, and those white chocolate chips are a sweet splurge, but you could substitute nuts or dried fruit.   And, if this flour-y pumpkin bread recipe doesn't float your boat, I have a gluten-free, paleo friendly Chocolate Chip Cranberry Pumpkin Bread I created last year.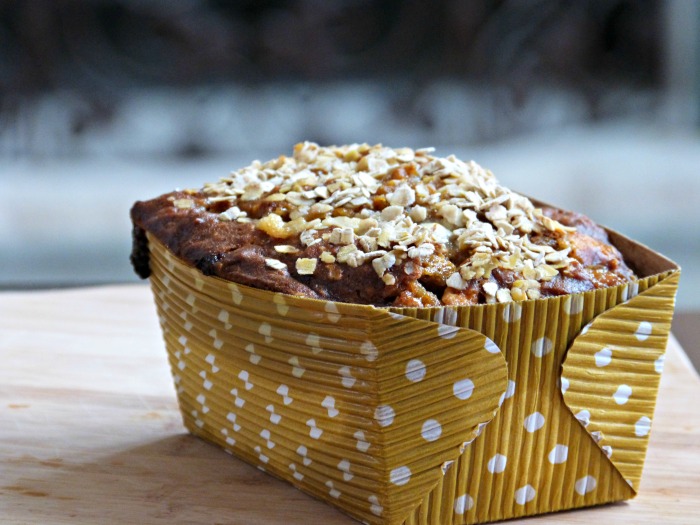 Pumpkin Oat White Chocolate Chip Quick Bread Recipe
2 large eggs
2 tbsp. milk of choice (dairy, soy, almond, etc)
3/4 cup stevia baking blend
1/2 cup light or dark brown sugar
1 (15-oz) can pumpkin puree (about 1 ½ cups)
1/3 cup oil of choice (canola, olive, coconut, etc.)
2 tsp. pumpkin pie spice
3/4 tsp. salt
1 tsp. baking powder
1 cups all-purpose flour
1 cup old fashioned oats (divided)*
¾ cup white chocolate chips
Preheat oven to 350 F degrees.
In large bowl, whisk together eggs and milk. Stir in oil, pumpkin puree, and sugars until well combined.
Stir in pumpkin pie spice, salt and baking powder until well combined. Next, stir in flour and ¾ cup of oats. Gently fold in white chocolate chips.
Lightly spray loaf pans with cooking spray. Pour batter into one large load pan or divide equally among three mini loaf pans.  Sprinkle tops of loaves with remaining ¼ cup oats.
Bake in center of oven for approximately 60 – 70 minutes for large loaf and 35 – 40 minutes for mini loafs, or until toothpick inserted into the center pulls clean.
Remove from oven and let cool completely on wire racks before removing and slicing. Bread may be stored in the freezer for up to 3 months.
Makes one large loaf or three mini loaves.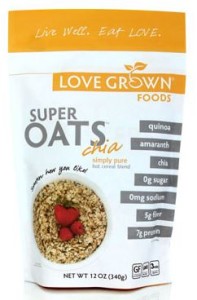 *You can use any oats you prefer – gluten-free, old-fashioned or quick oats.  I actually used Love Grown Foods® Super Oats (Simply Pure variety) – these awesome oats throws in extra like quinoa flakes, amaranth flakes and chia seeds. It's meant to be eaten as a hot breakfast cereal, but makes a really wholesome recipe ingredient too!  BTW, this isn't a sponsored post; I just really like the oats!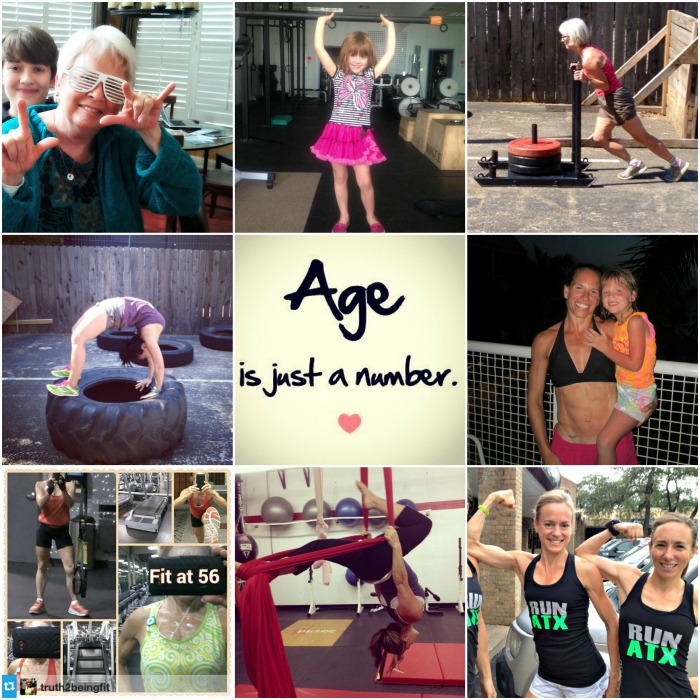 I also want to share with you some of the ladies who responded to my #LoveYourAge shout out – they are rocking life and proving that age is just a number. I also remind you of the upcoming #R3Summit  (Refresh, Revive, Reinvent) being put on by Prevention magazine October 16 & 17th in Austin.  Register and use discount code R3VIB for $20 off your ticket.
Do you eagerly await for the arrival of pumpkin flavored foods in the fall? What is your favorite pumpkin food?