The kids have the whole week off school for Thanksgiving and they want pancakes for breakfast  . . . every day! My recipe for Apple Protein Pancakes with Sugar-Free Cider Syrup wins for convenience and taste. It relies on boxed pancake mix (you can use whole wheat) and jarred applesauce.  I originally developed this recipe for Litehouse Foods (they have the best apple cider), but later tweaked it for my own use by using a couple scoops of vanilla protein powder.  I just find that after eating pancakes, I get the "hangries" unless I've balanced it with a little more protein.  Oh, and the syrup doesn't have any added sugar, a huge bonus considering the way my kids pour it on without discretion.  If you'd rather do the no protein powder version, get the recipe here.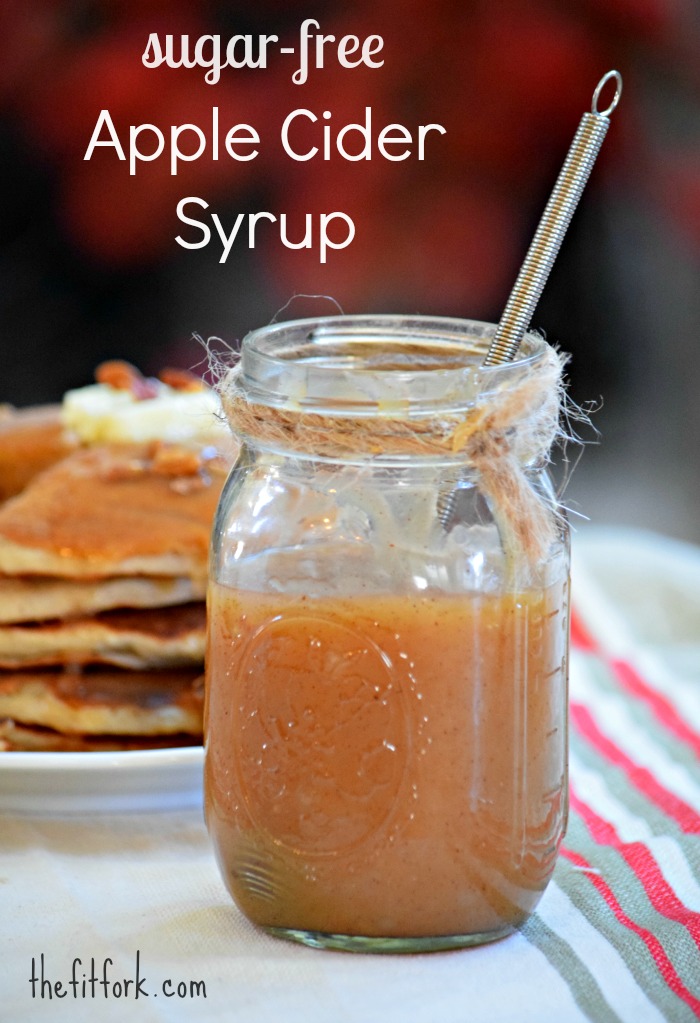 Apple Protein Pancakes with Sugar-Free Cider Syrup
For Pancakes:
2 cups "complete" pancake mix (the "just add water" type)
2 scoops (about 2/3 cup) vanilla or unflavored protein powder
1cup unsweetened applesauce
1 cup apple cider
For Syrup:
2 tablespoons cornstarch
1 ¼ teaspoon liquid Stevia (or any sugar  substitute to achieve a ½ cup sugar equivalency) I used NuNaturals
1 teaspoon cinnamon
2 cups  apple cider
2 tablespoons lemon juice
3 tablespoons butter
1. Heat electric griddle to 375 F degrees or skillet over medium high.
2. In bowl, combine pancake mix and protein powder with a whisk until blended. Stir in applesauce and apple cider until slightly smooth. If batter is too thick, stir in a scant amount of water or more apple cider to thin.
3. Pour batter onto hot griddle using 1/3 cup measure. Cook for approximately 1 to 1 ½ minutes before flipping. Pancake is ready to flip when edges are pulling away and bubbles on top have slowed down.
4. Flip pancakes with spatula and cook for approximately 45 seconds to 1 minute longer. Repeat for remaining pancake batter.
5. Meanwhile, prepare syrup by mixing cornstarch, sugar substitute and cinnamon together in a saucepan with heat off.
6. Gradually whisk in the cider and lemon juice and cook over medium heat stirring frequently, for 4 to 5 minutes, or until thickened
7. Remove syrup from heat and stir in butter. Serve warm over pancakes and store leftovers in the refrigerator.
Serves 6 (2 pancakes each)
 More pancake recipes for hungry people:
 My little secret trick — just swap out Core Power for the milk or water in your pancake recipe.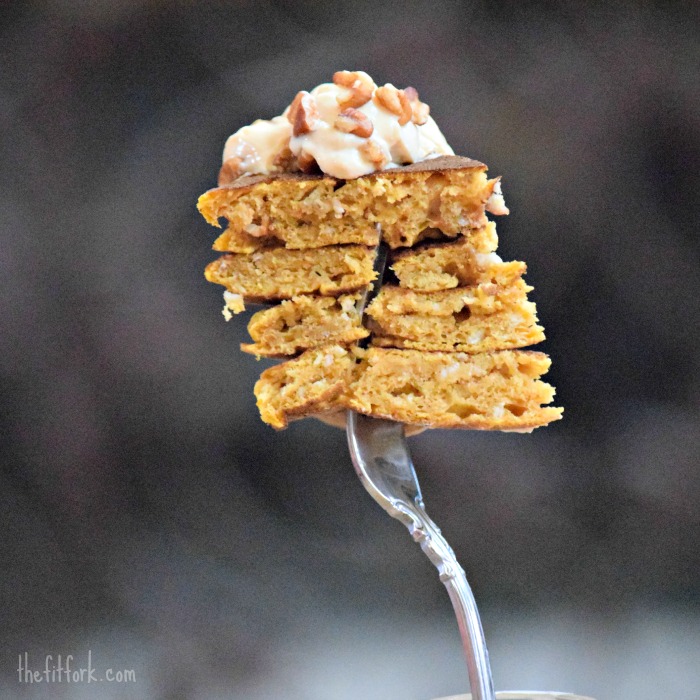 Pumpkin Oat Pancake – Yum, these pancakes are pure fall goodness from the griddle — I like to use Love Grown Foods Super Oats to add a little extra nutrition with quinoa flakes, amaranth flakes and chia.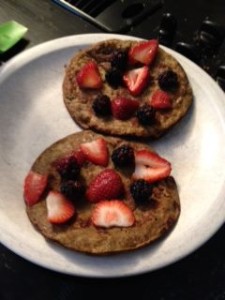 Pre-Race Paleo Pancakes – This is my go-to super healthy pancake recipe from a CrossFit superstar friend, Stephanie from Missouri.
If you need to stock up: