This blog is part of a social shopper marketing insight campaign with Pollinate Media Group® and Aloha, but all my opinions are my own. #pmedia #myAloha and #AlohaMoment  http://my-disclosur.es/OBsstV
With the holiday season in full swing AND my plan to carbo-load for the Dallas Marathon (which was on Sunday, that's another story for another day), I broke out of my normal eating routine last week to indulge in some scrumptious baked goods! Even though I had Christmas cookies and a big bun with my burger, I was mindful of not eating a ton of low-quality carb crap.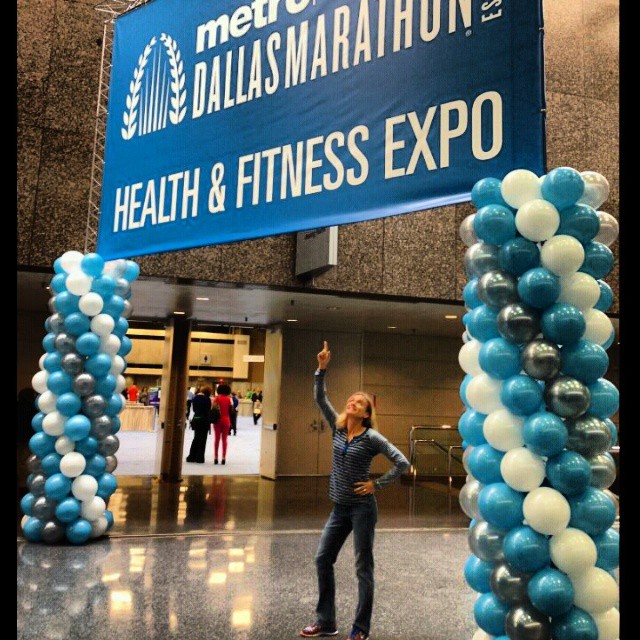 Despite the marathon carbohydrate mission, I wanted to keep balance in breakfast. My days are just much more productive when I've started off with enough protein. One trick I rely on to up my intake is to sneak protein powder into recipes for pancakes, muffins, quick breads and such. My favorite recipe coming out of the oven this week was a batch of Baked Gingerbread Protein Donuts with Lemon Icing – and these little delights are gluten-free and paleo-friendly and actually low-carb enough for me (and hopefully you) to enjoy any day!
You will not believe the delicious homemade seasonal scent that wafts through the house as these donuts bake. Am I tempting you yet? Keep reading for the recipe!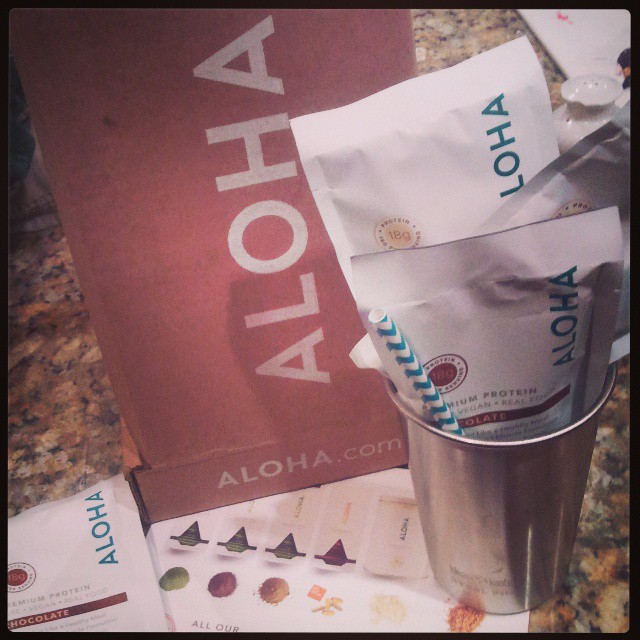 Yup, I stirred Aloha Premium Protein Powder right into the batter (and even icing) for these delicious baked donuts. Aloha comes either in a big tub or packets – I like the pre-portioned packets for convenience and each one features 18 grams of plant-based protein along with vitamins, minerals and other essential nutrients. Perfect for vegetarians, vegans and everyone, this great-tasting product (which comes in chocolate and vanilla) helps ensure that you're getting the complete chain of amino acids. Plus, there are no artificial flavors, artificial sweeteners, animal products, fillers or chemicals of any kind. 
I also want to mention that my donut recipe below is also gluten-free and fits in with a Paleo style diet – made with protein powder along with almond meal, stevia and other healthy ingredients, these donuts not only taste good but will keep you feeling good.
Baked Gingerbread Donuts with Lemon Glaze Recipe
Ingredients for donuts:
3/4 cup almond meal
1 cup gluten-free baking blend
2 packets Aloha vanilla protein powder (reserve 1 Tablespoon for icing)
1/2 teaspoon salt
1/3 teaspoon baking soda
2 teaspoons ground ginger
2 teaspoons ground cinnamon
1/4 teaspoon ground cloves
1 tablespoon stevia powder (1:2 stevia to sugar ratio)
3 large eggs
1/3 cup coconut oil
3 tablespoons unsulphured blackstrap molasses
1 teaspoon vanilla extract
Ingredients for glaze:
2 tablespoons coconut milk
1 tablespoon coconut butter
2 teaspoons fresh lemon juice
1 tablespoon Aloha vanilla protein powder
1 tablespoon stevia powder (1:2 stevia to sugar ratio)
2 tablespoons lemon zest
 Preheat oven to 350 F degrees.
In medium bowl, mix together almond meal, gluten-free baking blend, protein powder (2 packets minus 1 tablespoon), baking soda, salt, ginger, cinnamon, cloves and stevia power,  making sure there are no clumps.
In another bowl whisk together eggs; whisk in molasses, coconut oil and vanilla. Mix together these wet ingredients with dry ingredients until well-combined, but not over-stirred.
Spoon batter (or use piping bag) into 12-count mini donut pan, filling approximately 2/3 full.  Bake in 350 F degree oven for approximately 12 minutes, or until turning golden brown.
Remove donuts to baking rack to cool completely.
Meanwhile, mix together coconut milk, coconut butter, remaining 1 tablespoon protein powder, lemon juice and stevia. Drizzle over cooled donuts and sprinkle with lemon zest.
Makes 12 mini donuts.
Also as a clean-eating, fitness enthusiast, I enjoy a smoothie or recovery shake made with protein powder for my morning meal or recovery. But, I can be picky about texture, taste and macros when it comes to supplementation.  A chocolate berry smoothie made with Aloha Premium Protein Powder is one of my go-to beverages after an intense workout during warmer weather (I aim for between 10 – 20 grams of protein within 30 minutes to assist with muscle recovery). But, it's also smart to start off the day with protein, so I often mix Aloha into a hot morning drink, in nut butter, or in all types of batter – like with the Baked Gingerbread Protein Donut recipe above!
If you'd like to sample Aloha Premium Protein Powder (while supplies last), check out their free 14 days trial (a monthly subscription, but no-hassle to cancel if not right for you). You can also follow them on Facebook (Aloha), Twitter (@aloha), Pinterest (@alohamoment) , or Instagram (@alohamoment).
What is your favorite way to use protein powder?