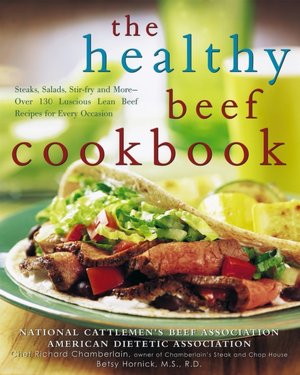 Beef can be an important part of a healthy lifestyle; there are 29 lean cuts of beef that are surprisingly low in fat and deliver important nutrients. But, if you're anything like yours truly, you may not be confident in your skills to bring great-tasting, health-promoting lean beef dishes to your table on a regular basis. Well, worry no more! The Healthy Beef Cookbook (John Wiley & Sons, 2006) shows you how to use lean beef to add excitement, ease, and an epicurean flair to all types of dining situations from quick and easy dinners for the family to special occasion entrées for company.
And, for one of my lucky readers, I have a copy of this compendium of healthy meal ideas to give away.  Giveaway at bottom of blog post. The American Dietetic Association and the Beef Checkoff Program combined their expertise to produce more than 130 delicious recipes, the latest nutrition information, and cooking techniques to create tender, moist, flavorful beef dishes every time.  Nearly 75 percent of the recipes in The Healthy Beef Cookbook have less than 400 calories per serving.
Not only do I have a giveaway copy, it is also personally signed by the one of the authors, Chef Richard Chamberlain (owner of Chamberlain's Steak and Chop House in Dallas, Texas. Last month I was a guest in his home and got to stand grill-side while he demonstrated beef-cooking techniques and then graciously served me perhaps the best beef filet of my life (topped with his fabulous fig compote).
I've included one of his healthy recipes from the cookbook; it's a "makeover" of lasagna, always a great meal for the busy holiday season. My suggestion is to double the recipe for convenience. Make one to keep on hand for a quick supper after a long day of shopping, visiting with Santa, and Christmas-light looking and then stash away the other one in the freezer for unexpected company. Unlike most lasagna recipes which have a gazillion calories and are loaded with fat, this lean beef recipe has just 520 calories, 12 grams of fat, and 47 grams of protein. Compare that with a certain chain restaurant who serves a "Lasagna Classico" with 858 calories and 47 grams of fat!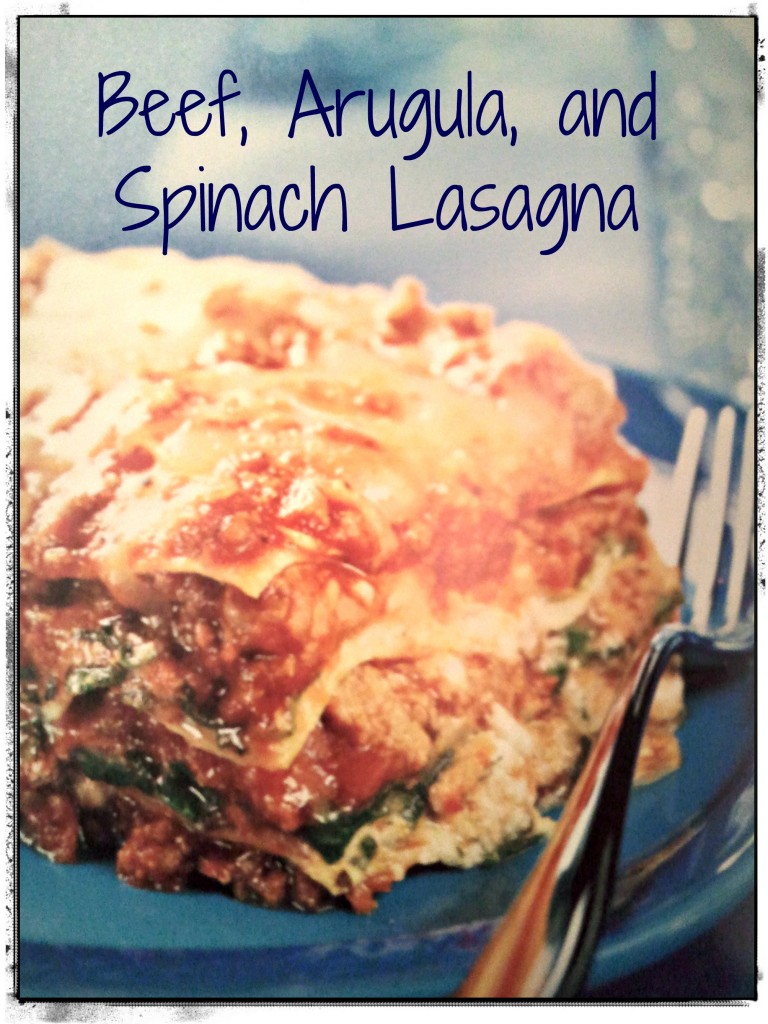 Beef, Arugula, and Spinach Lasagna Recipe
1-1/2 pounds ground beef (95% lean)
2 teaspoons minced garlic
1-1/4 teaspoons salt, divided
3/4 teaspoon pepper, divided
4 cups prepared pasta or spaghetti sauce
2 cups loosely packed fresh baby arugula (about 1-3/4 ounces)
2 cups loosely packed fresh baby spinach (about 1-3/4 ounces)
1 container (15 ounces) fat free ricotta cheese
2 egg whites
2 tablespoons chopped fresh basil
2 tablespoons chopped fresh oregano
9 uncooked oven-ready (no boil) lasagna noodles (each about 6-3/4 x 3-1/2 inches)
1-1/2 cups reduced fat shredded mozzarella cheese
Preheat oven to 375°F. Heat large nonstick skillet over medium heat until hot. Add ground beef and garlic; cook 8 to 10 minutes, breaking into 3/4-inch crumbles and stirring occasionally. Remove from skillet with slotted spoon; pour off drippings. Return beef to skillet; season with 3/4 teaspoon salt and 1/2 teaspoon pepper. Stir in pasta sauce. Set aside.
Combine arugula and spinach. Set aside. Combine ricotta cheese, egg whites, basil, oregano, remaining 1/2 teaspoon salt and 1/4 teaspoon pepper in small bowl.
Spread 1 cup meat sauce over bottom of 11-3/4 x 7-1/2-inch glass baking dish. Top with 3 noodles, 1/2 ricotta mixture, 1/2 spinach mixture, 1/2 cup mozzarella and 1-1/2 cups meat sauce. Repeat layers. Top with remaining 3 noodles and meat sauce.
Cover with aluminum foil. Bake in 375°F oven 45 to 50 minutes or until noodles are tender and sauce is bubbly. Remove foil; sprinkle with remaining 1/2 cup mozzarella. Bake, uncovered, 5 minutes or until cheese is melted. Let stand, loosely covered, 10 minutes before serving.
Recipe as seen in The Healthy Beef Cookbook, published by John Wiley & Sons
Nutrition information per serving: 520 calories; 12 g fat (5 g saturated fat; 3 g monounsaturated fat); 127 mg cholesterol; 1260 mg sodium; 49 g carbohydrate; 5.1 g fiber; 47 g protein; 8.1 mg niacin; 0.4 mg vitamin B6; 2.3 mcg vitamin B12; 6.0 mg iron; 20.3 mcg selenium; 6.1 mg zinc.
This recipe is an excellent source of fiber, protein, niacin, vitamin B6, vitamin B12, iron, selenium and zinc.
The Healthy Beef Cookbook Giveaway