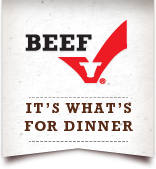 I recently got back from a fun experience in Chicago with the Beef. It's What's For Dinner people. A group of us food bloggers with an affinity for healthy living (and eating meat) were invited to learn more about the role lean beef plays in #LivingWell.  Those of you who read my blog on a regular basis know that I am not shy when it comes to singing the praises of beef.  I often work with beef in cooking demonstrations and it's a mainstay on many of the menus I prepare for my husband and three teen boys. Plus, I'm on the Texas Beef Team and fueled by the 29 cuts of this lean protein source. It's high in protein and a super-efficient source of nutrients like iron, zinc, selenium and B vitamins that are important for athletic performance and recovery.
I have more to say about this awesome #LivingWell event next week when my team puts the finishing touches on writing out our fabulously creative beef recipe we came up with during an Iron Chef-like competition. But, the whole experience reminded me just how easy it is to make a quick, healthy and creative meal with any leftover beef that may be sitting in the fridge. For dinner tonight, I whipped up these seasonally scrumptious Beef Pumpkin Tostadas with Chipotle Crema.  For the beef, I used the remnants of lean, center-cut brisket from a meal earlier in the week – but other beef leftovers could easily be substituted – try shredded roast, ground beef or thinly sliced top sirloin steak.
Beef Pumpkin Tostadas with Chipotle Crema Recipe
8 whole grain tortillas
 1/2 cup pumpkin puree from can (not pumpkin pie filling)
1/2 cup black beans
1/3 cup salsa
4 oz pepper jack, shredded
3/4 lb. leftover beef of choice
1/3 cup light sour cream
2 teaspoons ground chipotle powder
1 teaspoon Tabasco sauce (chipotle flavor, if available)
2 Tbsp. roasted, salted pepitas (pumpkin seeds)
Garnish: spring mix
Create hard tostada shells out of the tortillas by microwaving them in groups of three for one minute at a time, flipping after each minute and repeating until crunchy.
In blender or food processor, blend together pumpkin, black beans and salsa. Spread equal portion of pumpkin mixture on tortilla. Set on rimmed baking sheet.
Sprinkle with approximately ½ ounce of cheese and top with approximately 1.5 ounces of beef.
Broil on high until cheese is bubbling. Remove from oven and set aside.
Mix together sour cream with chipotle powder and Tabasco.
Sprinkle with spring mix lettuce and roasted pepitas. Drizzle with chipotle crema.  Serve warm
Makes 8 tostadas, about 4 servings.
More to come on the Chicago trip, but I did take my signature "run the city" one-hour speed tour — here I am at the famous big silver bean!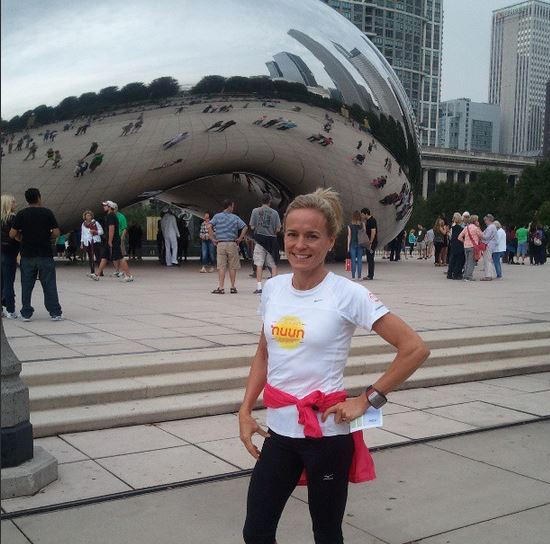 And, other good news for the week — got hooked up with some new Karhu shoes and found my lucky lady bug earrings.