I have been in a running rut for about a year and a half.  With more than 25 years of running behind me, this isn't the first time I've felt stale and unmotivated about running – but it's definitely the longest lull in my love for the sport.  I've implemented many of the rut-busting running tips that experts recommend – heck, I pretty much am an expert, for what it's worth. I've reduced my mileage and taken rest and recovery seriously, varied my race distances and cut back on racing, adjusted my goals and added variety to my routine with other fitness activities like CrossFit and yoga. But, nope, still not having that warm fuzzy about running –especially racing.
I decided to enter the Spartan race when it rolled into Austin a couple weekends ago to "try something new." I really had no expectations. Primarily, because I had never done an obstacle race before and didn't know what to expect. And, also because I knew there would be no benchmark for comparison that my overly self-competitive mind could obsess over. I couldn't "lose," be let down or feel like a failure, because this race (I convinced myself) was just a fleeting novelty that I wasn't really that invested in.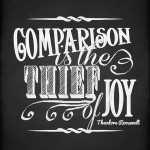 Oooh, comparison is the thief of joy, there is so much truth to that statement and I have robbed myself of many positive race experiences because I have tried to measure up with many things – my past abilities, other's talents, and such.
So, I just went out to Spartan and soaked up the big AROO at the start. Took off and just did my thing. For the first time in a long time I enjoyed the challenge and burn of the course and that feeling that I might not live to see the finish line but down deep know I will. I took the challenges one by one and made it – I didn't stop to think how well someone else may or may not being doing it compared to how I was performing. I just tore through the course like I was on a fast and fun mission.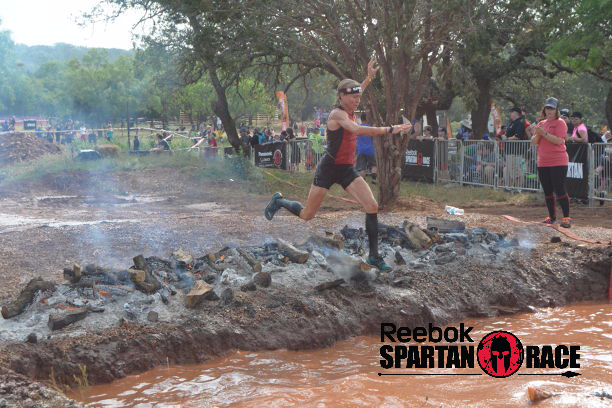 I jumped through the fire obstacle and into the pond and was grinning ear-to-ear about the experience. I knew I was near the front of my heat, but didn't know or care what my finish time was – it wouldn't have meant anything compared to my PRs in the marathon or a 5k. I couldn't compare! I took my finishers medal (the one's I usually scoff at a marathon) and slung on the bling everyone gets with pride. Actually, in this pic I have it off because I had just entered a post-race pull-up contest and didn't want to be weighed down – lol!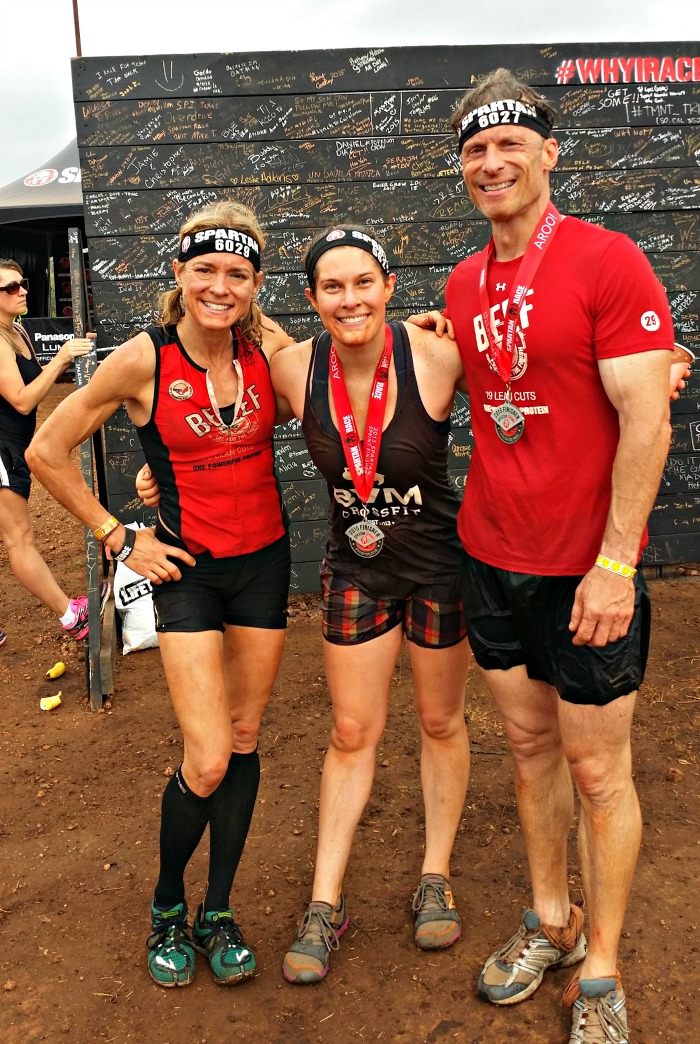 That's right, I kicked these challenges right in the butt and busted out of my running rut in the process. Of course, I'm dying to run another obstacle race ASAP – but also feel like I have a renewed mood to race on the road again and have my eye of the tiger back.  Whahoo!
The next day when I checked the results, it did knock my socks off a little that I was 2nd Overall in the women – I totally didn't see that coming. In some ways I wish I didn't even know that. I'll take it gladly, but it didn't make me any happier or more joyful about finishing the race. And maybe that's the biggest lesson learned coming out of this rut – just enjoy each experience for what it is and not worry so much about the past or future. Aroo!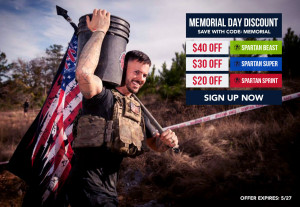 So, have you ever run a Spartan race?  From now until May 27, 2015, they are having a special promotion where you can save up to $40 dollars on a race. That's a nice chunk of change to save – I'm going to spend my savings on arm sleeves to keep the elbow scrapes away and extra Q-tips for cleaning out my ears – lol!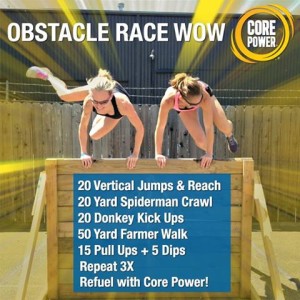 Also, I'm reposting this Obstacle Course workout I put together for Core Power High Protein Shakes a while back!
So, what are your experiences with obstacle course races or breaking out of a fitness rut?  Please share in the comments!!!!