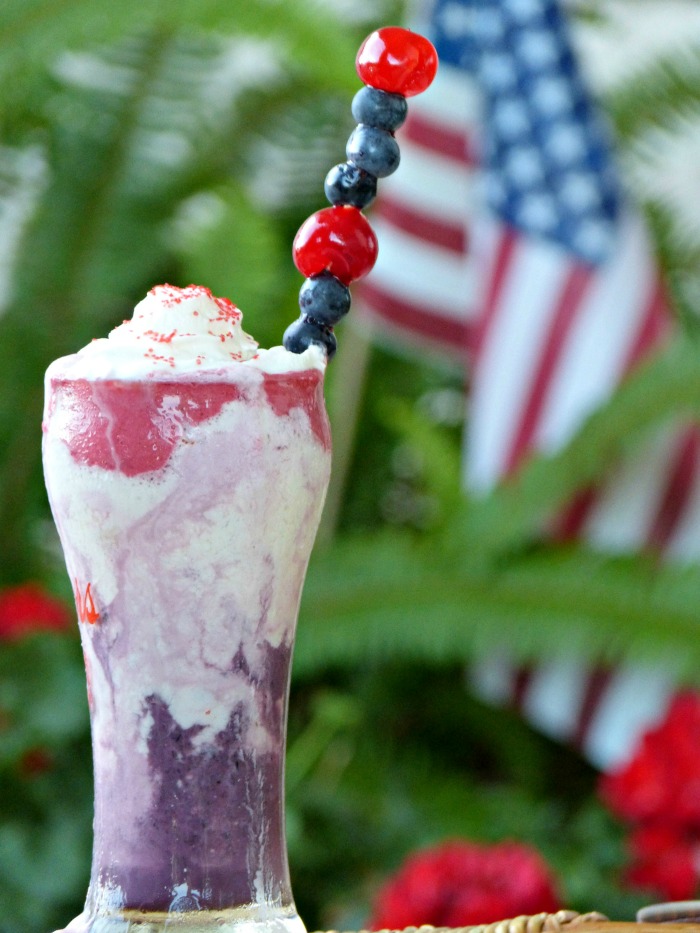 With the family vacation to Washington, DC and the recent celebration of Independence Day, I've been feeling pretty patriotic.  That's why I'm still blending up delicious and nutritious Red, White & Blue Smoothies and declaring my independence from sugary soft drinks. This healthy frozen beverage is perfect for a breakfast that won't have you crashing in an hour or also as a muscle-making post-workout treat.
Red, White & Blue Protein Smoothie
1 (11.5 oz.) bottle Vanilla Core Power or milk of choice(divided)
½ cup frozen blueberries
½ cup Greek yogurt
½ cup of frozen red fruit (cherries, strawberries, raspberries, or mix)
Ice, as needed
Whipped cream, sprinkles and fresh fruit (optional garnish)
Blend blue layer first. Add 1/3 bottle of Core Power high protein milkshake into the blender along with blueberries. Blend until smooth, adding ice if needed to thicken up. Divide among two 16-ounce glasses.
Rinse out blender before making the white layer. Add 1/3 bottle of Core Power Greek yogurt and small handful of ice. Blend until smooth and pour over blue layers.
Make red layer by adding the remaining 1/3 bottle of Core Power to blender along with red fruit and ice, if needed. Blend until smooth and pour over white layers.
Top with whipped cream, sprinkles and fresh fruit to garnish. Serves 2.
Tip: Place glasses in freezer during the preparation of each layer to prevent melting. However, if the smoothie does melt together (which happens in the hot summer), it still has an awesome tie-died look. 
This yummy layered smoothie isn't the only colorful thing I have to share today — I'm also pumped for the upcoming Run or Dye 5k race.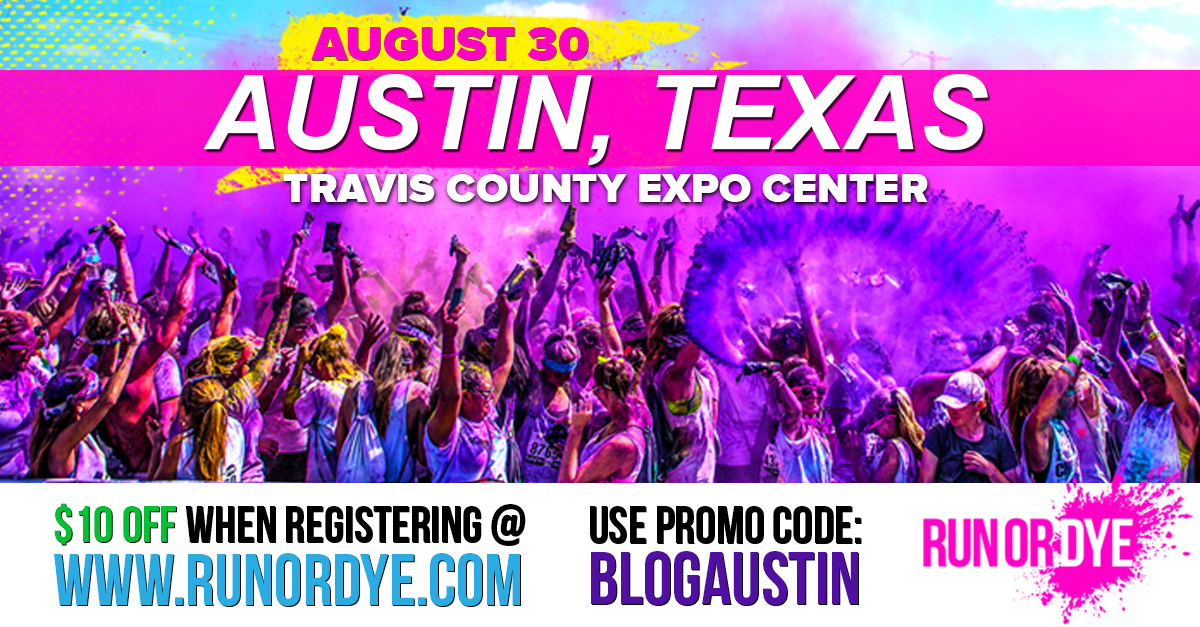 I've run a lot of races in my day, but not one that sounds nearly as fun as the Run or Dye –it's billed as the world's most colorful 5k. Run with your friends or kids to make vivid memories, everyone will long be swapping stories about the color-blasting on the course!  The Austin, Texas Run or Dye 5k is headed to the Travis County Expo Center on the morning of August 30, 2014 and I have a special discount code for you to use – get $10 off admission with the code BLOGAUSTIN .
If you're on the fence, don't be. I'm stepping out of my comfort zone and looking forward to getting messy – and I'm inviting my BRF (best running friend) to join me.  In my opinion, finishing a race resembling a rainbow is so much better than having mud in every body crevice –plus, how much fun to be laughing with friends along the way. So, the deal with Run or Dye is that you wear white running gear  (for the best effect, but you can wear whatever you want) and get sprayed with safe, eco-friendly dye every kilometer on the course – the dye is made with cornstarch and washes off in the shower and allegedly out of clothes (but I wouldn't wear anything new)!
So, doesn't this look like a big, beautiful blast – a riotous rainbow of fun?  After the run, hang out at the Dye Festival and "tie-dye" the sky in an overhead, over-the-top showering of color.  Join the Run or Dye Facebook page so you don't miss out on any of the action. And, don't forget to register for  Austin, Tx Run or Dye race with the code BLOGAUSTIN for $10 off!
So, have you run a Run or Dye or similar race before – what tips do I need to know?! Please share in the comments.