Father's Day is almost here and I'm plan to let my pops know he's tops with a hearty, healthy breakfast. Although the gesture can't compare with the endless years of love and support,  I've received from my father, it does speak to one of our favorite shared hobbies – eating Mexican food!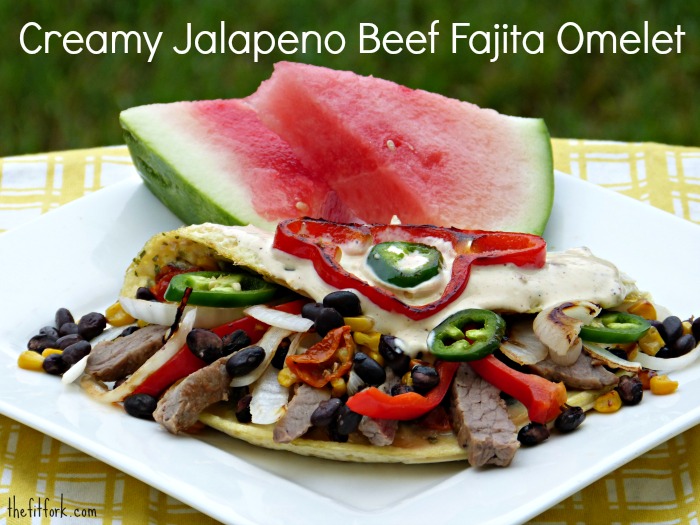 I like to keep my recipes as heart-healthy as possible —  we have a family history issue going on. My recipe for Creamy Jalapeno Beef Fajita Omelet is pumped up with protein from lean beef, eggs and black beans and lower in fat – no cheese was needed thanks to a flavorful assortment of nourishing veggies. I know what you're thinking though – beef for breakfast?! Actually, lean beef is a much healthier option than bacon, pork sausage and many other breakfast meats. For example, 2 ounces of beef skirt steak has about 124 calories and 6.5 grams of fat compared to 306 calories and 23.5 grams of fat for an equal portion of bacon!  I made this recipe on behalf of Litehouse Foods, and used their delicious Creamy Ranch Dressing – just a little dab will do you on this Father's Day breakfast or brunch recipe.
Creamy Jalapeno Beef Fajita Omelet Recipe
Cooking spray
1/4 cup canned black beans that are rinsed and drained
1/4 cup fresh or frozen corn kernels
4 grape tomatoes halved lengthwise
1/4 red bell pepper seeded and cut into ¼" thick rings
1/4 small sweet onion cut into ¼" thick slices and rings separated
½ fresh jalapeno pepper cut into ¼" rings
2 ounces precooked and seasoned beef fajita strips
1/4 teaspoon salt
4 large egg whites (or ½ cup of egg whites from carton)
1 large egg
1 tablespoon chopped fresh cilantro
1 tablespoon chopped fresh red onion
1/4 cup Litehouse Food Jalapeno Ranch dressing
1. Spray medium skillet with cooking spray and add black beans, corn, grape tomatoes, red bell pepper, sweet onion, jalapeno pepper, and beef fajita strips. Sauté over medium-high heat for 3 to 4 minutes or until ingredients are heated through and vegetables have soft-crisp texture. Remove from heat for use later.
2. Combine salt, egg whites and egg in medium bowl, breaking yolk and combining with a whisk.
3. Coat omelet-sized nonstick skillet with cooking spray and bring to medium heat. Pour egg mixture into skilled let egg mixture set slightly.
4. Tilt pan and carefully lift edges of omelet with a spatula, permitting uncooked egg to flow underneath. Sprinkle cilantro and red onion on top.
5. Cook approximately 3 minutes; carefully flip omelet and cook for another minute. Spoon vegetable, beef and bean mixture onto one side of omelet, reserving a red pepper ring and jalapeno for garnish. Carefully loosen omelet with a spatula; fold in half over filling. Slide omelet onto a plate with reserved veggies.
If you're feeding a crowd (or a really hungry father) my Healthy Beef & Egg 'Barn Raiser' Bake will fuel up dad for whatever adventures the morning brings.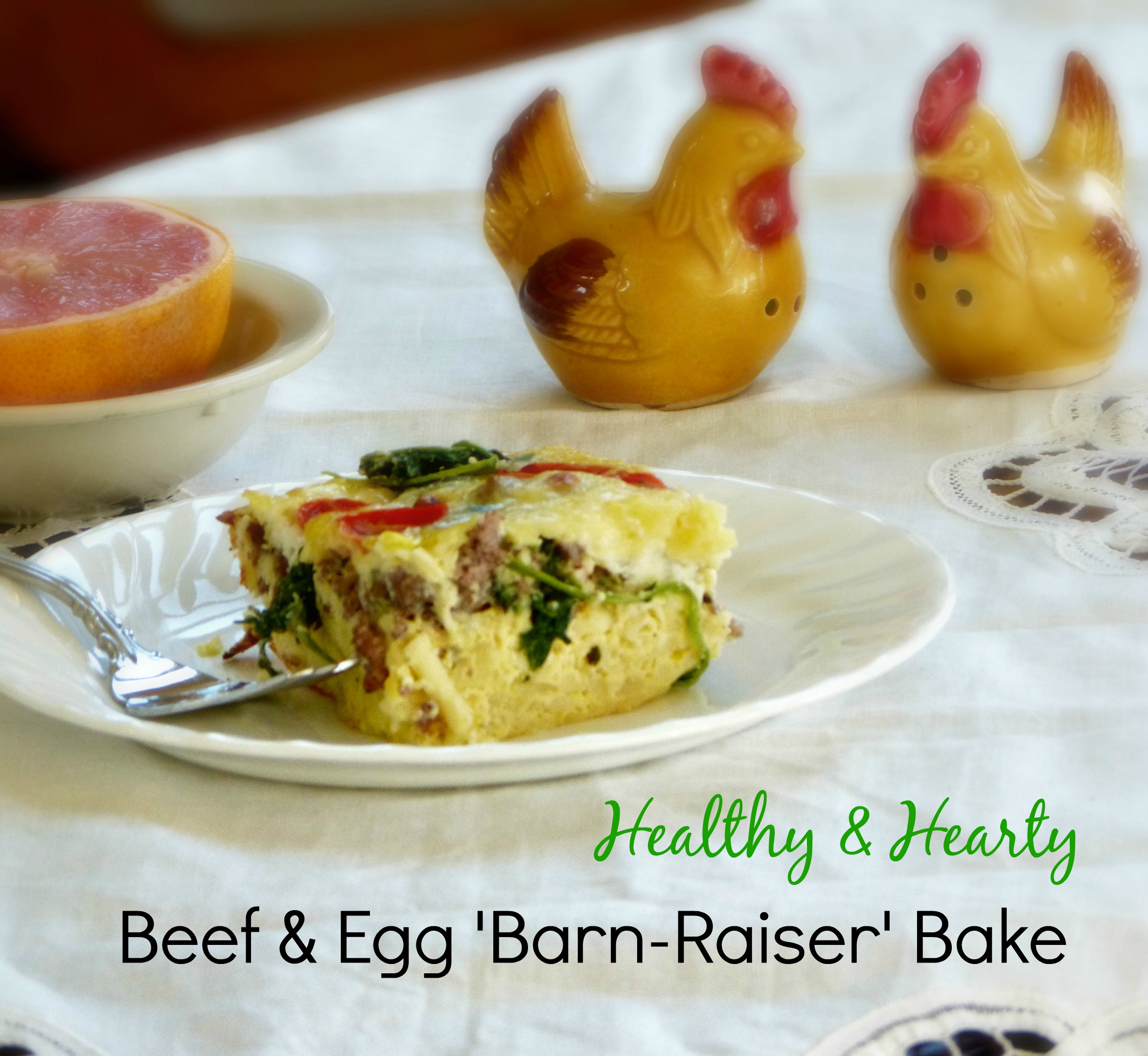 By the way, if you are in Austin, come to one of my "Live Well, Grill Well" classes that will be held at Whole Foods on June 22 & June 28. I will be teaching everyone, including Alex, Booker & Sara from MIX 94.7, how to make their summer meals sizzle . . . not fizzle!

What do you plan to do with your dad on Father's day? Does he have a favorite breakfast?