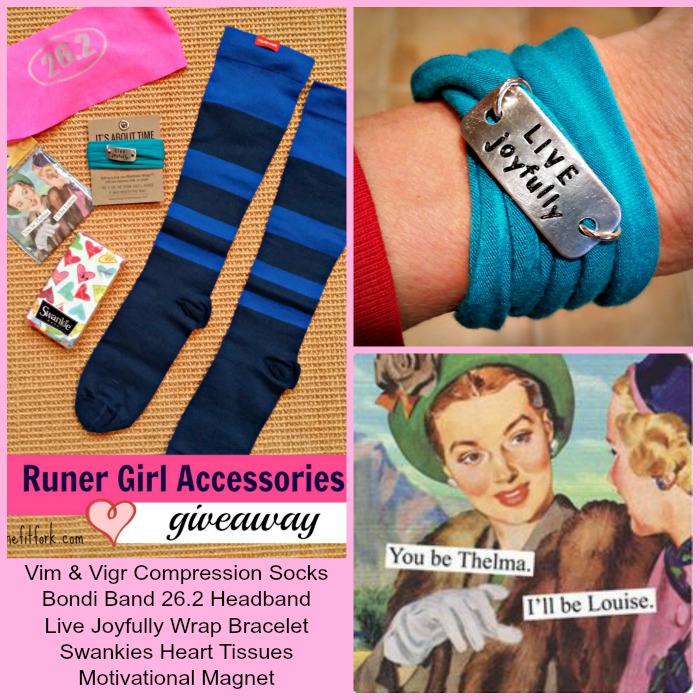 The holidays are a month behind us now and I'm getting a little nostalgic for giving gifts!  That's why I've put together a collection of fitness-inspired accessories that any girl would enjoy for her run or workout. Several of these companies I met at The Running Event trade show in Austin this past December and they were kind enough to give me products to sample and then extra to give away to one of you!  There are five fun little treats in this giveaway (entry at bottom of post):

 Vim & Vigr Compression Socks – I didn't know about this company that makes stylish and effective compression socks until just a couple months ago. So happy to have found them! Vim & Vigr socks are cute and perfect to wear during a run or workout as well as to keep your legs alive if you're stuck all day travelling or behind a desk. If you follow me on Instagram, you've probably noticed I count on compression socks for performance and muscle recovery – they help to increase oxygen delivery, decrease lactic acid, prevent cramps, and minimize muscle fatigue – especially after a hard work out (oh, and I have a fun exercise for you to add to your workouts at the bottom of this post).  Vim & Vigr is my new favorite with so many fun styles for women and men, including the Women's Navy & Cobalt (size M) that I am giving away.

Momentum Designs That Move You – I love how this 20+ year old jewelry company was inspired to create their Momentum fitness line – while looking at a bare wrist during an extremely long and torturous plank. Words of motivation were needed (I can relate) and the Motivate Wrap was born.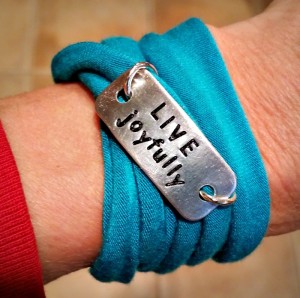 I'm giving away the "Live Joyfully" rectangle motivate wrap, but there are lots of other inspiring choices as well as other products including Foot Notes (inspirational jewelry for your exercise shoes), suede cuffs, necklaces and more.

Bondi Band Headband – this company makes a lot of fun and functional fitness accessories and I am a fan of the moisture-wicking headbands.  Why do I like them, lots of reasons!  First, these fitness headbands keep sweat from dripping down into my eyes and the thin fabric dries quickly. Second, they are wide enough to keep all the bangs, fringes and wild hairs I have from falling into my face while working out (being tickled by my own hair during times of exercise stress is one of my biggest pet peeves). Third, the come in nearly every color and fun phrase combination and you can even place custom orders.
Motivational Magnet – This "I'll be Thelma, You be Louise' vintage-inspired magnet makes me laugh. I thought it would be a fun little accessory to stick on your fridge or front to remind you to hit the road and make a run for it. Also, did you know that there is actually a Thelma & Louise Half Marathon? It's June 5th in Moab, Utah . . . . I may have to do this one!
Swankies Heart Tissues – You never know when you'll need to blow your know and please don't do it on the sleeve of your running jacket.  This small little pack of tissues easily fits in a pocket so you can wipe up (anything) on a long run – I pick hearts because I "heart" running and Valentine's Day is just around the corner.
Looking for a way to mix up your workout — try these "Stand Up" Sit Up to Hand Stands I'm demo-ing with my friend Valerie.

"Stand Up" Sit Up to Hand Stand –  This has been a favorite exercise of mine now for quite a while, it's just fun once you get the hang of it. It's a moderately advanced compound move that uses core power and explosive strength for the stand-up sit-up and shoulders, core and balance for the handstand. A huge test of fitness is if you can get out of a seated position without using your arms to push off the floor, and this exercise works best with the momentum of rolling backward into the sit up– but it may take a while to get there.  Watch the video, if you are having trouble, break the exercise down into 2 parts – 1) lay on back with feet about two feet from a wall. Roll back and then sit up explosively into standing position in one fluid motion. If this is too hard, sit up and use hands as needed to push off the floor. 2) From standing position, kick or straddle jump into handstand position. Hold for 1 to 2 seconds and then kick down, sitting down immediately to begin another sit up. Try for 3 sets of 10 reps, but stop if you start feeling dizzy.
a Rafflecopter giveaway