Some might say it's "too soon"  — too soon to post a gingerbread-flavored recipe or even hint at the Christmas and winter holiday season.  But, when I was in my neighborhood grocery store today, I noticed that the displays had changed overnight from pumpkins and Halloween candy just the day prior to stuffing mixes, tree trimmings and fruit baskets (yes, I shop for food every day – three teen boys)! Halloween hasn't even officially happened yet!
Some might also say that it's "too soon" to do another granola recipe seeing as that's what I just shared in my last post for Pumpkin Protein Granola. But, hello – look what showed up on my doorstep today – a mountain of muscle-making products from Designer Whey as part of their 20th anniversary celebration. I knew I had to whip up more good-for-me goodies and this time it would be Gingerbread – Cranberry Protein Granola.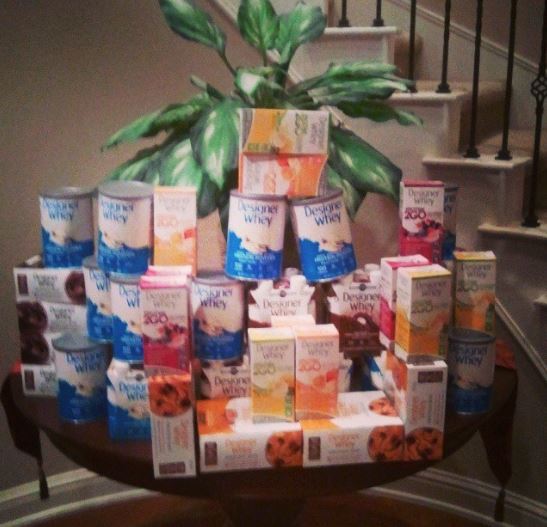 Their 100% Premium Whey Protein Powder is what I've been using in these recipes for various protein granolas. Lots of great flavors that whisk up really easy with the liquid ingredients – no lumps or clumps! I love putting a little protein powder in my recipes; it helps me build lean muscle, gives me longer lasting energy  and curbs my hunger between meals. Adequate protein for all my meals and recovery snacks (I aim for 100g a day) keeps me ready to take on the world!
 
Gingerbread – Cranberry Protein Granola Recipe
Ingredients:
4 cups old-fashioned oats
1/3 cup raw shelled hemp seeds
1 cup raw pecans, chopped
1 teaspoon fine-grain sea salt
1teaspoon ground cinnamon
1 teaspoon ground ginger
1/3 cup coconut oil, melted
1/2 cup real maple syrup
1/4 cup molasses
1/3 cup water
1/3 cup vanilla protein powder (2 scoops)
4 ounces unsweetened applesauce
3/4 teaspoon vanilla
2/3 cup chopped dried cranberries
Instructions
Preheat the oven to 325 F degrees and line a rimmed baking sheet with parchment paper or Silpat. In a large mixing bowl, combine the oats, hemp seed, nuts, salt, cinnamon and ginger. Stir thoroughly to combine; set aside.
In medium pot, stir in the oil, maple syrup, molasses, water, applesauce, protein powder and vanilla over medium-low heat. Use a whisk to incorporate ingredients until smooth and just starting to bubble, about 3 to 4 minutes.
Add dry oat-mixture ingredients into pot; use spatula to stir and coat evenly. Turn the granola out onto prepared pan and spread it in an even layer. Bake for 20 minutes; remove to stir up granola so that it cooks evenly. Bake for an additional 20 to 25 minutes for a total of 40 – 45 minutes.
Remove from oven and allow to cool. The granola will continue to dry out a bit more during the cooling process. Store in an airtight container.
Makes approximately 6 cups of granola.