It was a glorious day of grilling at our house last night, the aroma of succulent beef and sweet corn was drifting across the backyard thanks to an unseasonal but oh-so welcomed breeze. At one point I heard the neighboring carnivores come out of their caves to make whining, whimpering noises, but sorry folks, only enough meat to feed my famished five. Maybe next time I will invite YOU over for Spice-Crusted Tenderloin Steaks and Street Corn with Chipotle Garlic Butter!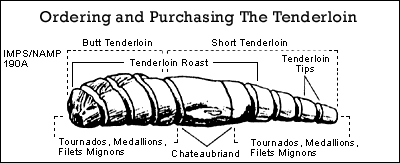 If you like a lean yet tender steak that doesn't need much fussing, you'll love my favorite cut of beef– tenderloin (flat iron steak is a close second). Before processed and carved into steaks, this long chunk of meat sits beneath the ribs near the backbone. The muscle does very little work in the life of a cow, that's why it's the tenderest cut available – it practically melts in your mouth! Sometimes, with all the interchangable names that are used for beef cuts, it can get confusing to understand what you are purchasing. The diagram above shows how the muscle is further butchered into the various products we buy at the market or order off the menu.
Because this portion of beef is so tender, there is no need to use a marinade. Instead, I use a homemade spice rub to create a flavorful crust that seals in natural juices. Since I had the grill already fired up for steaks, I decided to cook the whole dinner out on it. The kids voted for street fair style corn, the summer treat that smells so yummy roasting and is extra fun to eat.  Really, I can't even tell you how good this meal was, not a leftover scrap in sight!
Spice-Crusted Tenderloin Steaks and Street Corn with Chipotle Garlic Butter
For Chipotle Garlic Butter:
½ cup salted butter, softened
1 tablespoon chopped fresh cilantro
1 teaspoon minced garlic
2 tablespoons minced chipotle (with adobe sauce from can)
For Rub:
1 tablespoon kosher salt
1 tablespoon ground black pepper
1 tablespoon ground cumin
2 teaspoons ground coffee
1 teaspoon unsweetened cocoa powder
1 teaspoon chipotle chili powder or "regular" chili powder
½ teaspoon ground cinnamon
½ teaspoon ground cloves
4 6-ounce tenderloin steaks
1 tablespoon olive oil
4 ears corn, unhusked
1 tablespoon salt
Directions
Prepare the compound butter first, so it has time to set up while corn and steaks are cooking.
In small bowl, mix together softened butter, cilantro, garlic and chipotle peppers (using a bit of the adobe sauce).  Transfer to ramekin and stick in the refrigerator to firm up while the rest of the meal is grilling.
Next prepare rub by combine all ingredients for rub in a small bowl or zip-top bag. Shake or stir well until thoroughly mixed.
Lightly brush both sides of each steak with olive oil. Press in approximately 1 tablespoon total of rub into both sides of steak. Let sit for 15 minutes.
While steaks rest with the rub, start preparing corn. Pull down outer husks on ears of corn to the base, taking care to rip them all the way off.  Pull off silk from each corn ear and discard. Pull husks back up and set in large tub of cold water mixed with 1 tablespoon of salt for 10 – 12 minutes.
Pre-heat grill to 400 F degrees.
Pull corn out of water and shake off water. Set corn, with husks still up, onto grates of grill. Cover and grill for 15 to 20 minutes, or until kernels are tender. Rotate ears once during grilling.
After corn has been started for about 5 minutes, throw steaks onto the same 400 F degree grill. Cook for approximately 4 to 5 minutes on each side or until meat thermometer inserted into thickest portion of the steak reads 135 F degrees. Let rest for 5 – 10 minutes; steaks will continue to cook on the serving platter and ultimately reach 140 to 145 F degrees (medium).
To serve, place a pat of Chipotle Garlic Butter on the husked ears of corn and center of steak.
Serves 4.