It's a very familiar scene. I'm in the midst of preparing a holiday dinner (or even a weeknight supper) and family and friends begin congregating in the kitchen to see what smells so good and make diversionary chit chat. It's not that I don't want to visit with them, because I most certainly do! But, at the same time I am totally aware of their ulterior motives – and that is to get their greedy hands on a pre-dinner sample.
My husband calls it "quality control" and my three teenage boys don't even bother explaining away this blatant devouring of the dinner rations. Forget about sneaking tastes on the sly; mounds of shredded cheese, meticulously sliced fruit, chopped nuts and other ingredients intended for the night's recipe disappear right off my cutting board. In all honesty, I've been the guilty party as a guest in other folks' homes . "Oh, do you think that roast is done yet or should I add a little more salt and pepper to those mashed potatoes? I'll just have a small taste, if you don't mind – thank you very much!"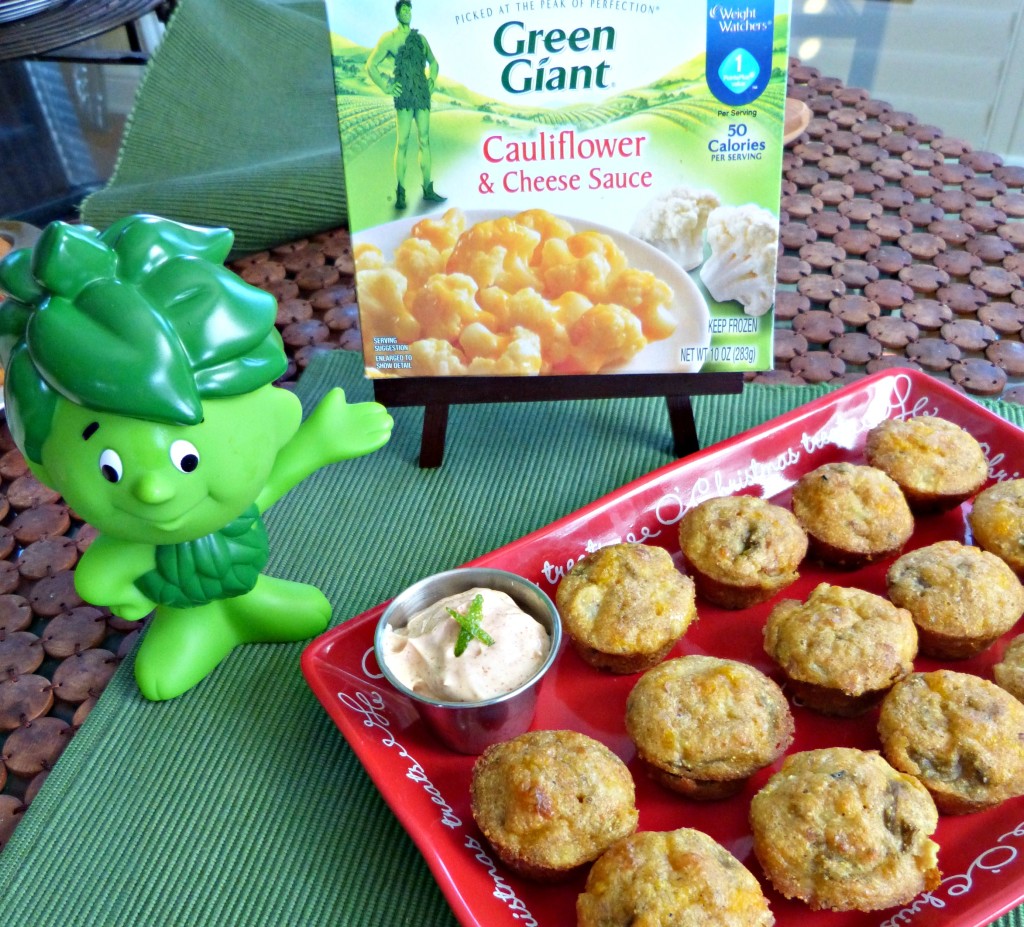 However, with a little pre-planning, it's easy to whip up a first course that will tide everyone over until the main dish is ready. My stash of frozen Green Giant vegetables has become not just a reliable source for healthy side dishes, but also nutritious ingredients for hors d'oeuvres.   If you've read the blog more than once or twice, you may have noticed I love me some southwestern cuisine – the smoky flavors and spicy heat turn even the mildest-mannered menu into a boot-stompin', chop-smackin' experience.  My recipe for Cauliflower & Green Chile Tamale Bites with Chipotle Crema will keep even the most ravenous rustlers satisfied and out of the main dish until the dinner bell is rung. It's also a festive and flavorful offering to bring along to a casual holiday party – the host will totally be high-fiving you at the door!
An easy snack to make, these mini muffin-esque appetizers use Green Giant's boxed Cauliflower with Cheese Sauce, a surprising low in fat and calorie product that is endorsed by Weight Watchers® with a 1 PointsPlus™ value per ½ cup serving.  The creamy dip that accompanies these Cauliflower & Green Chile Tamale Bites is mindful of fat and calories as well – it's simply fat-free sour cream blended with lime juice and ground chipotle powder.
Cauliflower & Green Chile Tamale Bites with Chipotle Crema Recipe
Ingredients:
1 box (10 oz) Green Giant® cauliflower & cheese sauce
½ cup cornmeal
¼ cup all-purpose flour
¾ teaspoon baking soda
1/2 cup milk
2 eggs
1/2 teaspoon ground cumin
1/8 teaspoon salt
¼ cup chopped roasted Hatch green chiles (or 4-oz can green chiles)
1/3 cup grated Colby Jack cheese
¼ cup bacon crumbles
Chipotle Crema:
1/2 cup fat-free sour cream
2 teaspoons fresh lime juice
1 teaspoon ground chipotle powder
Heat oven to 375°F. Generously grease or spray 24 mini muffin cups with cooking spray. Cook cauliflower as directed on bag for minimum time. Let cool for 5 minutes and coarsely chop cauliflower.
In medium bowl, mix together cornmeal, flour, milk, eggs cumin and salt with whisk or fork until blended. Stir in cauliflower and cheese sauce, green chiles, cheese and bacon. Divide mixture evenly among cups, filling ¾ full.
Bake 16 to 18 minutes or until toothpick inserted in center comes out clean and tops are light brown. Cool 5 minutes. With thin knife, loosen sides of bites from pan; remove to cooling rack.
Meanwhile, mix sour cream, lime juice and chipotle powder in small bowl until smooth. Top each warm bite with mixture or serve on the side.
Makes 24.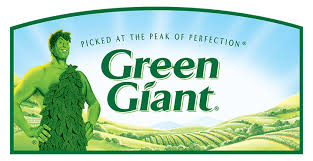 Looking for more veggie inspiration? Check out all the other appetizer ideas from Green Giant. And, don't forget to enter my giveaway  – one winner will be sent three coupons for a free Green Giant Steamers product (11 – 12 ounce bags).  It's so easy to eat healthy when you can steam vegetables right in the microwave. Choose from a variety of delicious, low-fat, 100% natural sauces or your favorite plain vegetables.
****This was a sponsored post and I was compensated for my time. However, all opinions and recipes are completely my own.****
ENTER THE GIVEAWAY HERE: