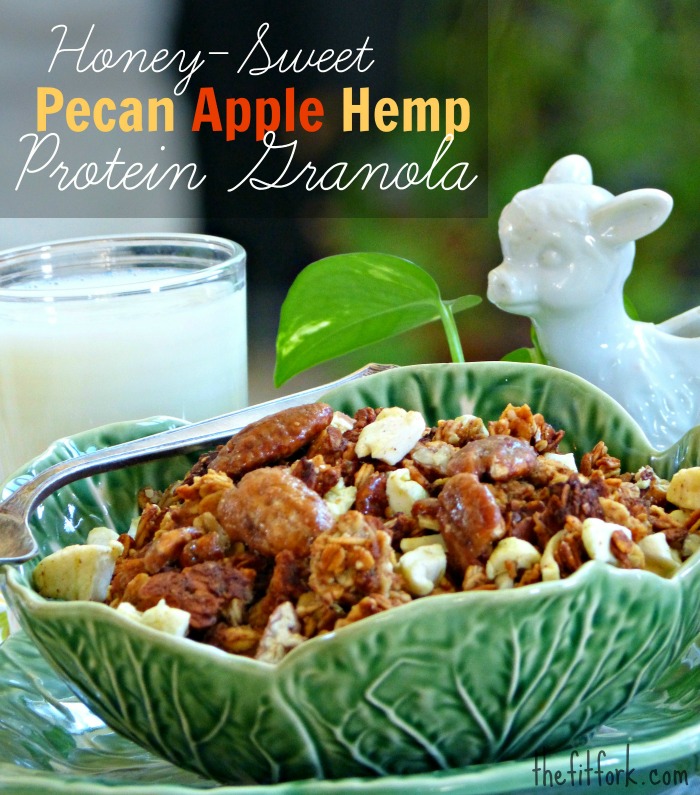 I have more granola for you! You just need to run over and grab a handful before it's long gone. Sprinkling a couple of crunchy tablespoons on my Greek yogurt in the morning is a must; however, my husband prefers to munch it straight out of the bag. To create a more satiating snack, I almost always add a couple scoops of whey power and some raw, shelled hemp seed to my granola recipes for an extra protein boost. By the way, check out my granola recipe round up post for some other healthy breakfast, dessert and snack ideas.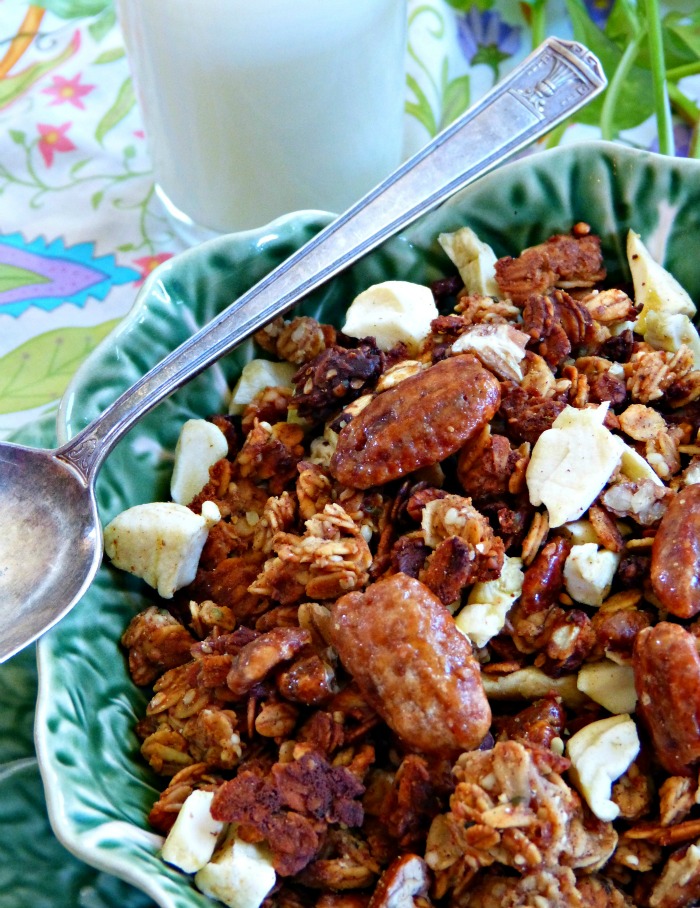 Honey-Sweet Pecan Apple Hemp Protein Granola Recipe
3 tablespoons coconut oil
1/3 cup organic honey
½ cup unsweetened applesauce
1/4 cup water
2 teaspoons vanilla extract
2/3 cup (2 scoops) vanilla or plain protein powder
3 1/2 cups old-fashioned rolled oats (Gluten-Free, if needed)
1/3 cup shelled hemp seed
1 tablespoons ground cinnamon
3/4 cup honey pecans, chopped*
3/4 cup dehydrated apples, chopped
Preheat oven to 300F. Line a large baking sheet with parchment paper or Silpat.
Place the coconut oil, honey, applesauce, water and protein powder in a medium saucepan. Turn heat to medium-low and whisk until mixture is smooth, thick and creamy and just beginning to bubble. Remove from heat and whisk in vanilla.
Pour oat, hemp and cinnamon into pot, stirring to combine and coat. Pour mixture out evenly on prepared baking sheet.
Bake in preheated oven for approximately 45 minutes, stirring once or twice. If granola still seems moist, keep baking in 5 minute increments until dry. Remove from oven and let cool completely on sheet. Crumble up in bowl and stir in chopped pecans and apples.
Store cooled granola in an airtight container for up to 2 weeks, or freeze for up to 2 months.
*Sugared and honey-coated nuts tend to burn easily, so I add them after baking. However, if you substitute raw nuts, they may be added with the oats before cooking.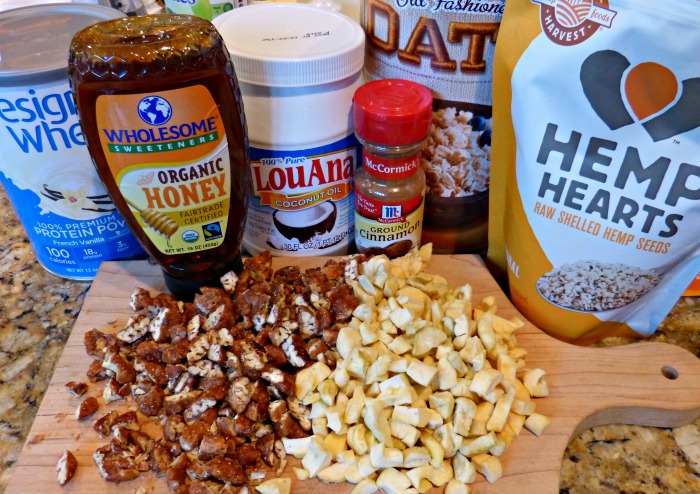 I love trying out new ingredients and brands in my recipes; it makes me feel like an experimenter of epicurean proportions! I was recently sent some new products to try out, and give a thumbs up to both. First, I was surprised to find that the LouAna brand made a coconut oil. This great southern company, in business since 1894, has been making nearly every type of cooking and salad oil imaginable.  LouAna Coconut Oil is ideal for baking, sautéing, stir-frying and more – the scent is enticing and there are no trans fats or cholesterol. You also get all the benefits of this heart-healthy "super fat" at a budget-friendly price – I've seen it at my local market for $6.00 per huge 30-oz. container.
I've used all types of sweeteners in my granola before including maple syrup, stevia and (gasp) real brown sugar. We have a couple honey-lovers in the house, so I decided to try Wholesome Sweetener's Organic Honey. Here in Austin, Texas, it's not hard to get my hands on some pretty delicious local honey – but, I must say, I did love my bottle from Wholesome Sweetener. It was a beautiful amber color and really did have the "butterscotch essence" as advertised! Aside from the superior taste, I feel confident using this product in recipes and letting my kids squirt it all over their biscuits, bacon and yogurt – that's because this honey is fair trade-certified, non-GMO and organic.  One thing I did notice is that it's important to reduce the baking temperature by 25 F degrees; honey tends to caramelize (and burn) fairly quickly.
I've been practicing these one-armed pull-ups so I can get my workout in AND much granola at the same time. Well, just kidding – it was a dare and I figured out a way to make it happen. Sorry the video is sideways, oops.