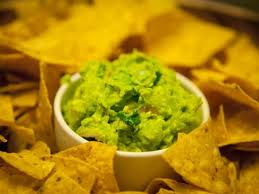 Since I adore avocados, National Guacamole Day (Sept. 16th) is a pretty big deal for me. It's not like I've decorated a tree or sent out cards, but you better believe I'm eating the marvelous mash-up morning, noon and night! Oh, how I hated the stuff as a kid; not that I ever let it near my taste buds. My parents used to make a huge bowl of guacamole, grab a bag of chips and park themselves on the patio for a big chow down. "Ewwww, I'd exclaim," it looks like throw-up, and they'd just laugh and say "good, more for us!" But times change and palates ripen. Now I can't get enough in the way of avocados, especially in the form of guacamole. If my kids ever tried to get into my guacamole, I'd swat the hands of those little moochers away!
But, why some athletes avoid avocados, I'll never know. Maybe it's because the fruit is high in fat — one cup has 21 grams. However, nearly all of that fat is of the heart-healthy persuasion, known as mono-and polyunsaturated fat. When saturated and trans fats in the diet are replaced with healthier fats (like avocado fat), LDL cholesterol (the bad kind) can be lowered. That's good!  Another good thing about the avocado is that it is a rich source of antioxidants, able to protect your body from free radical damage over time. Also, the healthy fats in the avocado provide a satisfied fullness that sustains for a decent part of the day, rather than the crash that can come quickly after eating an only high carbs snack.
Anyway, on to the recipe!  My Hatch Green Chili Guacamole was inspired by the 75 pounds of these roasted peppers that I won last year in the 2011 Central Market Hatch Green Chile Cook Off. Needless to say, I've been adding Hatch to almost everything I've cooked this year. Think outside the dip bowl; use this guacamole recipe on sandwiches, in eggs, on top of savory pancakes or wherever else you can imagine!
Hatch Green Chile Guacamole Recipe
2 Hatch green chilies – roasted, skinned and seeded
2 extra large ripe avocados
1 tablespoon lemon juice
1 teaspoon garlic salt
1 tablespoon shredded cilantro
Peel and seed avocados; place into medium bowl. Dice roasted (skinned and seeded) green chilies and add to the bowl. Add lemon juice and garlic salt; mash with back of fork until desired consistency is achieved (I like to keep a few avocado lumps). Garnish with shredded cilantro leaves, if desired.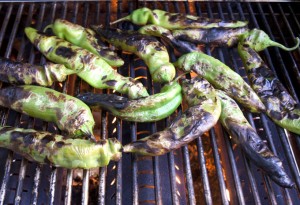 Note: Roast green chiles (or any pepper) by setting them on a hot grill or under the
 oven broiler until the skin is blistered and mostly blackened, approximately 10 – 20 minutes. During the process, use tongs to flip the chiles several times for even roasting. Remove from heat source and let cool. Rinse loosened skins off in water; slice open to remove seeds.