Okay, random enough for you – artichokes and yoga?!  Well, actually the pair makes perfect sense to me since discovering new ways to cook favorite foods and pushing myself into challenging and sometimes even uncomfortable situations (literally) are two of the ways I satisfy my adventure-seeking soul.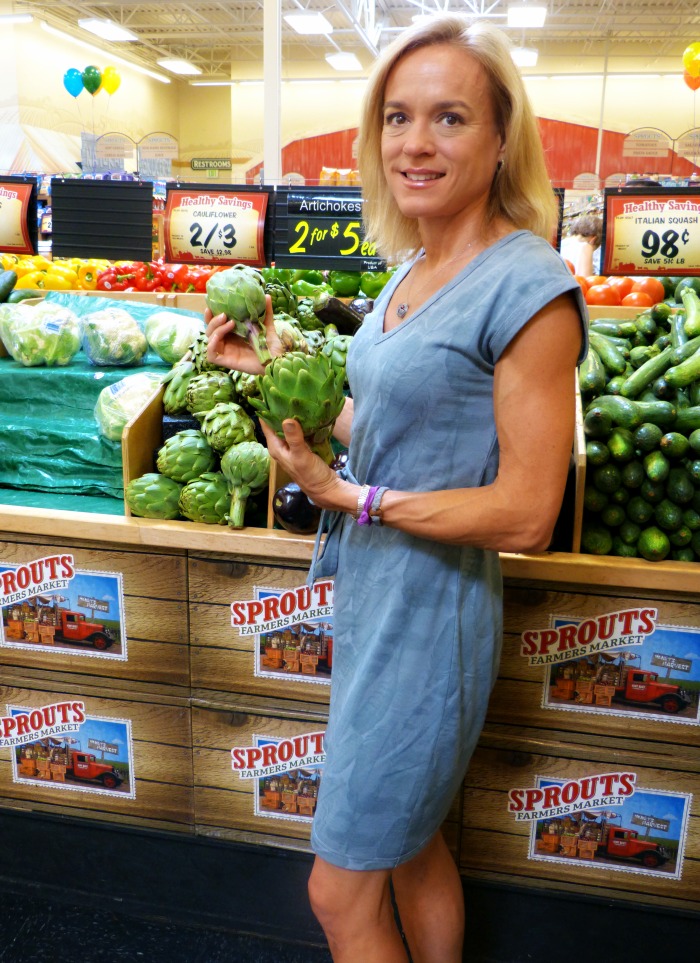 I was very excited, yet a bit skeptical, when Icebreaker.com invited me to try out their New Zealand Merino wool fitness, outdoor and travel clothing for my next adventure. My first thought was wool in August – now that will definitely be a memorable experience! However, this company makes clothing in all weights that perform beautifully in the extremes of weather – cold and hot!  The clothing I ordered didn't itch like traditional wool, didn't leave me feeling sticky and clammy like synthetics and was never soggy or stinky like cotton can be.
The Villa Plume Dress (above) is my new favorite dress – which is a huge testament to its awesomeness because I love LOVE dresses and have a closet full to compete! What I appreciate about this 200-lightweight wool dress is that it feels as comfy as wearing my favorite nightgown around town, but is super stylish and dressy enough for business meetings or just heading to the market to shop for – ARTICHOKES! Plus, for summer trips – I just tossed it in my luggage and it came out totally wrinkle-free!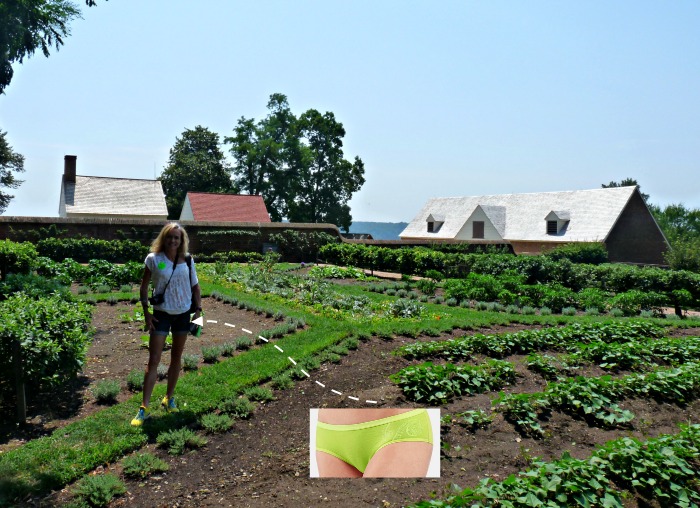 So, on a trip to Mount Vernon this summer, I packed along some other Icebreaker gear – the Siren Hipkini Underwear. Sorry, you're not going to get to see me modeling these panties (ha) but trust me – the underwear are under there! While I was traipsing through George Washington's lower gardens looking at the bounty of fruit and vegetable crops (including one of his favorite — the artichoke!), I thought I was going to melt – it was pushing 100 degrees and the Potomac River humidity was only adding to the sweatfest. Thank goodness for my lightweight wool undies – they wicked moisture right away and were quick to dry. Too bad Martha and her ladies in waiting didn't have these itty-bitty green bloomers!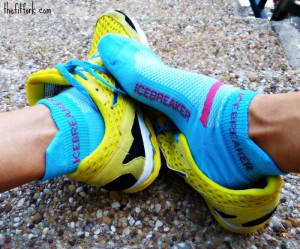 I also was able to try out the Women's Multi-Sport Ultra-Light Micro Socks as I ran around the Mall in Washington, DC – lightweight for summer sports, non-chaffing toe seams and cute colors! I'll be stocking up on more of these for my upcoming race season!
When I got home from #MyAdventure, I really had a hankering for those artichokes I saw growing in George's garden. I've always purchased artichokes already prepared and marinated from my local gourmet store — Central Market has some delish ones on the deli bar.  I've seen recipes for grilling artichokes and steaming artichokes the way my mom did back when I was a kid (I remember my parents dipping artichoke leaves into garlic butter as a special appetizer), but I was always a bit intimidated by these big thorny thistles.
Then, I had a light bulb moment – why not make them in a slow cooker? The low, slow cooking method would surely yield a tender treat – and I was right! Plus, I loved the convenience of just popping them in the slow cooker and then leaving to run errands for a few hours rather than standing around in the kitchen waiting for them to steam for 45-ish minutes. Also, instead of a decadent butter dip – I added a drizzle of Caesar dressing and a few Parmesan cheese sprinkles to keep things healthy. It's a recipe I created for Litehouse Foods; check it out for the rest of the story and more mouthwatering photos!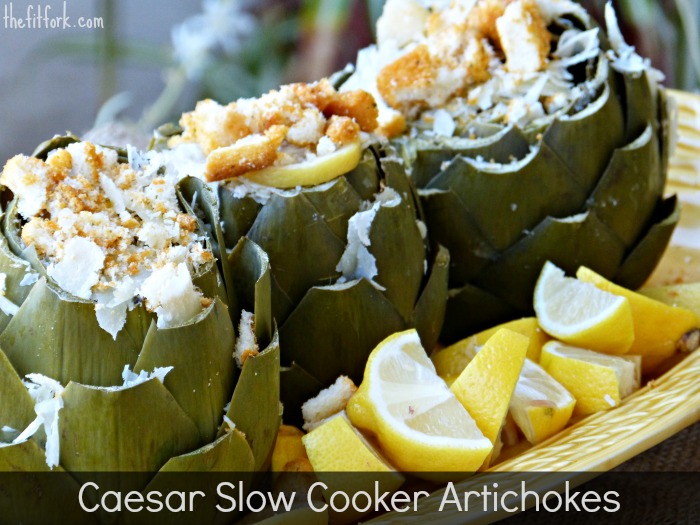 Caesar Slow Cooker Artichokes Recipe
3 medium artichokes
3 lemons (divided)
1 ½ cups chicken broth
1 cup white wine or cooking wine
1 tablespoon minced garlic
1 bay leaf
2/3 cup shaved or grated Parmesan cheese
½ cup garlic croutons crushed into crumbs
4 – 6 ounces Caesar salad dressing (I used Organic Caesar from Litehouse)
Prepare artichokes by first washing under water and shaking dry. Next, cut off stems and remove small lower leaves with paring knife. With larger knife, cut ½" off the top of artichokes to remove the prickly spines. Use kitchen shears to snip off remaining spines on lower leaves. Cut one lemon in half and rub on exposed areas of artichoke to prevent oxidization.
Pour broth, wine, garlic and bay leaf into bottom of 4 quart slow cooker. Place artichokes, bottom side down into slow cooker. Cut second lemon into slices and place a slice on top of each artichoke. Add remaining slices of that lemon to the broth mixture.  Put lid on slow cooker and cook on high for approximately 3 hours, or until softened and leaves pull off easily.
Transfer artichokes from liquid to serving platter. While still hot, gently squeeze to pull apart leaves and stuff with bits of Parmesan cheese and crouton crumbs. Sprinkle remaining cheese and crumbs on tops of artichokes. Drizzle artichokes with Caesar Dressing and serve with third lemon that has been cut up into wedges.
The rest of #MyAdventure focuses on the "art of yoga" or in my case — it's often "the agony of yoga." I used to be a very flexible person but that bendiness got left behind a long time ago. However, I've been trying to build a few minutes into each day to practice some yoga moves to reclaim my flexibility – I hope the focus on a greater range of mobility will keep me from getting injured in my running and workouts as I get older.  The fitness wear from Icebreaker was perfect for my little yoga session — check out the cool and comfortable Dart Shorts and Sprite Racerback Tank from Icebreaker. These items were ultra-light weight (150 gauge wool) and super soft — almost like wearing nothing!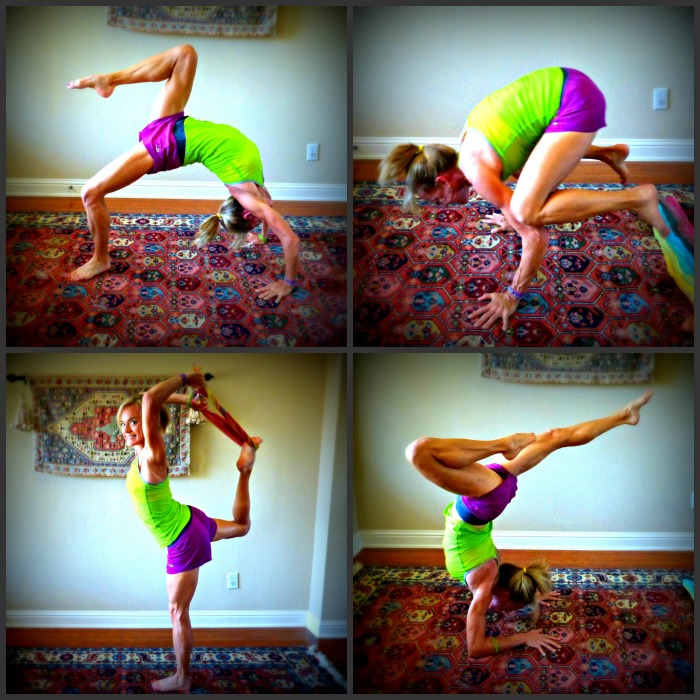 If you haven't tried working out in wool, you definitely should! Head over to Icebreaker, they are having a great end-of-the-season sale and have free shipping on orders over $99 and have a "love it or send it back" policy with free return shipping. I will definitely be trying out their cold weather gear come ski season – I am always the one that is too cold and I'm not going to let that happen this winter!
Icebreaker provided me with product in return for my review, but did not tell me what to say or how to say it – all opinions are my own!
Have you ever worked out in lightweight wool?
Do you have a favorite artichoke recipe, please share!