A Jell-O dish of some sorts has long been on the menu at our Easter gatherings, think big 60s style molds suspending little bits of fruit and marshmallow. But, hey, this is 2012 and I need some Jell-O that's a little more 'on-the-go' friendly and addresses my electrolyte needs this week as I finish up training for the Boston Marathon. So hmmm, scratching head . . . why not combine my favorite sports drink tab (Nuun) with a mixture of plain and flavored gelatin to create some mighty-fine, finger-food fuel? Can't wait for the reaction when I set down this masterful remix of our time-warped gelatin salad tradition on the big Easter buffet.
I've been drinking Nuun for years out on my long runs, the subtle yet seriously yummy flavors don't overwhelm with sweetness – in fact, Nuun tablets are sugar-free with no artificial flavors or colors, providing optimal hydration without all those carbs that sometimes upset my stomach during a race. Now, these jellies do have some sugar in the recipe . . . a girl can't live by sodium, magnesium and potassium alone! This recipe uses Nuun Tri-Berry tablets, but after the Boston Marathon, I am going to experiment more with this  recipe and make a 'sweet victory' version using Lemon Chai from the Natural Hydration line along with lemon Jell-O and a little vodka . . . stay tuned for that!
Nuun 'Tri-Berry' Electrolyte Jellies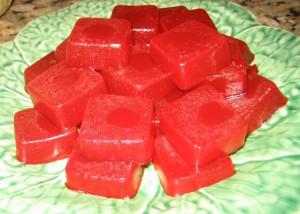 • 1 env. (1/4 oz.) unflavored gelatin
• 1¼ cup cold water
• 3 NUUN Tri-Berry sports drink    tablets
• 1/3 cup sugar
• 2 Tbs. cornstarch
• 2 pkg. (3 oz. each) sparkling wildberry flavor gelatin*
Pour cold water into small bowl, drop in Nuun tablets and let dissolve. Sprinkle unflavored gelatin over Nuun-gelatin mixture, let stand 1 min. Mix 1/4 cup sugar and cornstarch in medium saucepan. Gradually whisk in Nuun-gelatin mixture until blended. Bring to boil on medium heat; cook 5 min., stirring constantly. Remove from heat. Add dry gelatin mixes; stir 2 min. until completely dissolved. Pour into 9×5-inch loaf pan** sprayed with cooking spray. Refrigerate 1 hour or until firm. Remove from mold by holding pan upside-down over cutting board, it will slip out. Cut into 24 pieces.
*you can use any mixture of Nuun and flavored gelatin that you prefer
** In lieu of the loaf pan, I used a 24-ct 'brownie bite' silicone baking mold.