I wrote this poem nearly a decade ago (and won a trip to Fashion Week in NYC) and yet it still seems so fitting today! "It's fab to wear cotton when grueling at the gym. But more than that, cotton lets me walk a fashion limb. I've got cotton denim skinnies that I sport around the town, as well as a hooded jacket and a stellar evening gown. My friends all say I'm stylish, despite my lack of silks and furs, just peek into my cotton closet and I'm sure you will concur"!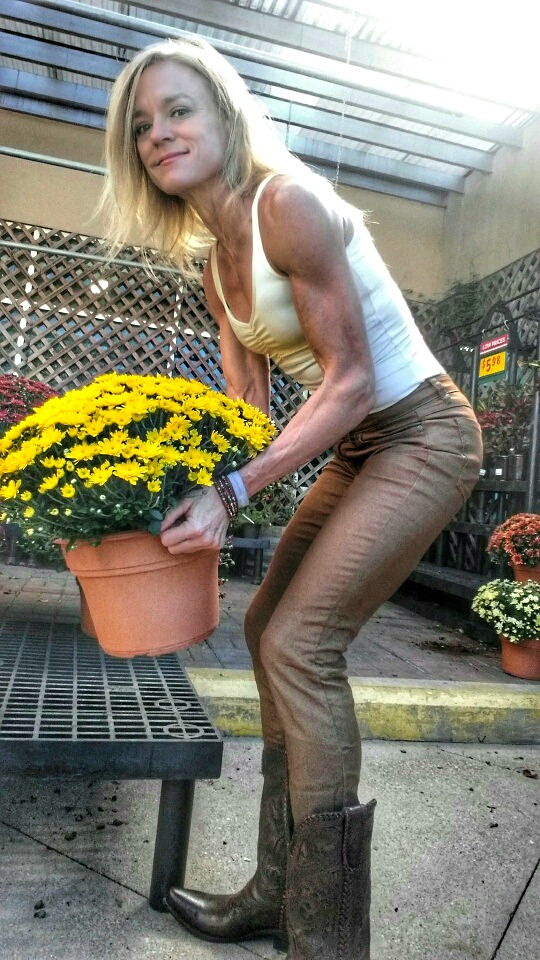 Probably the only thing that's changed about my love for cotton is that I now make a point of purchasing and wearing organic cotton whenever possible. Cotton grown and processed without the use of harmful chemicals, fertilizers and pesticides is better for the earth, the farmers, for me . . and for you! A brand I particularly love is prAna, not just for the intersection of adventure and fashion, but also because their clothing is mindfully made to support sustainable practices and fair trade. Read on to learn more about organic cotton, this company's best practices, discover my favorite finds for the season and to get a great discount code.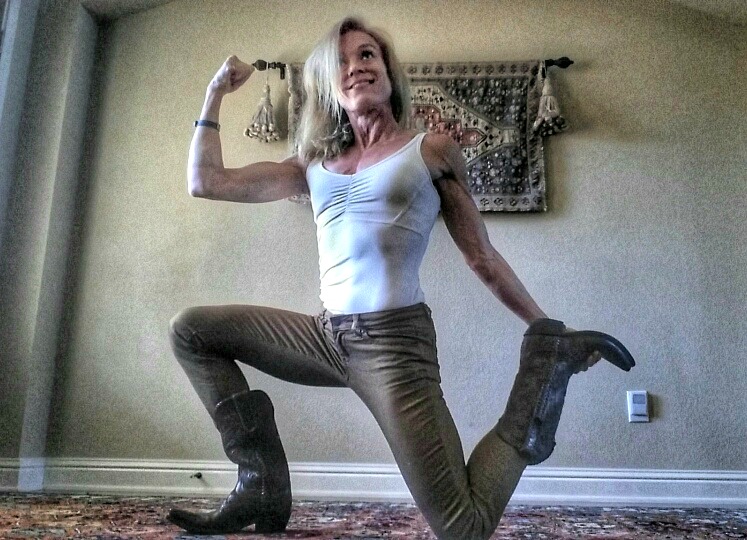 So, I've been wearing prAna for years, I can always count on the styles to support my active lifestyle, penchant for travel and any adventure that might pop up – or even just for lounging around.  They are very forward-thinking in their mission to show love for our planet by offering consumers sustainable, recycled, fair trade certified and hemp items that are cute and fun to wear! Specifically, I want to talk today about one of the biggest commodities in the world, cotton, and why choosing organic cotton over conventional cotton is so important.
In recent years, most of us have become educated in how organically grown foods can be better for our families and our communities. However, while no one EATS cotton, it's equally as important to planet and people health, if not more so. The impact growing conventional cotton can have huge consequences on the air, water, soil and health of farming communities due to the extremely toxic chemicals that are used on crops. Every year, thousands of farmers die and countless others in agricultural communities become sick due to exposure to these harmful pesticides, fertilizers, bleaches, and other chemicals. I could just go on and on, but prAna has put the message together much better in this short video about Why Organic Cotton Matters.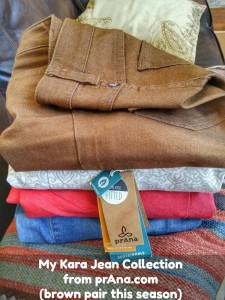 One of my favorite organic cotton garments from prAna is their Kara Jean. To say I love the Kara Jean is an understatement. I "kara" 'bout them a lot – just so punny! If I could marry them, I would . . . and, to date, have four pairs in my wardrobe. This low-rise, narrow-leg, 5-pocket jean is made from breathable organic cotton and just a touch of recycled polyester to offer a slim fit and soft stretch. This streamlined silhouette and non-sagging "give," meaning I can move and groove on impulse, whether that be busting out dance moves with my kids, stopping for an impromptu yoga pose, running errands . . . or running through the airport! I also love how cool the leg looks cuffed on or in my boots. This season, there are 8 great colors available, the ones I am wearing are "Sepia."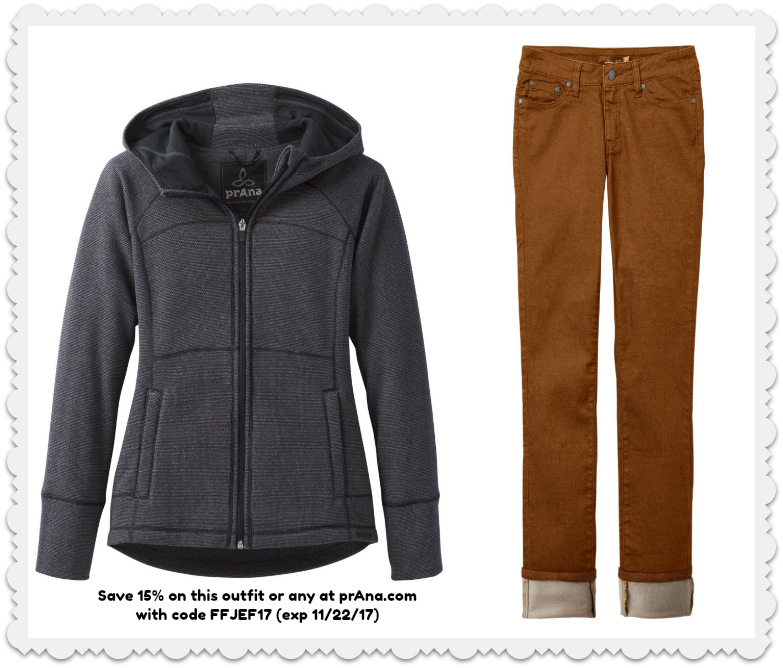 In addition to offering organic cotton clothing, prAna also has great gear made from recycled fibers. My Rockway Jacket is made from a blend that includes 50% recycled polyester. Clothing made from recycled items lessens negative impacts on the environment by using less energy, less water, and emitting fewer greenhouse gasses. Functionally, I love the thumb holes and hood for those chillier fall days and it's become my go-to topper on the way to the gym.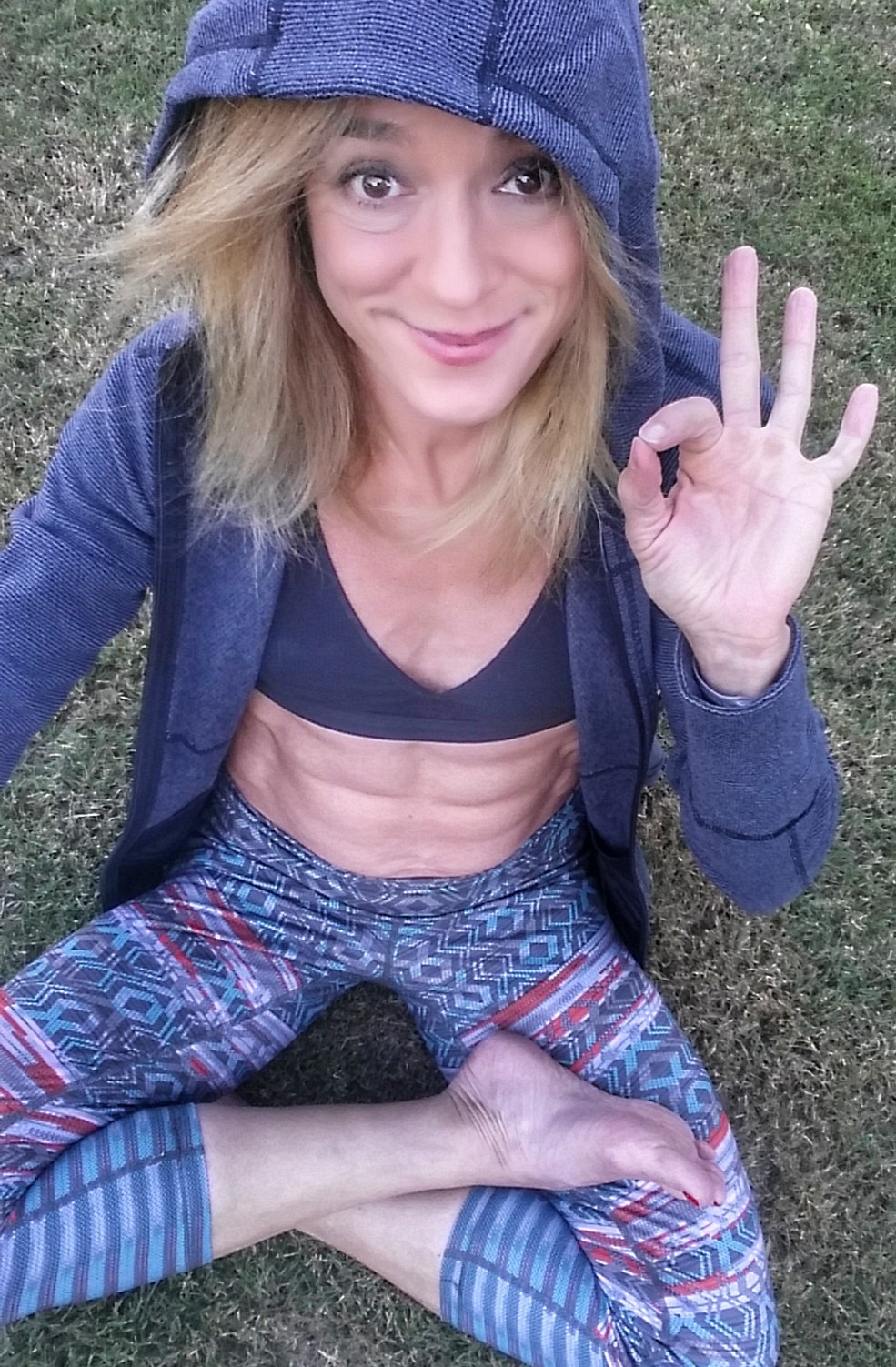 Whether you are a yogi, climber, runner, traveler, suburban mom or urban warrior, prAna clothing helps turn any day and every day into the BEST DAY ever thanks to fun, functional styles and a core focus on giving back to the planet more than they take. Check out the new Fall Collection and see for yourself – use my special Discount Code FFJEF17  (exp 11/22/2017) to save 15% off your cart at prAna.com. Also, enjoy Free Shipping on orders of $99 or more.
What is your favorite "active" activity? Did you already know how harmful conventional cotton practices are? Do you have a multiple pairs of the same jean . . . or another garment? Please share in the comments – XOXO, Jennifer 
This is a sponsored conversation written by me on behalf of PrAna . The opinions and text are all mine.