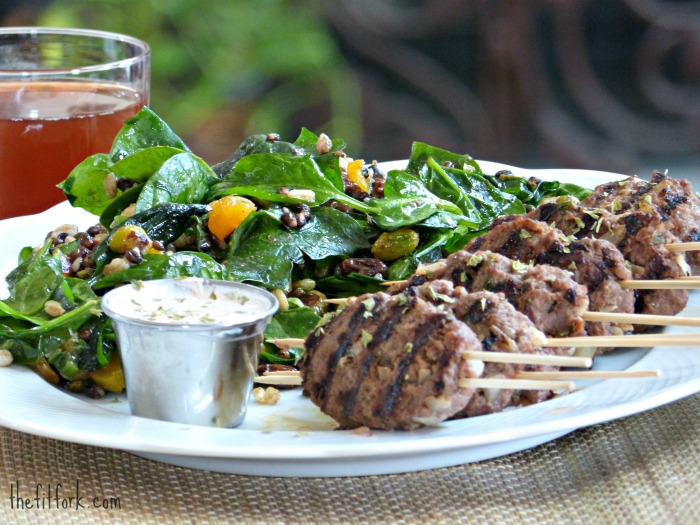 Winner, winner, lean beef dinner! My super-fast, super tasty meal tonight, Quick Beef Kofta with Smokey Paprika Yogurt Sauce, was inspired from a recipe from a new cookbook I was sent to review, Cooking Light's Global Kitchen (giveaway at bottom of post). A keeper on so many levels — my boys gobbled up this healthy recipe (skewered meat, grunt) without any suspicious looks of me serving up something new, the lean protein really took care of my  own personal "hangry" mood, and the dish was so fast to make, I had it done well before it was time to take off to soccer practice.
If you've never heard of Kofta before, it's probably because it's not a dish from 'round these parts. The dish originates in the Middle East and is basically what us here  in 'merica would call a meatball on a stick. What's not to like, right?! The traditional recipe for Kofta is typically made with ground lamb, but certainly any ground meat will substitute. So, y'all that know me probably know where I'm heading with this . . . . . GROUND BEEF!  I'ts no secret my body RUNS on beef and another way to use lean ground beef makes me happy, happy, haller-lu-ya!
I was excited to try out the GreatO brand and, for full disclosure, the company sent me a free coupon for some ground beef to try out.  I've seen this product at the store and wondered what it was all about.  This red meat is marketed as "abundant in Omega-3 fatty acids" with "TWICE the Omega-3s of grass feed beef" and "up to 200x more than ordinary ground beef."  When I read the corporate information online, I found it very interesting. This company actually works at the very front end of the cattle industry to create a more nutritionally sound food product.
GreatO actually has an aligned supply chain where producers feed their animals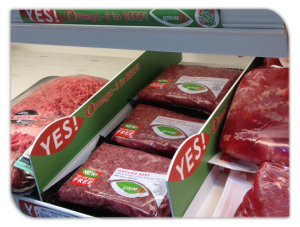 following a proprietary feed mix and protocol that is specifically designed to maximize Omega-3 fatty acids – the whole process is literally farm to fork (uh, well, except you have to cook the ground beef yourself).  The GreatO brand of ground beef says their 80%/20% ground beef offers 200mg Omega-3 fatty acids per 4-oz serving compared to virtually none for traditional ground beef and 70mg for grass finished beef (assuming adequate access to quality fresh green grass).
Now, some things to note because I want to give an honest review. There are other dietary sources significantly more robust in Omega-3s; for example, a 4-oz serving of wild salmon has 2 full grams. Other choices like shrimp and soybeans and even cauliflower, Brussels sprouts and winter squash all have way, way more Omega-3s than this "omegafied" beef.  If I'm doing the math right, 200mg of Omega3 in a serving of greatO beef equates to just 0.2 grams.  I'm not knocking the good intentions; only suggesting that there are more efficient ways. Anyhow, I think the GreatO brand is a great choice for the consumer who feels he or she might not be getting enough of this important nutrient in their diet.  Plus, GreatO ground beef tastes gooooooooood and taste and flavor go a long way in my book. Also, this product is not "grass finished," meaning animals DO spend time in a feed lot, albeit eating a special Omega3 rich diet.  This issue doesn't bother me at all; I've been to feedlots before and seen how the animals are treated, the conditions, and so on. It's not at all what is portrayed in the media and these industry glimpses definitely reassured my choice to (usually) buy a feedlot finished product.  So, to conclude, I would definitely buy the GreatO brand for myself and family, as my budget permits, it's definitely not as expensive as wild salmon (but I'll have to work harder to get my 4 gram recommended daily allowance of Omega-3s for the day).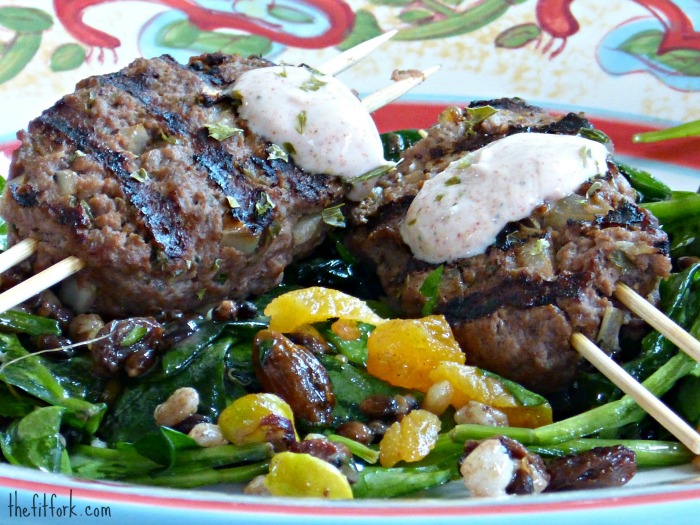 So, I'm finally getting to the meat of the post – my own special recipe for Quick Beef Kofta with Smokey Paprika Yogurt Sauce.  At the end of the recipe you'll see the giveaway link for the awesome Cooking Light's Global Kitchen cookbook.  By the way, Kofta is usually served the traditional way over some sort of fancified rice or wrapped in warm flatbread. Instead I plated it with a side of Moroccan Spinach Salad with Pistachios & Apricots — I'll share the details on that another day.
Quick Beef Kofta with Smokey Paprika Yogurt Sauce Recipe
1 ½ lbs lean ground beef
1/3 cup finely minced white onion
2 tablespoons fresh chopped parsley
2 tablespoon fresh chopped cilantro
1 teaspoon ground cumin
2 teaspoon smoky paprika
1 teaspoon salt
For sauce:
6 oz cup of 0% fat plain Greek Yogurt
1 teaspoon smoky paprika
1 teaspoon lemon juice
1 teaspoon Worcestershire sauce
½ teaspoon ground cayenne pepper
Add ground beef, onion, parsley, cilantro, cumin, paprika and salt to bowl. With spatula or clean hands work onions and spices into beef. From into 12 oblong, foot-ball shaped patties, approximately 2 ounces each.
Heat large, non-stick grill pan over medium-high heat. Add patties to pan, cooking approximately 4 to 5 minutes on each side (only flip once to keep grill marks).  These may also be prepared on an outdoor grill using skewers.
While kofta is cooking, prepare yogurt sauce by combining yogurt, paprika, lemon juice Worcestershire, and cayenne pepper in a small dip dish.
To serve, skewer patties (if you haven't already done so) for easy dipping into the sauce. Serve on a salad, over brown rice or in warmed flatbread.
Serves 6 (2 each).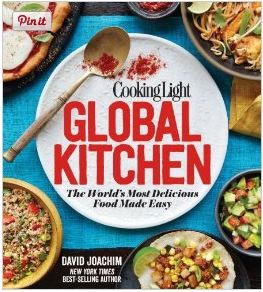 Don't miss out on entering to win a copy of Cooking Light's Global Kitchen – The World's Most Delicious Food Made Easy! As part of the Cooking Light Blogger's Connection, I was sent a copy of this inspiring cookbook to review and another cookbook to giveaway. I seriously LOVE this cookbook, it has so many adventurous, flavorful ideas to get me out of my "what to make for dinner" rut. There are mouthwatering dishes from every continent and lots of drool-inducing photos.  Plus, each of the 120 recipes comes with complete nutritional info.