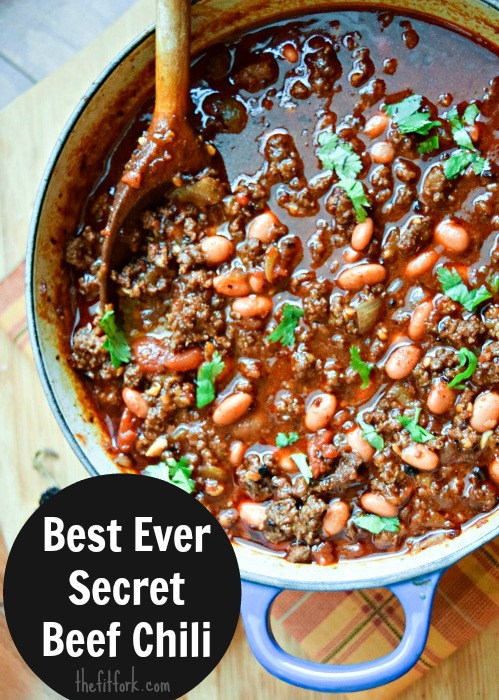 I hope you have a big spoon at the ready, my recipe for Best-Ever Beef Chili is, well, THE BEST! With freezing temperatures and heated football bowl games going down, this big pot of spicy, rich and blissfully beefy chili is what to serve by the mug, bowl or trough.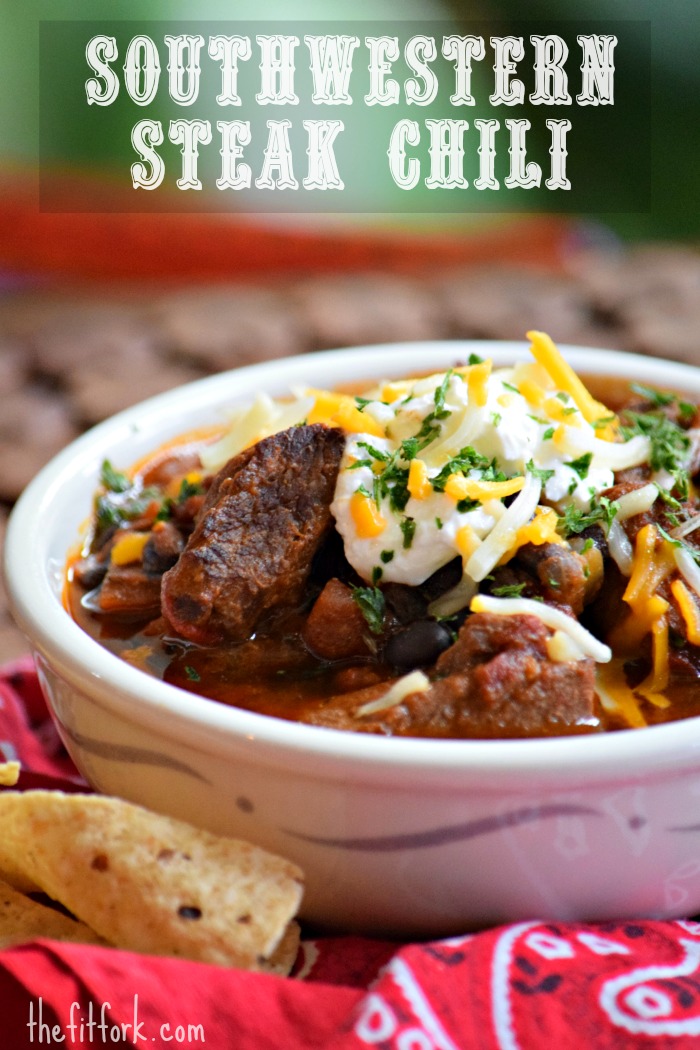 I typically make chili by breaking down a roast into bite-sized chunks, my kitchen stampeded causing Southwestern Steak Chili is a family favorite. However, the kids love ground beef (and so does my food budget) and requested a chili made with their favorite food group — hamburger meat!
Won't lie, I was a little worried that the ground beef would come out dry and the beefy taste might get downed out by bold chili spices. After reading an article in Cooks Illustrated on achieving "better browning through science," I knew I had to try their technique of using a baking solution on meat to enable proteins to attract more water and hold onto it during cooking and also create a higher pH level to speed up the desirable Maillard reaction (basically, the harbinger of caramelization). My dad reported success using this method to keep steaks juicy and tender, and I hoped this easy hack would help improve the taste and texture of my chili's ground beef.
So, how does this baking soda beef hack work? Typically, when ground beef is cooked on the stove top, so much water and liquid is expelled that the beef chunks just end up steaming in their own juices  — very little actually browning happens.  When cooked to the point of most water evaporating, the batch of beef will be unpleasantly overdone. However, by gently tossing a baking soda solution with the meat (about ¾ teaspoon baking soda to 2 tablespoons water for 2lbs of grind) and letting sit for 15 to 20 minutes before cooking , beef loses less liquid, browns faster and tastes better.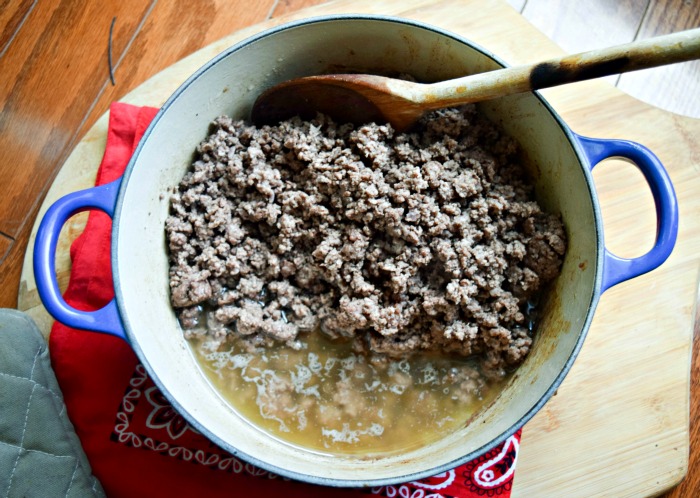 I tried it myself with 80/20 Chuck Ground Beef and I must say, I was impressed! The ground beef cooked "as-is" was almost immediately was sitting in a pool of liquids (as you can see from the picture) and when taste-tested seemed a little rubbery and bland.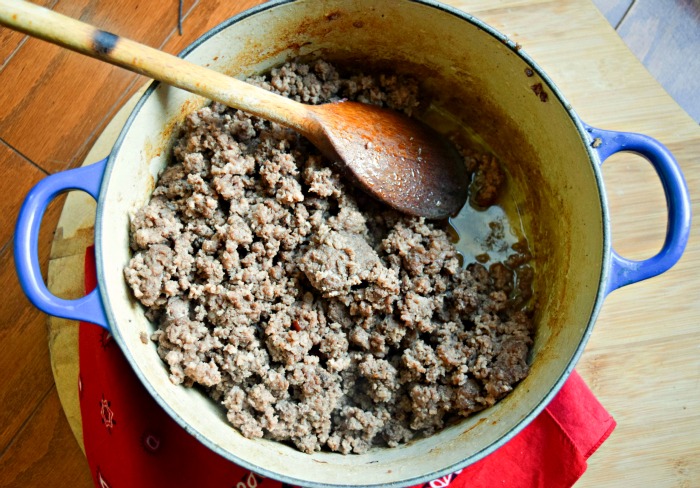 However, the baking soda treated beef immediately started to brown in the pot. And, while there was still a fair deal of liquid released, it was noticely less so than the previous batch (Cook's illustrated said about 10% less liquid, I felt like maybe even a little more).  More noticeable though, was the taste – the baking-soda treated batch had a richer, more complex caramelized flavor and was markedly juicier. In fact, the cooked beef was so yummy; I worried about taste-testing my way through the whole pile before I even started the rest of the chili!
So, my final recommendation on this "baking soda treatment" is definitely try it and see what you think! It does take little bit of pre-planning because you have to let the solution sit on the meat for 20 minutes, but you can have that going while you prep the other ingredients.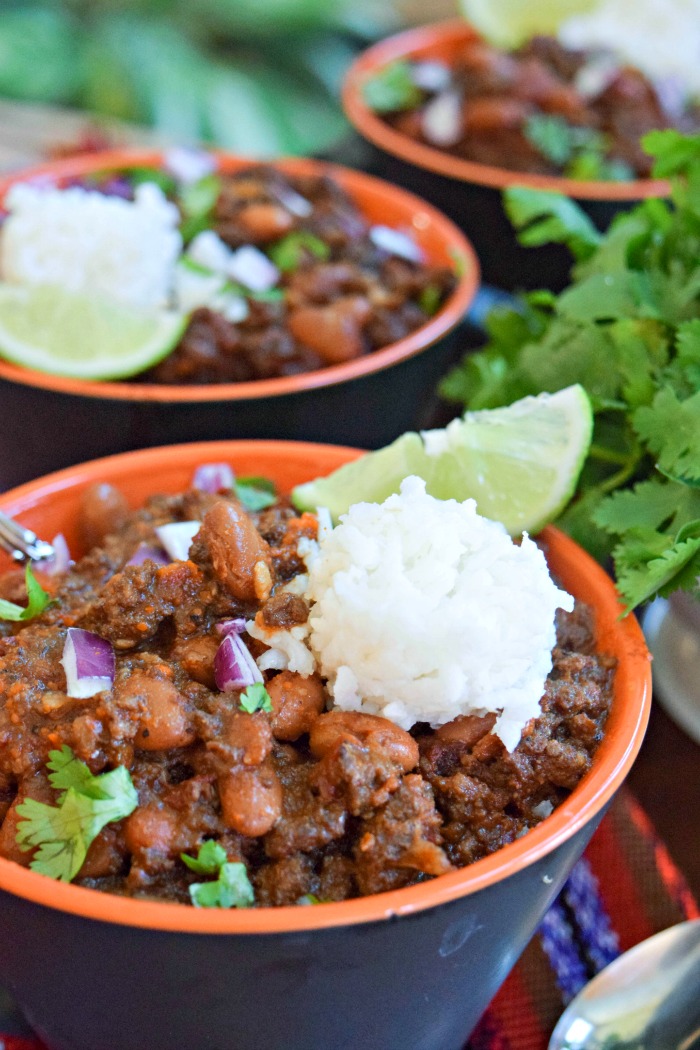 So, here is my  Best Ever Ground Beef Chili recipe, – every spoon is a mouthful of meaty goodness. It's rich and spicy, without being too heavy or too "hot" for kids – I think you'll really like it. But, feel free to use this baking soda technique with any beef chili recipe!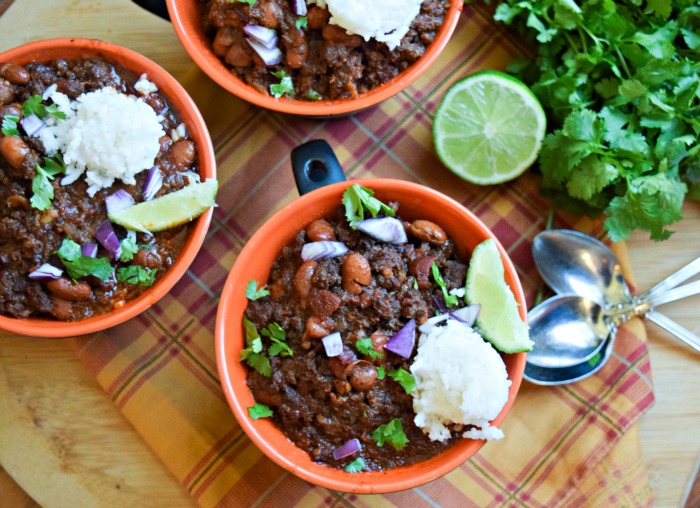 If you're looking for other delicious chili recipes, check out this collection I curated for Mode! And, also head over to the Texas Beef Council for more inspiration.
Check out Life-Changing Beef Chili Recipes to Warm Winter

by The Fit Fork at Mode
Do tell, do you put beans in your chili? Do you like spicy or mild? What toppings do you put on top?  Please share in the comments below – XOXO, Jennifer

Servings

Prep Time

8

servings

15

minutes
Cook Time

Passive Time

2

hours

10

minutes
Servings

Prep Time

8

servings

15

minutes

Cook Time

Passive Time

2

hours

10

minutes
Servings

Prep Time

8

servings

15

minutes

Cook Time

Passive Time

2

hours

10

minutes

Servings

Prep Time

8

servings

15

minutes

Cook Time

Passive Time

2

hours

10

minutes
Add ground beef to bowl and drizzle with solution of 2 tablespoons water and ¾ teaspoon baking soda. Gently break apart beef with hands to distribute, but do not over knead (causes toughness). Let sit for 15 to 20 minutes.

Meanwhile, heat oil in large Dutch oven pot over medium high. Add onions and cook for about 5 minutes until softened, stirring as needed. Mix in garlic and cook for another minute.

Add treated ground beef to pot and cook, while stirring and breaking up into chunks. Brown beef for approximately 12 to 15 minutes or until no longer pink.

Add chili powder, cumin, paprika, oregano and salt to beef mixture and continue to cook, stirring constantly, until spices begin to bloom and become fragrant, about 2 minutes.

To pot of beef, add finely crushed tortilla chips, beef broth, tomato sauce, diced tomatoes, beans with liquid, and sugar. Bring to a boil and then put lid on Dutch oven and transfer to a 275 F degree oven for approximately 1 to 2 hours, or until flavors have developed and sauce is thickened. .

Remove from oven and let cool, uncovered for 10 minutes. Season with additional salt and pepper, if needed, to taste.

Serve with rice or tortilla chips and other toppings of choice including cheese, avocado, red onion, cilantro, etc