I'm nuts about the holiday season – absolutely, positively, literally nuts! Pecans, cashews, almonds, pistachios, macadamia and more, it's hard to name a favorite. Only chocolate rivals my passion for nuts, and this year, I've come up with an exotically-spiced nut recipe that incorporates my love for these two – Paleo Cocoa Chai Spiced Nuts.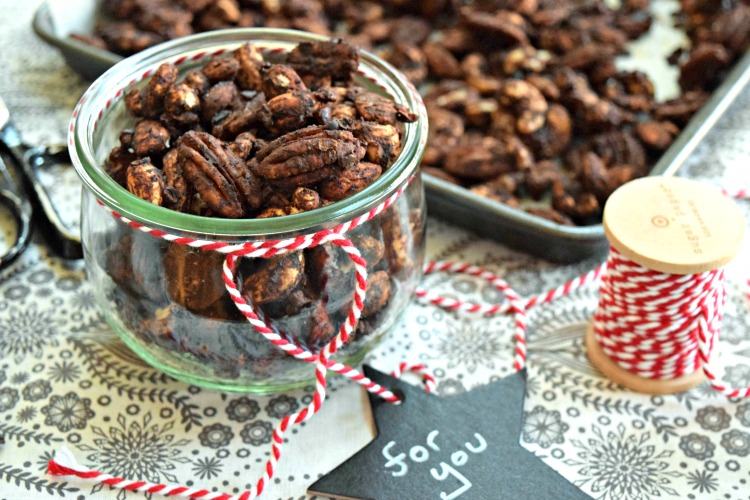 A jar full of Paleo Cocoa Chai Spiced Nuts makes an edible gift that most everyone (with good taste) will appreciate. Plus, the smell of roasting nuts is guaranteed to draw a crowd, so make a couple batches because you may just end up with an impromptu holiday party on your hands!  Read on to get this paleo diet friendly recipe that is fun, fit and frugal to give as a gift:
Holiday shopping can be so stressful, the agony and endless hours spent in search of the perfect gift for your brother, mother or significant other, especially if they are the type who seems to already have everything. And, when there are boundaries on the budget, giving even small store-bought trinkets to neighbors, teachers, trainers, hairdressers and so on can really add up quick. But a DIY food gift like Paleo Cocoa Chai Spiced Nuts makes a big tasty gesture that will have all nut-lovers stuffing their cheeks like greedy squirrels.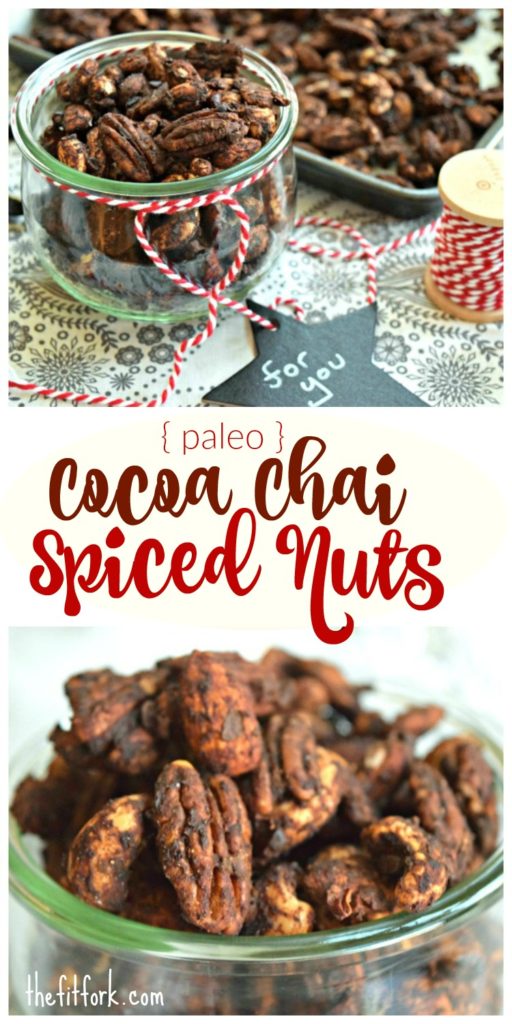 Paleo Cocoa Chai Spiced Nuts aren't like chocolate COATED nuts (aka CANDY) that are super sweet and high in extra calories. Instead the coating on these assorted roasted nuts is more bittersweet with hints of caramelized cacao bean thanks to a bit of Date Sugar, Organic Cocoa Powder and chai spices (cinnamon, cardamom, nutmeg, cloves, and black pepper) in whisked egg white.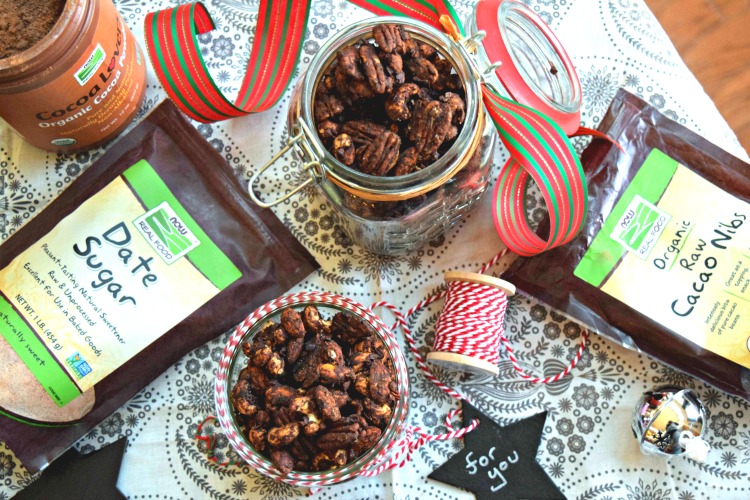 For light sweetness without using table sugar or artificial sugars (as I wanted to keep this snack Paleo diet friendly), I used Date Sugar from Now Foods. Rather than everyday sugar made from cane or beets, Date Sugar is just exactly what it sounds like – very, very finely chopped dry dates. It's unrefined, so you get the nutritional benefits inherent to dates including fiber and low glycemic index energy. Also in the coating is Certified Organic Cocoa Powder from Now Foods – it's pure and natural with no added sugars, fats, preservatives and such. Rich in naturally occurring polyphenols, a micronutrient that has been linked to improvements in digestion, weight management, diabetes, cardiovascular disease and more.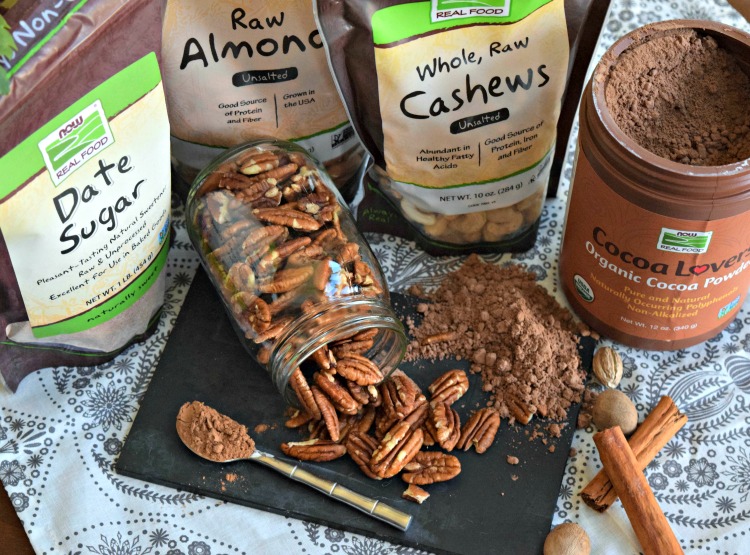 The choice of nuts to use in this easy spiced nut recipe is up to you, as long as they are raw. You'll need about 4 cups total per batch and I used raw pecans, raw cashew and raw cashews, again, from NOW Foods because they are my go-to source for high-quality, lower-cost nuts. You could swap any of these nuts out for pistachios, walnuts, brazil nuts, macadamia nuts . . . or even peanuts (but that's a legume).  You can get cacao crazy and add cacao nibs for even more goodness, this is optional but encouraged!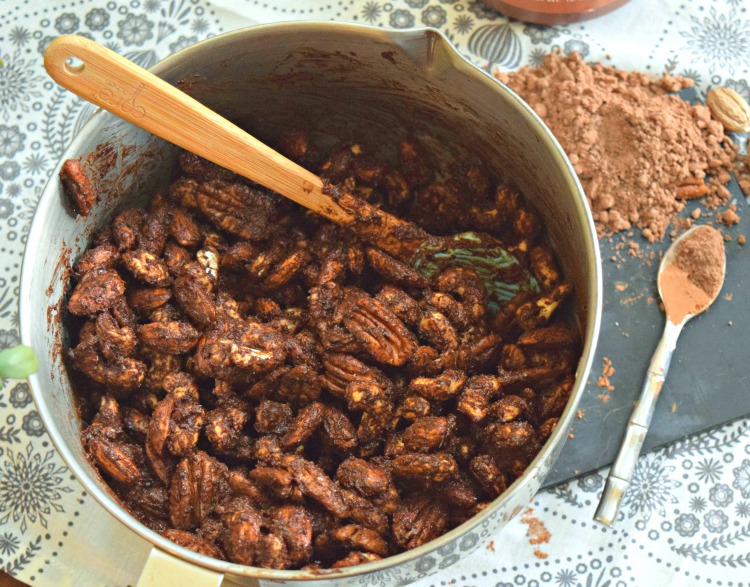 Making this roasted nut recipe is super simple, it takes no more than 25 minutes, start to finish. After you mix up the topping, just dump all your nuts in and stir, stir the pasty mixture until the nuts are as evenly coated as possible. Dump and spread out on a rimmed baking sheet lined in parchment or with a silicone sheet and "roast," in a 300 F degree oven, for about 20 minutes. You'll want to stir at least once for even cooking and to break up clumps. And, also watch carefully, because once the date sugar coated nuts want to start burning, the burning happens fast.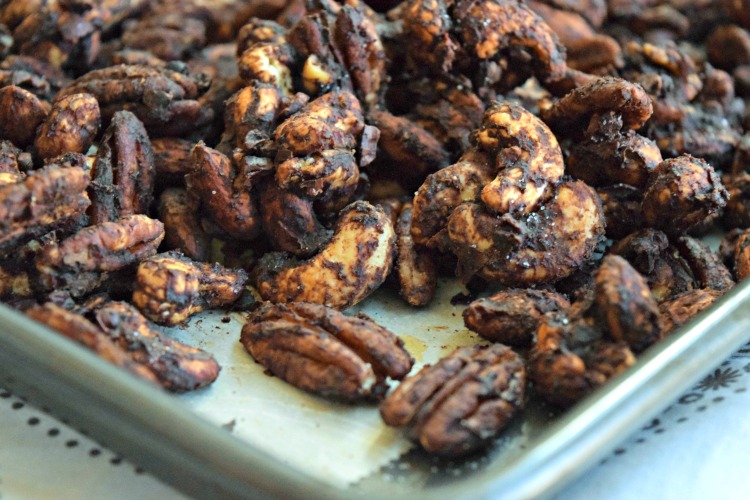 After Paleo Cocoa Chai Spiced Nuts have warmed just a bit, enjoy right off the pan! Or, when completely cooled package up in mason jars or wax paper lined bakery bags. Tie up with ribbon and present with a "Merry Christmas" or "Happy Holidays" to the nuttiest people on your list!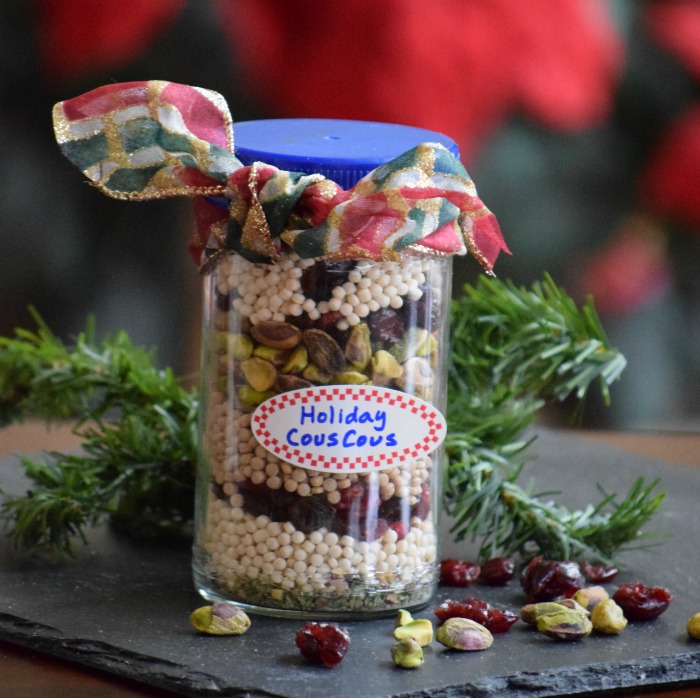 Another foodie gift idea is my DIY Fruit & Nut Couscous Mix, such a yummy and seasonal side dish with cranberries and pistachios.
What is your favorite nut? Do you have a special edible gift you make and share? Let me know in the comments – XOXO, Jennifer 
This post is sponsored by NOW Foods, however all opinions, editorial content and enthusiasm for nuts are my own!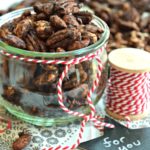 Cocoa Chai Spiced Nut is an easy appetizer or snack recipe that also makes a great holiday gift for Christmas. Low carb, paleo and no refined sugar.
Servings

Prep Time

4

cups

5

minutes
Servings

Prep Time

4

cups

5

minutes
Cocoa Chai Spiced Nut is an easy appetizer or snack recipe that also makes a great holiday gift for Christmas. Low carb, paleo and no refined sugar.

Servings

Prep Time

4

cups

5

minutes

Servings

Prep Time

4

cups

5

minutes
Preheat oven to 300 F degrees and line rimmed baking sheet with parchament paper or a silicon baking sheet.

In one bowl, mix together dry ingredients including cocoa powder, date sugar, cinnamon, nutmeg, cardamom, sea salt, cloves, and black pepper. Set aside.

In another bowl, whisk egg whites by hand until light and airy, about 1 minute. Stir dry ingredients into egg whites, mixture will get pasty. Add nuts (and optional cocoa nibs) and stir until as evenly coated as possible.

Pour nut mixture out on prepared baking sheet and spread out into an even layer with spatula.

Bake for approximately 20 minutes, stirring once or twice to break up clumps and promote even cooking. Keep a close eye on the nut, once they start to burn it will go fast.

Remove from oven and let cool for a few minutes. Eat warm or cool completely and package in air-tight containers for storage or gift giving.