If I could pick the perfect pepper, it would be a Hatch green chile. In season for just a short time in late summer, these long, fleshy peppers are amazingly delicious grown in the soils of Hatch, NM along the Rio Grande. Because I'm a bona find Hatch-horder (one time having over 75 pounds of fire-roasted peppers in my freezer), I have yet another delicious recipe to share – Hatch Chile Breakfast Bake!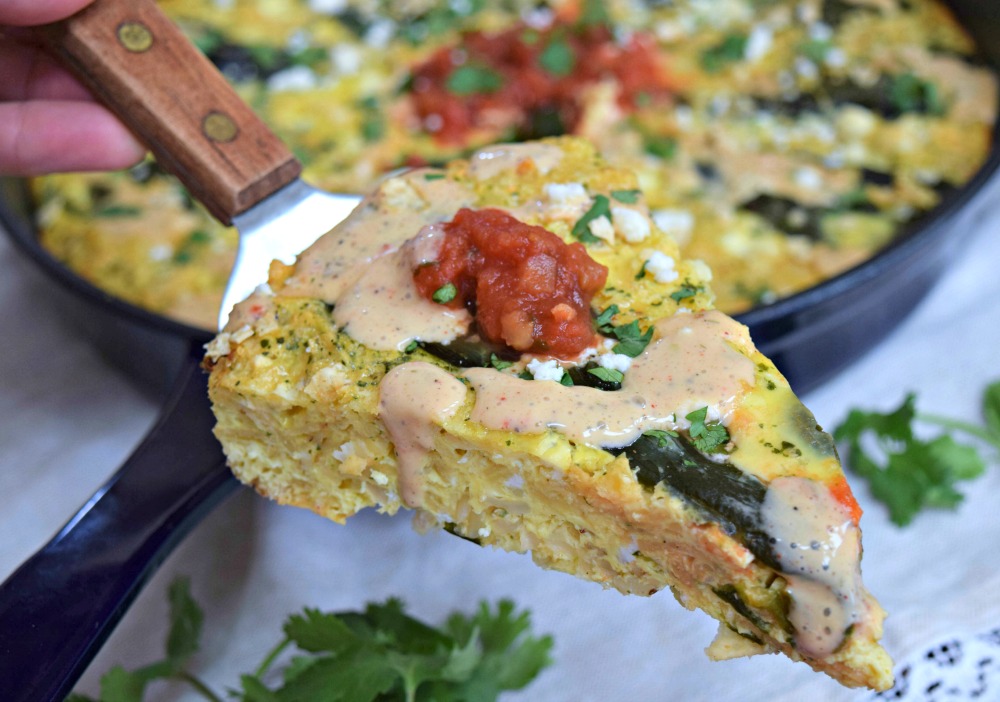 It's real family pleaser and can be served for breakfast, lunch or dinner. Heck, crumble up the leftovers in a tortilla, douse in hot sauce and avocado and get to town! Read on to get the recipe and all the details, better hurry before Hatch season ends.
Yeah, yeah, Hatch season does end somewhere near the end of August with peppers still being spotted into stores through mid-September. If you haven't roasted enough Hatch to last you all year, a Poblano pepper makes a nice substitution in this recipe. If you are in a real bind, you can used canned green chiles and just stir them in rather than laying in strrips on top.

If you've never roasted a pepper before, it's quite easy on the grill, gas stovetop or oven. This time of year, most stores also make a big spectacle of roasting them in big tumblers out in the parking lot – ahh, the smelI! When I'm making my own, I prefer the oven method, in August the heat of standing out by the grill can take a toll!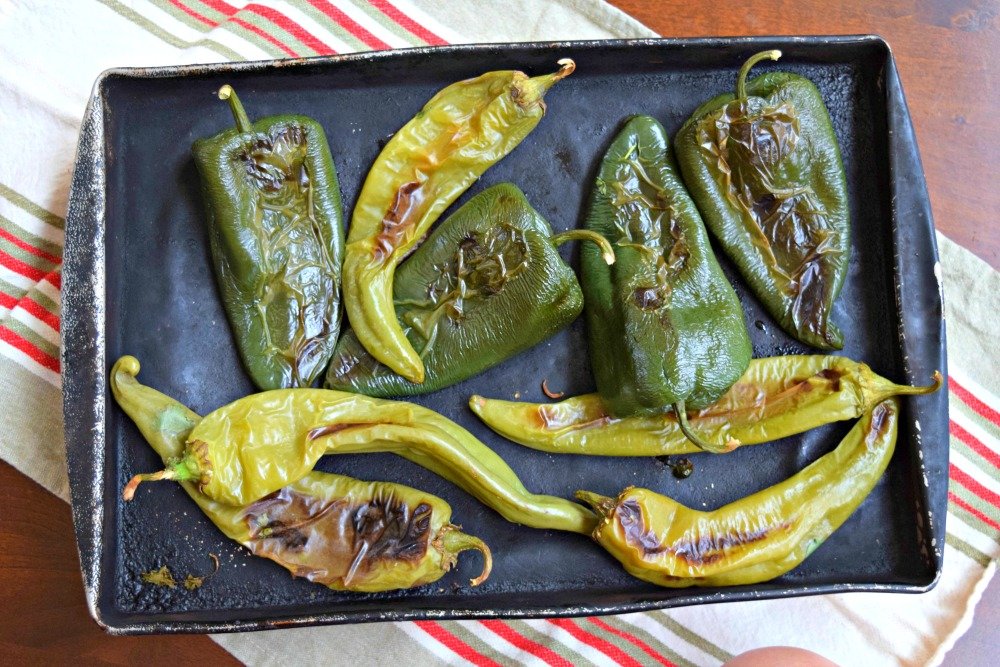 To roast, toss peppers on a rimmed baking sheet (in this picture I have Hatch and Poblano). Place in a 425 F degree oven and roast for about 20 minutes, flipping halfway. Peppers will be blistering and black in places. Remove from backing sheet to steam themselves for 10 minutes in a zip-top bag, this will help the skins slip off easily. To prepare, slip off skins, slice in half, removing stem and inner seeds. This Hatch Chile Breakfast Bake recipe uses slices, but you can also dice, puree or enjoy any other way!
Crushed tortilla chips and rice are secret ingredients in the recipe, they help the eggs set up and the slices cut up nice and firm. Crumbled up queso fresco (a salty, springy and economical Mexican cheese), cilantro, and the roasted green chiles create a southwestern flavor profile that's a bit spicy, but won't burn your mouth off. I like to top with salsa and a dollop of OPA by Litehouse Jalapeno Ranch Greek Yogurt Dressing.
Not only is this vegetarian meal budget-friendly, with each generous slice costing about $1.50, it's also hearty, healthy and a great nutritional deal with 18 grams of protein and 320 calories. Perfect for meal preppers because leftover slices can be kept in the freezer for enjoyment later! Just allow slices to cool, place in airtight freezer bag and then reheat in microwave on "defrost" for 2 minutes and then "reheat" for approximately 2 more minutes, or until heated through.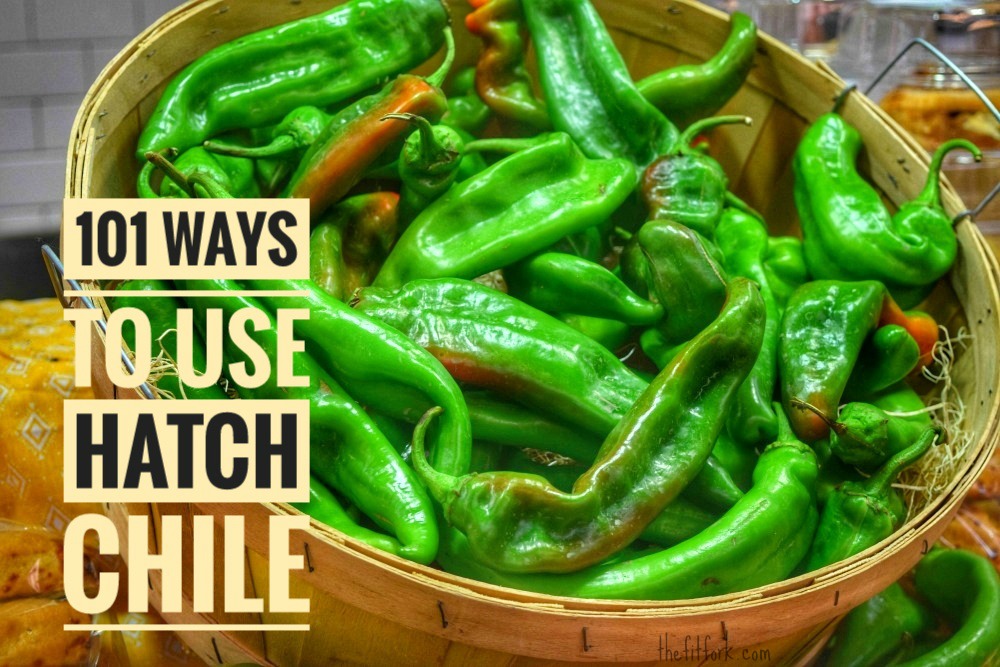 If you are looking for other ways to enjoy green chiles, I've got you covered – check out my post on 101 Ways to Use Hatch Green Chiles.
Are you a Hatch fanatic? Is your family ready for back-to-school? What are you planning for breakfast on busy days? Please share in the comments – XOXO, Jennifer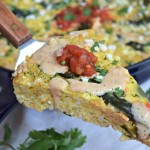 Substitute Poblano peppers if Hatch green chiles are not in season.
Servings

Prep Time

8

slices

20

minutes
Servings

Prep Time

8

slices

20

minutes
Substitute Poblano peppers if Hatch green chiles are not in season.

Servings

Prep Time

8

slices

20

minutes

Servings

Prep Time

8

slices

20

minutes
Preheat oven to 400 F degrees.

Place whole peppers on a baking sheet and roast in oven for approximately 20 minutes, flipping once, or until skin blistering and starting to blacken in places.

Remove peppers from oven and place in zip-top bag on counter for 20 minutes to cool and help skin slip off.

Remove peppers from bag and skin should slip away. Cut in half and rinse out seeds, dispose of stem.

Slice each pepper lengthwise into a total of 4 long strips (for total of 12 strips). Keep 8 strips "as-is" and then dice up the 4 remaining strips. Set aside.

In large mixing bowl whisk together eggs and milk. Wisk in pepper, garlic powder, onion powder and cumin. Next, stir in 4 ounces of cheese, leftover or frozen prepared rice, crushed tortilla chip, chopped cilantro and remaining diced chiles.

Lay roasted pepper strips in a spoke pattern on top of egg mixture. Sprinkle with most of the remaining cheese (save a little extra for garnish at serving).

Bake for 20 minutes in center rack of oven or until puffed, top turning golden and eggs are set in center. Remove from oven and let cool for 10 minutes before cutting into 8 wedges and serving.