Panzanella, a classic Italian salad made with greens and crusty bread, benefit from a hearty (but still healthy) down-south makeover with loads of lettuce, my clean-eats cornbread croutons (with healthier sugar and fat substitutes), small splurge of bacon crumbles and fresh home-style ranch dressing made with Greek yogurt. These southern-inspired swaps have been my little secret to getting teen boys to wolf down first and second servings of salad.
Y'all, I do declare, this Lightened-up Cornbread Panzanella Salad with Greek Yogurt Ranch is a winner for lunch and dinner. You can even pair it up with grilled chicken or hard-boiled eggs if you'd like a little extra protein.
Typically, folks are biased to think "unhealthy" when Southern food is mentioned. True, many classics are notoriously filled with calories, sugar or fat – mayonnaise-laden potato salads, buttery biscuits, super sweet tea and fried chicken. However, today, eating in the South is about balance, pairing up fresh, fit foods like the greens, tomatoes and roasted corn in my salad with little splurges – like bacon. Even the creamy dressing is not a no-no if you make your own from low-fat dairy or use my favorite OPA by Litehouse Greek Yogurt Ranch Dressing—it's lower fat and only 60 calories per serving. Check out the original blog post on my cornbread salad recipe HERE.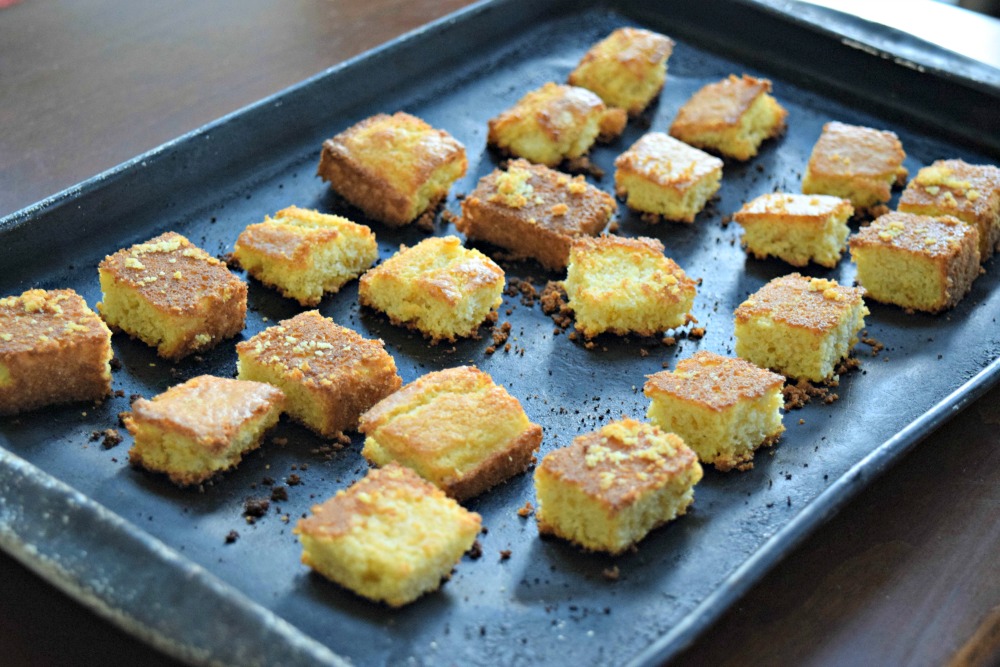 Once your make croutons out of cornbread, you will be hooked. The quick bread is baked, cut into small cubes, and toasted into yummy nuggets of goodness that hold their own in salads and soups.
To streamline dinner preparations, I always toss in a few ears of corn on a baking sheet to roast alongside the cornbread as it bakes. Southern mothers are clever multi-taskers. BTW, have you ever seen my post on the 3 ways to grill corn? These methods all work when roasting in the oven too.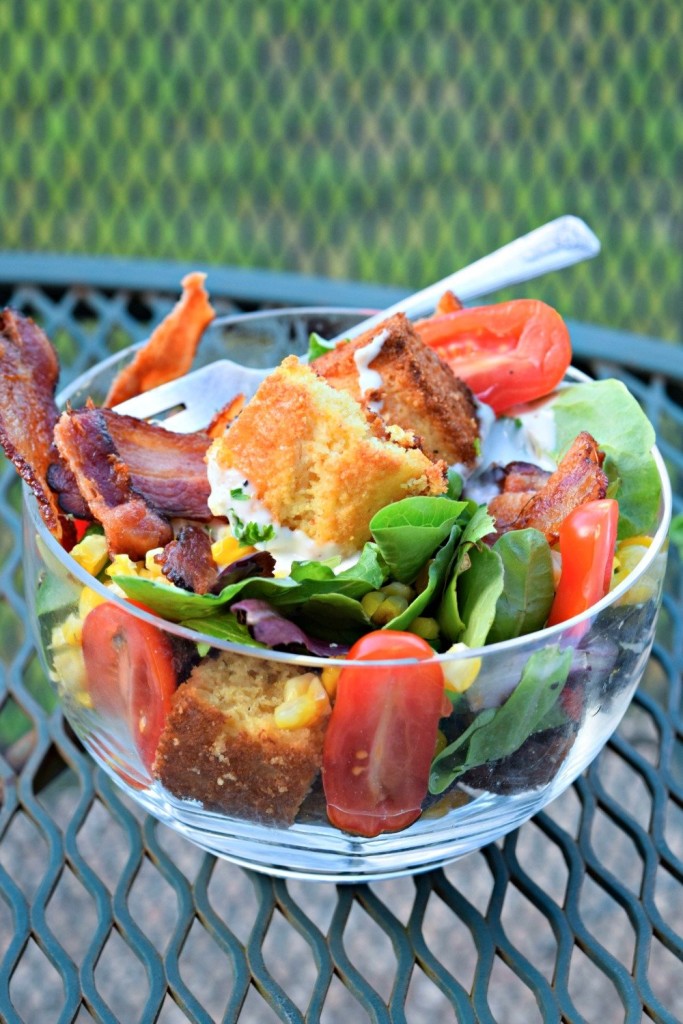 It's the summer season, and you may have plenty of guests coming over or need to feed a potluck crowd. This salad recipes easily stretches to feed just a few mouths or a mob – just add more lettuce, more veggies and cook another batch of croutons. Add croutons just before serving so they don't get soggy – and any leftover cornbread can be wrapped up and kept in the freezer for 6 months.
What is the first Southern food that pops into your mind? Are you a crouton eater? What is your favorite type of salad dressing. What is your go-to pot-luck dish? What did you eat for lunch today? Always looking for new ideas. Please share in the comments – XOXO, Jennifer

Preheat oven to 400F degrees.

Add flour, cornmeal, sugar, salt and baking powder in large bowl, mix to combine.

In 2-cup capacity glass mixing cup, measure out milk and oil. Add egg into mixture, whisk to combine.

Add wet ingredients to dry ingredients, stir with spatula until combined.

Add to 9"x 9" baking dish that has been coated in cooking spray. Bake at 400F degrees for 20 minutes or until turning golden brown on top and toothpick pulls clean from center.

Remove from oven, let cool 5 minutes. Keep oven on for crouton making.
To make croutons: Cut cornbread into approximately 1" x 1" cubes (does not have to be precise). The easiest way to do this is to cut cornbread into 4 large squares. Remove one large square at a time and slice in have crosswise to make a top and a bottom. Restack slices and slice into 4 rows each direction. Repeat with remaining cornbread.

Place on rimmed baking sheet and toast in oven for approximately 8 minutes or until turning golden brown and crispy on edges (will still be soft in middle).
For roasted corn: Drizzle corn with olive oil and season with salt and pepper. Place corn on rimmed baking sheet and bake at 400 F degrees for approximately 12 to 15 minutes. It is convenient to do this at the same time of initial cornbread baking. Let cool for 5 minutes and use sharp knife to shear kernels off cob.

To assemble salad: To serve layered, add cornbread croutons to bottom of bowl. Next add lettuce, tomatoes, corn and bacon. Top with a big dollop of Ranch Dressing. Or, salad may be tossed by mixing Ranch Dressing thoroughly with all ingredients except cornbread and then gently tossing with cornbread.