There's plenty of nutrition advice out there on what to eat and drink BEFORE and DURING a marathon to optimize performance. However, what you consume immediately AFTER a marathon, and over the next 24 to 48 hours, is equally as important — it plays a significant role in the recovery process. Your taxed body demands fluids and nutrients to bring hydration back into balance, kick start muscle repair, and restore mental focus and mood. Bounce back from your 26.2 (or other endurance event such as Ironman, Spartan, century rides or even just intense pre-race training) quicker and more completely by following my suggested post marathon nutrition recovery timeline.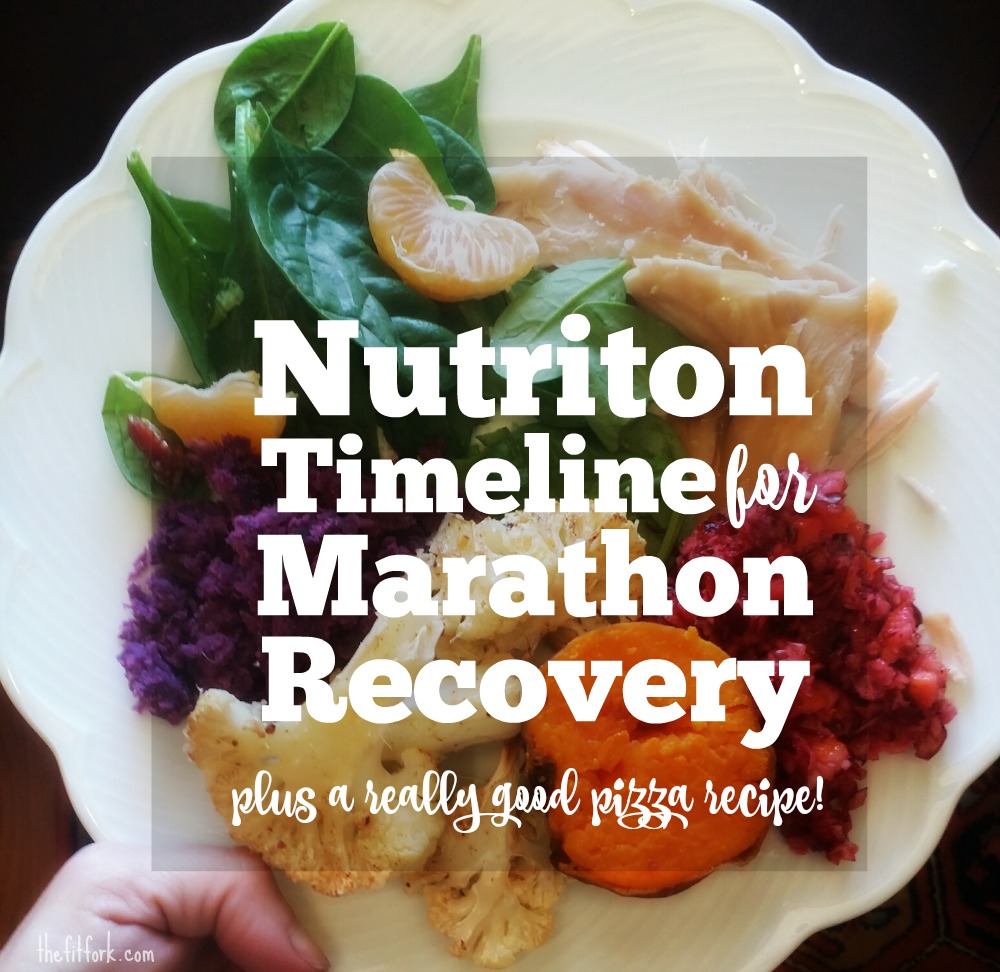 Read on to get the details on my Nutrition Timeline for Marathon Recovery, see what foods I pack in my drop bag, get questions answered (like should I take supplements), and get a speedy, satisfying, celebration-worthy post-marathon pizza recipe.
Also, ANNOUNCEMENT – I will be taking over the Whole Foods Market 365 Instagram story starting Saturday evening through Sunday (Feb 17th to Feb 18th) to share with you my experience prepping, running and recovering from the Austin Marathon. So, FIND ME!
Putting this post together for a couple reasons. 1) My friends running in the Austin Marathon this weekend have been asking for marathon recovery nutrition strategies; 2) I've noticed the bulk of sports nutrition advice out on the Internets seems to be geared toward fueling up before and during a race (not after); and 3) I wanted to share my new favorite go-to store (365 by Whole Foods) that has all the recovery foods needed to rebound from training . . and the upcoming race (I'm doing the half-marathon)!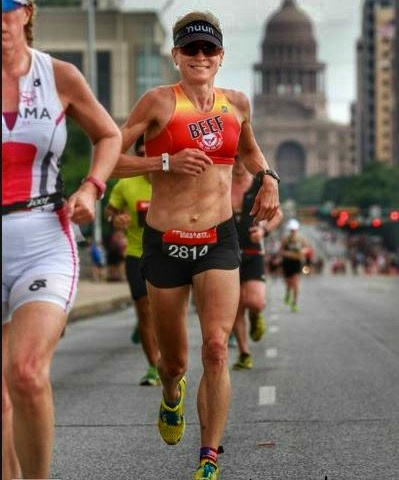 Nutrition Timeline for Marathon Recovery
The purpose of a post run meal is to feed muscles and tissues with quality carbohydrates along with protein and proper hydration so they can mend from the day's heavy stress. Recovery foods also provide hormonal support, inflammation reduction, and immune system defense, all areas which may be compromised after a long training cycle and the big event.Your refueling strategy should include more than just grabbing a bagel and bottle of water at the finish line. Here's a smart Nutrition Timeline for Marathon Recovery to follow from your first few steps over the timing mat through the next few days.
Within 5 Minutes: Begin drinking fluids at a steady rate in an effort to return to pre-run, fully-hydrated body weight. Urine should return to a light-colored "straw" hue to nearly clear in color. (Check out my 50 Shades of Pee post). Electrolyte drinks are beneficial after finishing a race too, as the higher sodium content will stimulate thirst and keep you drinking.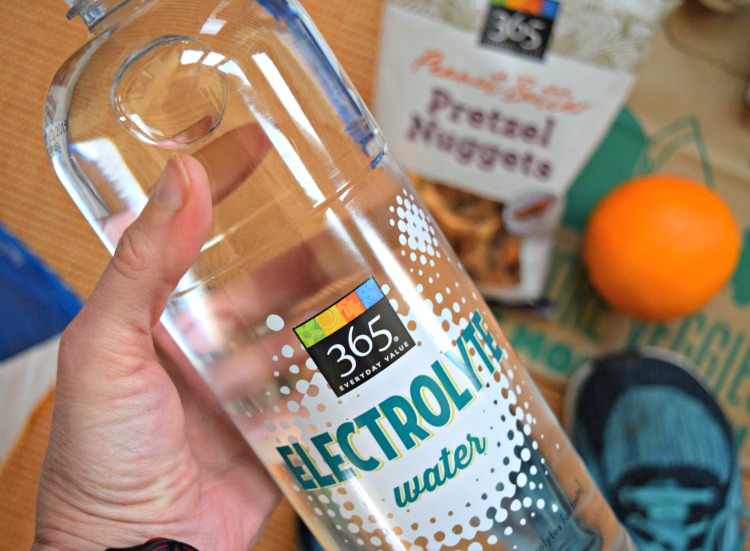 I always have an electrolyte beverage, salty carb-protein snack and fruit in my gear drop bag, just in case!
Within 30 Minutes: Before you start posting Facebook and Instagram updates about your accomplishment, take the time to consume 10 – 30 grams of protein plus half your body weight in grams of quality carbohydrates. For example a 150-lb. person would refuel with 75 grams carbohydrates. Thankfully, the finish line area of most marathons supports these post-race nutrition needs by offering bananas, oranges, bagels, protein bars, chocolate milk, sports drinks and more. But, sometimes I've seen only junky food . . . or the good stuff has been long gobbled up. So, to err on the side of caution, I always pack my own finish line snack and stash in the bag I check at gear drop. That way, I'm only a couple minute walk away from an optimal refuel situation, if needed.
Actual recovery meal from a half marathon last month — protein, carbs & race bling!
Within 2 to 3 Hours: Eat a well-balanced, full meal that includes plenty of "good carbs" like sweet potatoes, whole grains, fruits & veggies and such. This is no time to get or go back on a low-carb or keto type diet – your body is screaming for glycogen levels to be restored via the consumption of carbs. Carbohydrates are also needed to help synthesize– protein is powerful, but can't get to work in your body without carbs helping out. Put about 25 to 30 grams of protein on your plate to lock in muscle repair and keep the "hangries" away (which have woken me up in the middle of the night after marathon if I've scrimped on it).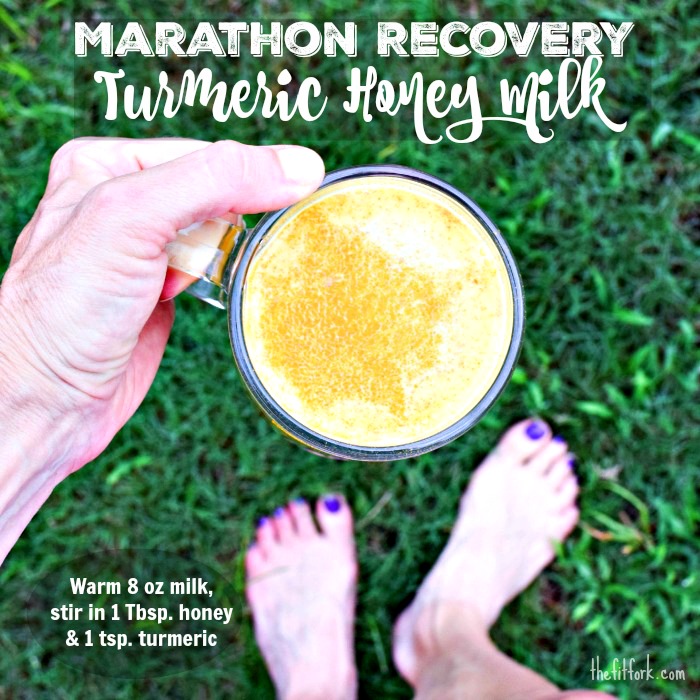 Bedtime Snack: I'd also highly recommend a light bedtime recovery snack that includes protein – 10 to 20 grams. The overwhelming percentage of our muscle growth and repair happens at night while in the deep sleep stage. A night-time nosh will also help to keep blood sugar stable, prevent huger awakenings, and fortify you with a little more energy to face the next day. Protein powders, especially casein protein, and low-fat dairy products (lactose-free fine) are all great choices. Here are some ideas:
6 ounces Greek yogurt with fruit and nuts
1 cup cottage cheese with cherries
2 cups of warm low-fat milk with honey and turmeric
1 cup milk and protein-enriched granola
Fruit smoothie with 1 scoop casein protein powder
Protein bites or bars made with casein protein powder
Next Few Days: Adjust your calorie intake to meet your expenditures. This means if you are taking it easy (and you should be), then you'll need to eat a little less to avoid weight gain. Once you move into the active recovery stage and are walking, yoga-ing or biking, you can add back in more food. Of course, focus on eating clean and colorfully, without skipping any meals – your body will need the ongoing flow of foods and fluid to heal properly.
QUESTIONS:
How Much Food? Calorie-wise, you don't need to eat enough for an army, maybe just a little more than you normally would. Remember, most of us have only burned of 2,500 to 3,500 calories in a marathon, that's not even quite a pound (if the scale shows more, you're dehydrated). And, some of these calories were already replaced in the form of gels, sports drinks on the course.
Am I Rehydrated? Your body may be doing weird things with the fluids you consume in the next few days. You may weigh less, you may weigh more depending on your sodium intake. The best bets are to consume enough fluids at a steady rate to keep your urine clear or straw colored (again see my 50 Shades of Pee post) and to compare your pre marathon weight with your post marathon weight 24 to 48 hours later.
Should I take Supplements? To err on the side of caution, I would suggest talking a multi-vitamin, probiotic and ensure you are getting enough vitamin C to boost your immunity. Read my article on the Let Down Effect and why athletes often get sick after an event. An Omega-3 supplement, an essential fatty acid that helps ease inflammation, may also be beneficial if you are not consuming from enough food sources (for example, salmon, walnuts, chia seeds, egg yolks).
Can I Splurge? Of course. Honestly, I feel that if you primarily eat clean and have a healthy relationship with food, it is fine (and good) to enjoy a treat when your body and mind are requesting it – especially after a marathon, Ironman, Spartan, century ride or other amazing endurance event. If you are into sweets or breads, the simple sugars, in moderation, will be put to good use in your recovery for the next day.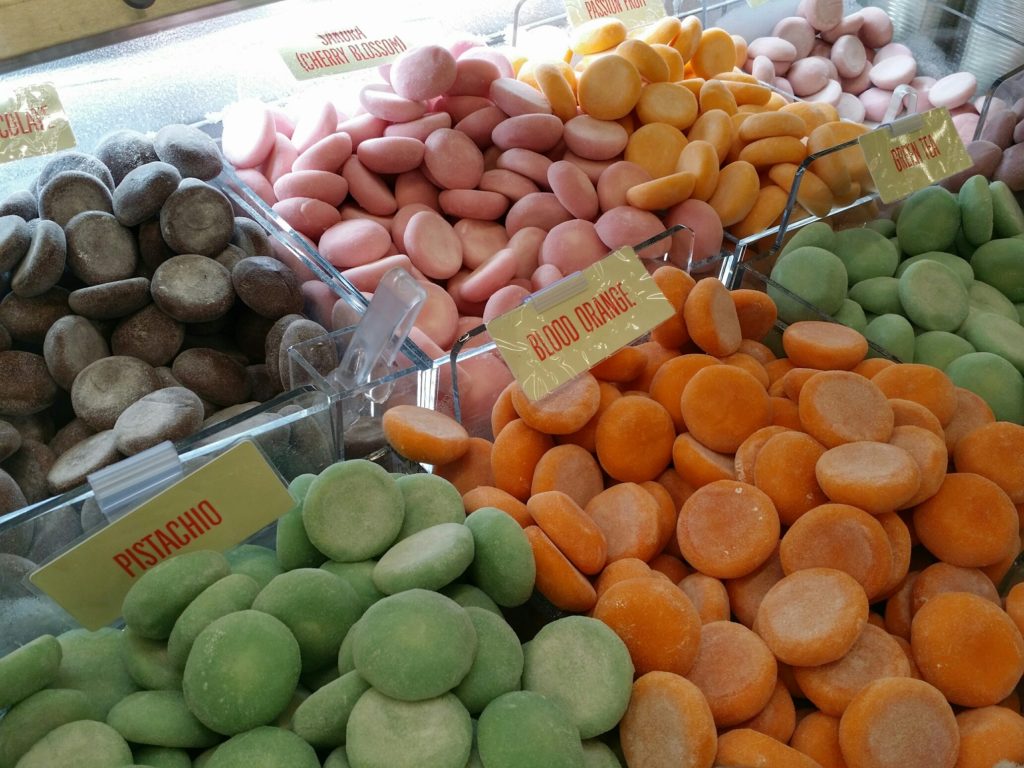 My splurge is Mochi Ice Cream (Japanese rice dough encapsulating a frozen treat) from Whole Foods Market 365.
Finally, I wanted to share with you what I made to eat after my long run – Truffle Mushroom Burger Pizza. I am planning to have the ingredients on hand to make again after the Austin Marathon because it satisfies all my post-running pizza hamburger cravings in a healthier, make-at-home way.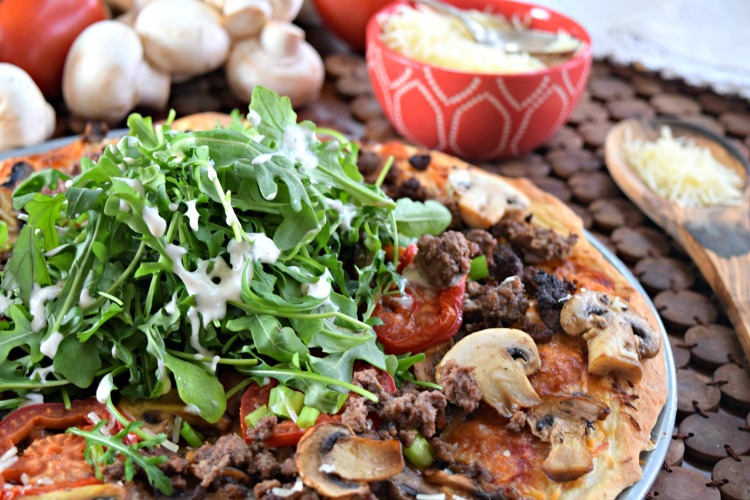 Plus, my Truffle Mushroom Burger Pizza is so quick, convenient and budget friendly – I picked up the ingredients at Whole Foods Market 365, in Cedar Park (other locations here). I absolutely loved the streamlined shopping experience, it's like the store was specially curated just for me — with all the healthy, fit and freshly-made foods I love.
And, you know I've been coached in slinging by the 2x World Pizza Champion!
Fresh pizza dough, ready for tossing, check! Tasty hormone and antibiotic-free, grass-free ground beef, check! Local organic mushrooms, tomatoes and lettuces at a fair price and quality pantry staples like marinara, olive oil, and spices with the 365 Everyday label, check, check,check!
Often, when I just need a bit of this and that for a pizza topping, I'll stuff what I need from a take-out box at the Hot & Cold Bar and Olive Bar. If I have no time or energy left for my own pizza making, my plan B is always to grab one from the Grab-and-Go cooler. Or, nab any of the other amazing pre-made meals at Whole Foods Market 365.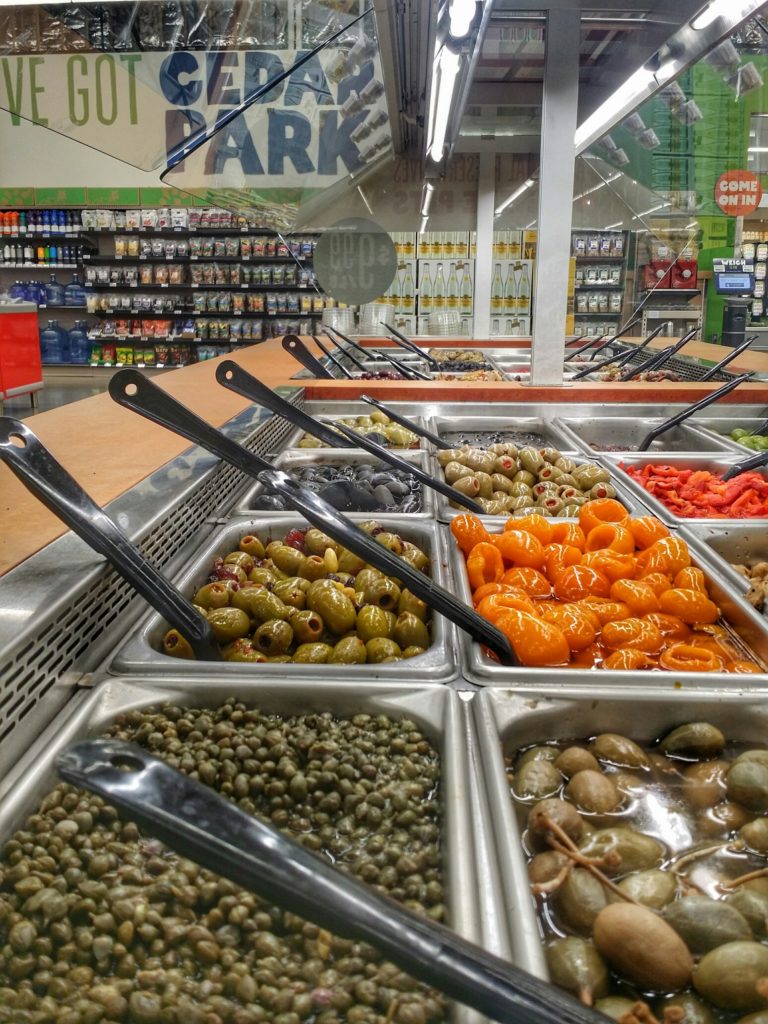 Y'all know I love me some beef, and a ¼ of this pizza offers me about 22 grams of muscle-making protein (I'll get the few grams more I need from the other ingredients) plus iron, zinc, vitamin B12 and more. Mushrooms have lots of these good recovery-boosting nutrients too. I also sprinkle some inflammation-boosting turmeric in my skillet along with the truffle salt, mmmm.
Topping my post-marathon pizza with some green, yay! I avoid most fiber packed foods, including salads, in the days leading up to the race (you know where I'm going with that) and am always super happy to have my greens back! Plus, salad on a pizza – that's an awesome thing! Truffle Mushroom Burger Pizza recipe at bottom of post, don't miss it!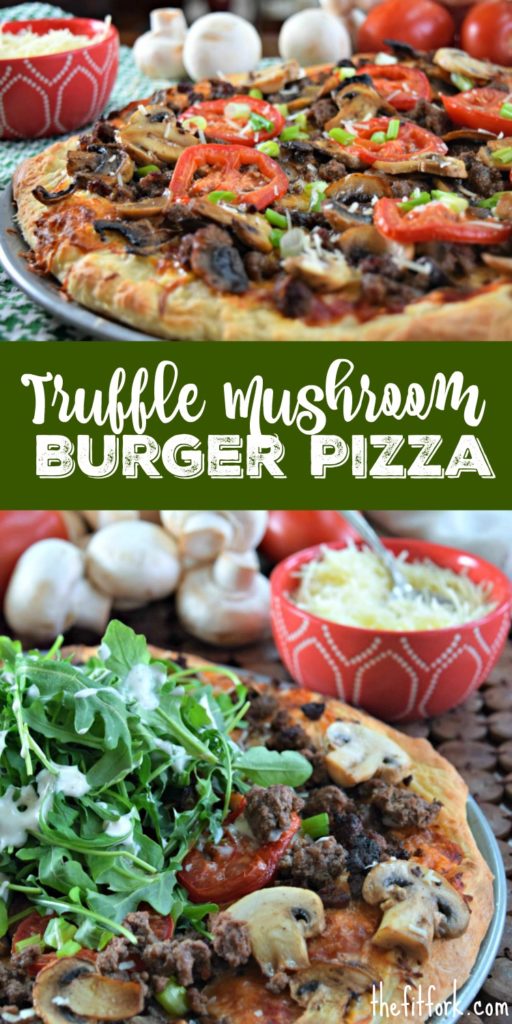 If you're running Austin Marathon, drop me a comment! If not, good luck to you, whatever endurance race you will be recovering from. Visit the Instagram Story at @365byWholeFoods on Feb 18th to see how I'm recovering! Try to follow my Nutrition Timeline for Marathon Recovery and bounce back like it was no big deal (ha, I know what an accomplishment it is)! If you are looking for a great shopping experience where you don't have to pick between foods that are convenient and make you feel good, check out Whole Foods Market 365) . Also, they have a great recipe collection with fit and fast inspiration to fuel your runs, workouts and recovery.
Note: This post is sponsored by Whole Foods Market 365, however all editorial content, opinions, recipes and enthusiasm are my own.
What are your favorite foods to eat after a big run or workout? How many non-running days will you take off after a marathon? What are your biggest obstacles when it comes to eating a good-for-you diet during training? Please share in the comments – XOXO, Jennifer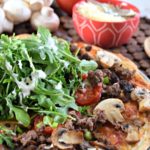 Satisfy your burger AND pizza cravings with this homemade pie loaded with beef mushrooms and all the gourmet burger shop fixings. Ready in around 30 minutes and one of my favorite recovery meals after a hard workout or run!
Servings

Prep Time

4

servings

5

minutes
Servings

Prep Time

4

servings

5

minutes
Satisfy your burger AND pizza cravings with this homemade pie loaded with beef mushrooms and all the gourmet burger shop fixings. Ready in around 30 minutes and one of my favorite recovery meals after a hard workout or run!

Servings

Prep Time

4

servings

5

minutes

Servings

Prep Time

4

servings

5

minutes
Preheat oven to 400 F degrees. Gently stretch and toss pizza dough to fit standard 12" pizza pan. Brush with olive oil. Par bake crust only for 7 minutes.

While crust is par-baking, brown beef in skillet, breaking into crumbles. Drain off excess fat and sprinkle with truffle salt, tumeric and white pepper. Transfer into bowl and set aside.

Sautee sliced mushrooms with Worcestershire sauce in same skilled beef was cooked in, for approximately 5 minutes or until softened.

Spread marinara sauce around par-baked pizza crust, leaving a 1/2" border. Sprinkle evenly with pizza-blend cheeses.

Distribute ground beef and mushrooms evenly around pizza. Add sliced tomatoes and sprinkle with asagio cheese.

Bake at 400 F degrees for 18 to 20 minutes or until, crust golden brown and cheese bubbling.

Remove from oven and let rest about 5 minutes, Top with arugula and dressing. Slice and enjoy!