After getting three kids out the door with special class party snacks, finishing a running workout of mile repeats in this relentless humidity fest which is central Texas and hitting the grocery store with my daily list, you'd think I'd be too bogged down to celebrate National Cranberry Relish Day. But no way! I really relish all the nuances of this sweet -tart dish that makes not just  a great side dish but also is a superstar salsa for chips, crave-worthy condiment on wraps, and tasty topping for Greek yogurt.  Sometimes I wonder why people only make this recipe during the holiday season?!
There are so many versions of cranberry relish and everyone seems to have a favorite. Some like molded cranberry sauce right out of the can while others prefer the texture and taste of fresh relish. We have a family recipe for raw cranberry relish that's been around forever — I can't remember a Thanksgiving without it! Basically, its fresh cranberries, sugar and an entire orange (unpeeled!) thrown into a food processor and pulsed. I guess back in the day, Grandma just chopped it up with a knife, old-school style.
My recipe for Bourbon Cranberry Apricot and Pecan Relish is inspired by the not overly-sweet tang of this beloved family recipe, but adds some new and exciting ingredients — err, namely the bourbon!  The brief cooking process burns away all of the alcohol content, so you don't have to worry about getting your little ones loopy!  However, if you'd rather not use the liquor, simply substitute ounce-for-ounce with more orange juice.
Here's an interesting fact that my kids figured out – cranberries bounce! Apparently, small pockets of air inside the fruit make them bouncy and buoyant (that's why they float when harvested in the bogs). It's also why you will hear them popping in the sauce pan.
Bourbon Cranberry Apricot and Pecan Relish Recipe
12 ounces fresh cranberries
2/3 cup coarsely chopped dried apricots
2 ounces bourbon whiskey
2 ounces fresh orange juice (from medium orange)
1 teaspoon orange zest (from medium orange)
1/3 cup coconut sugar
1/2 cup pecan pieces
Garnish: fresh mint
In a large saucepan, bring all the ingredients (except pecans and mint garnish) to a boil over medium-high heat, stirring frequently. Cook, stirring occasionally, until the cranberries pop and the mixture thickens, about 10 minutes; let cool. Stir in pecans.  Serve warm, room temperature or cold – it's good every way!
Serves 6 – 8.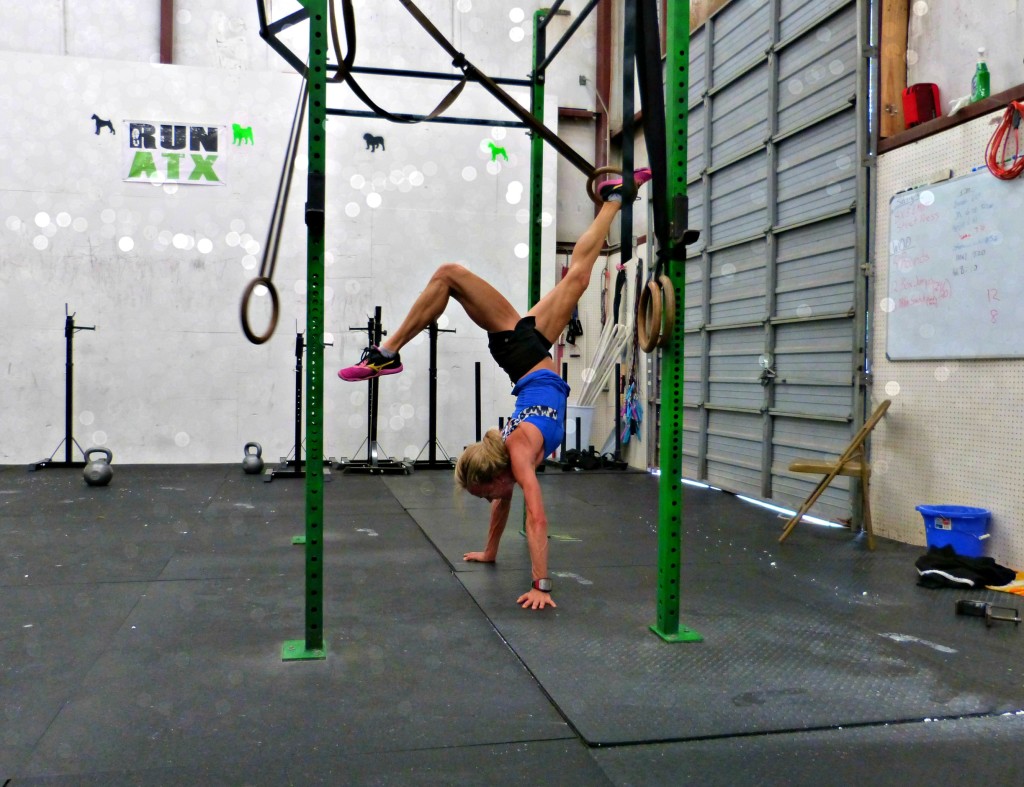 So, as I mentioned earlier, my workout today was 5 mile repeats. And, thank goodness, it was not my "One-Derful" WOD which includes not only mile repeats but also lots of other tough stuff.  With Thanksgiving coming later this year, I didn't realize that my marathon (Dallas) was just over 2 weeks away. I guess I'm going into taper mode and I am completely NOT ready for the marathon.  But I never am.  So what do my friend and I like to do after we run? We always take crazy pictures at her CrossFit box (BVM CrossFit) – I'm sure you've seen some of them before.  Nothing like walking around in a handstand with one of your legs stuck in a gymnastic ring. I added some sparkly disco lights to distract from my lack of flexibility!