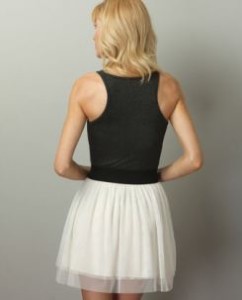 I don't know about you, but I'm planning on making an impressive "exit" at a couple New Year's Eve parties. That's because I've been working hard on sculpting a sexy back over the past few months and I'm ready to show it off in a cute little black (and white) dress.  So, imagine a fun little frock like the one to the left, but now pair with the new-and-improved back in the picture below!
I didn't even know there were so many muscles in my back until my coach snapped this picture the other day at her CrossFit box. You'll notice in the picture, I'm wearing an awesome bra top by Handful. I really can't say enough great things about the bras made by this company, especially the Adjustable Handful Bra  which I'm sporting in purple in the pull-up picture above. First of all, the slogan at Handful is "Flatter Not Flatten" and what's not to like about that? Even though I wear an XS in their product line (and less than an A-cup in a traditional bra), the removable pads slip discretely into inside pockets to create a shapely silhouette (and also to prevent embarrassing moments in a cold gym, if you catch my drift). You can even buy additional pads if you desire a more voluptuous look. Also, the stretchy fabric, made from a blend of  82% nylon and 18% spandex, is super comfortable and soft, much more so than other fitness tops I've worn.  Another perk, the straps are not just adjustable up-and-down, but also can be arranged criss-cross (as I'm wearing) to wear under t-back tanks — or even a formal dress!  This isn't just a bunch of puff; I'm seriously loving this bra and am planning on replacing all my ill-fitting everyday bras with a wardrobe of Handful bras.
Anyway, back to the back! There are so many muscles in the back, all working together to support the spine and provide a wide rage of movement in perfect harmony. For example, the trapezius is a large triangle-shaped muscle that runs from the middle of the back up to the neck, also covering part of the shoulder blade.  When sculpted , the trapezius looks strong and sexy; but better yet, it also helps to prevent back fatigue and neck pain. Rhomboids, small muscles that run from the center of your back up to the lower neck, hold your shoulders back and help you keep great posture. External obliques, the lattisimus dorsi, and the scapula muscles are other back muscles that you can't ignore.  When you think of a sexy back, it's not just the "official" back muscles that you need to work out; the deltoids, a muscle group that that wraps around the top of the shoulders, are also a must-have for a show-off back.
Check out this 15-minute fitness routine targeted for the back that will have you looking like a softly chiseled goddess in just a few weeks. Challenge yourself by using weights that aren't too heavy, not too light – but are a modest challenge. This set of back exercises focuses on strengthening your entire back while working out other muscles groups at the same time — functional and fun! Get after it two to three times per week!