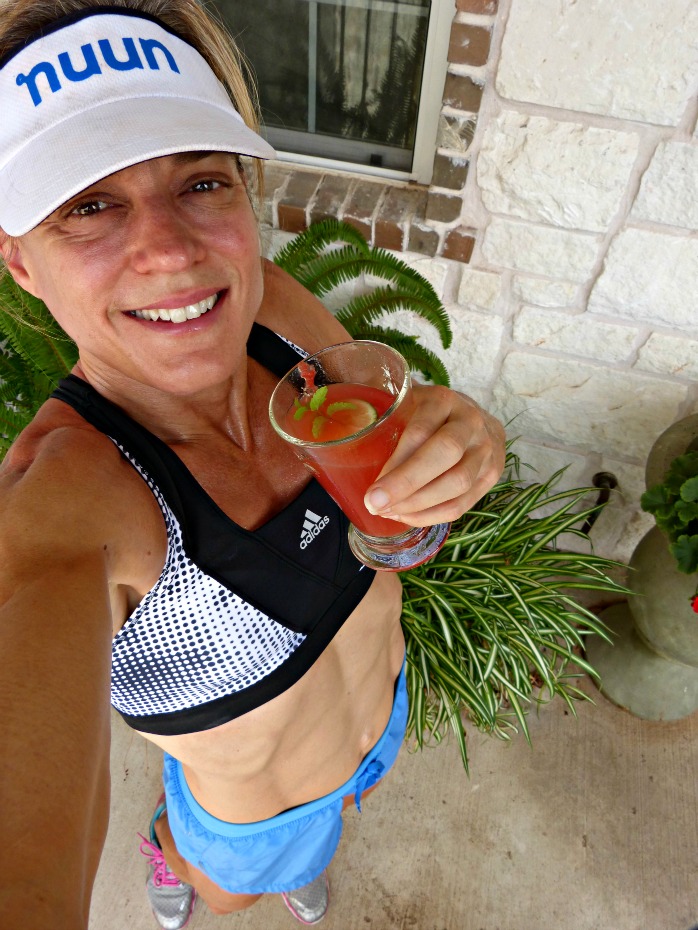 The weathermen don't need to convince me that July 24th is considered the hottest day of the year.  Here in Austin with temperatures about to pass the 100 degree mark, I think I could sear my favorite spice-crusted tenderloin steak to perfect mouthwatering, medium-rareness right on the sidewalk. Seriously.  I actually enjoy the heat and think in a past life I may have been a lizard. However, unrelenting warm temperatures create challenges when exercising outdoors  — one of the biggest problems is remaining hydrated as sweating increases.  Even becoming moderately dehydrated really puts a downer on the day – who wants to deal with muscle cramps, a nagging headache and lingering fatigue?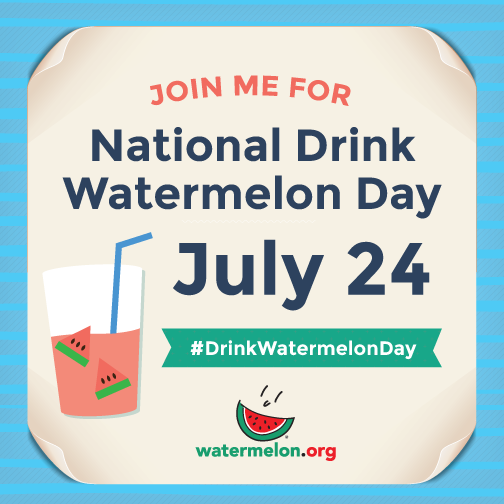 I was super excited to find out today is National Drink Watermelon Day, a pretty awesome proclamation made by the National Watermelon Promotion Board (NWPB).   Drinking watermelon juice is a great way to keep fluid levels topped off – this jumbo-sized juicy fruit is made from 92 percent water and is a robust resource for replenishing electrolytes. Watermelon can even help your muscles recover more quickly from workouts thanks to the amino acid L-citrulline.  I talk about this in more detail in the Running & Watermelon Hydration and Watermelon & Workout Recovery posts I did for my recent week of #LivingOnTheWedge.

Outdoor athletes aren't the only ones that need to stay hydrated during the summer.  A recent Harris Poll commissioned by NWPB reported that nearly 1/3 of us don't drink enough water – the main reason being lack of flavor. Really, you could just eat an 18 ounces slice of watermelon and it would be like drinking a 16 ounce bottle of water. However, there are so many taste bud tantalizing drinks you can make with watermelon that are so much more exciting than just putting a lemon slice in water. Some of my favorite past recipes are Watermelon Agua Fresca and Watermelon Chia Seed Smoothies. One of my favorite sports hydration companies, Nuun Hydration, even makes a Watermelon-flavored electrolyte replacement tab — I like to add these do watermelon juice for a double boost!
.However, in honor of National Drink Watermelon Day, I've come up with a new watermelon beverage that quenches thirst with a kick of ginger – Stevia-Sweetened Watermelon Ginger Limeade. Ginger is an awesome addition to any drink – it boosts the absorption and assimilation of essential nutrients in the body and it has anti-inflammatory properties to sooth sore muscles and joints. A glass of this lightly sweet-sour-spicy drink will make you say "hello" to hydration – who doesn't want to drink MORE of something that tastes so outrageously good. And, please do drink more – I've made this healthy recipe with Stevia to keep the carbs lower!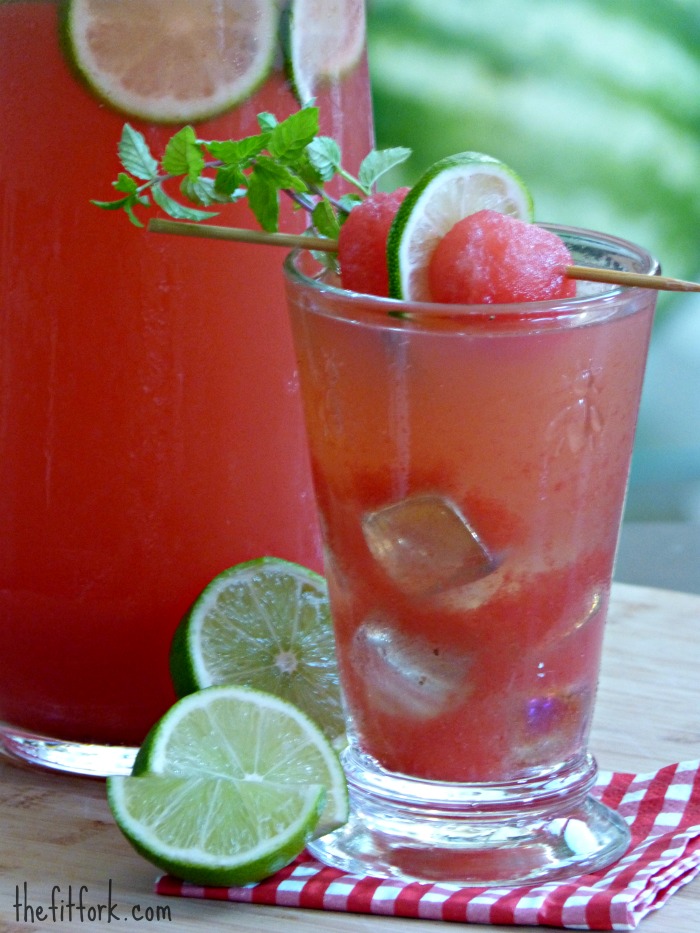 Stevia-Sweetened Watermelon Ginger Limeade Recipe
 4 oz fresh ginger root
2 cups water
1 tablespoon powedered Stevia (like Wholesome Sweeteners Organic Stevia)
4 cups watermelon juice
½ cup fresh lime juice
12 oz sparkling water
Optional Garnish – lime slices, watermelon balls and fresh mint
Wash and thinly slice ginger root, peeling is not necessary. Add sliced ginger to small sauce pan filled with 2 cups water.  Bring to boil and the lower heat and let simmer (no lid) for about 30 – 45 minutes or until liquid reduced by half.
Pour ginger and water through fine-meshed strainer and into a bowl. Mix in stevia and stir until dissolved. Discard ginger or save for another use.
Prepare watermelon juice by pureeing about 6 cups of watermelon in the blender and straining off pulp. An easier way is just to collect the juice that runs off watermelon when cutting it into chunks – I save all of mine and keep it in the freezer for recipes like this!
To prepare beverage, pour watermelon juice, lime juice, ½ cup ginger "syrup" juice into tall pitcher; stir to combine. Pour in sparkling water and lightly stir.
Serve in tall glasses garnished with lime slices and watermelon balls. Serves 4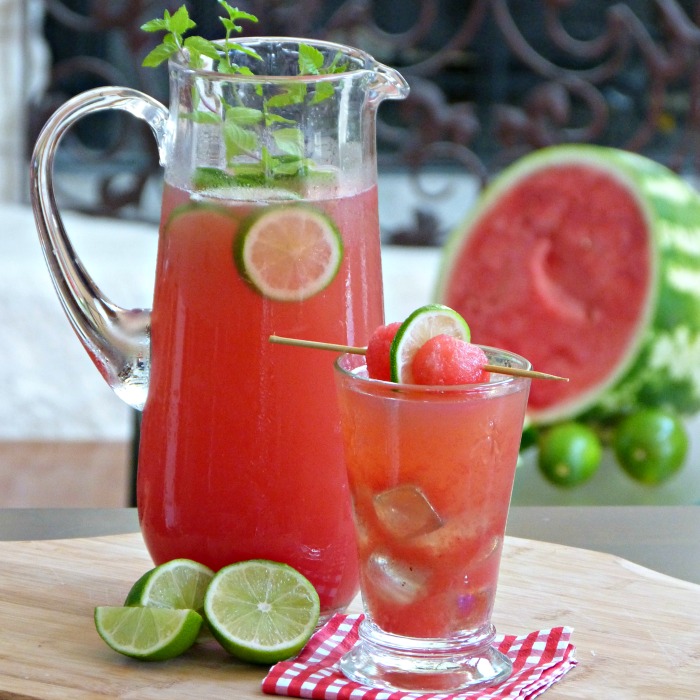 This post was sponsored by the National Watermelon Promotion Board and I received nominal compensation to share my love for watermelon. All recipes and opinions are my own.