Roasting strawberries, hmmm. Normally I would never have enough leftover strawberries in the fridge to consider getting creative with them, but after a trip to the market today I was blessed with a windfall of red, ripe strawberries that were just begging for an adventure. Since it's been so hot here in Austin (and everywhere else, I've heard), I decided that a strawberry sherbet would be the ideal way to end the day. Actually, I think I have a thing for frozen strawberry treats, check out my recipes for Strawberry Lemonade Coconut Water Pops and 'Whey Cool' Frozen Strawberry Pie.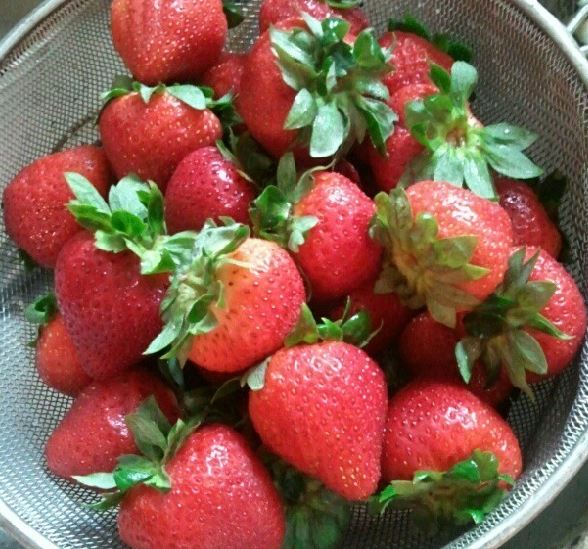 But, today my mind is going elsewhere with the strawberries; I'm looking to put a new spin on a sure-thing sherbet. In the past, roasting other fruits has worked well for me, magnifying the flavors and intensifying the sweetness. So, I decided to throw caution to the wind, turn on the oven, and give these beauties a blast of heat. I also used coconut sugar and unsweetened coconut milk (the kind from the carton, not the thick sweetened stuff from a can) in my recipe to keep it gluten-free, dairy-free, vegan and paleo-friendly. Whoohoo, Roasted Strawberry & Coconut Milk Sherbet for everyone!
Roasted Strawberry & Coconut Milk Sherbet Recipe
4 cups strawberries (approx. 1 lb), hulled and halved
1 cup coconut sugar*
2 cups unsweetened coconut milk (from carton)
¼ teaspoon sea salt
 Instructions:
Preheat oven to 400 F degrees.
Combine strawberries and sugar on a rimmed metal baking sheet, tossing until all berries have been coated with sugar.
Roast strawberries, stirring occasionally, about 12 – 15 minutes until juicy and bubbling. Keep a close eye on oven to make sure sugar doesn't start burning. Let mixture cool to room temperature.
Add strawberry mixture, coconut mile and sea salt into blender and puree for until smooth, approximately 1 minute.
Process sherbet mixture in ice cream maker according to manufacturer's instructions.
Transfer sherbet to freezer-proof, airtight container until ready to serve.
Let soften for 5 to 10 minutes before scooping.
Serves 6.
*Coconut sugar is actually dried sap from the coconut tree and has a lower glycemic index than conventional sugar. However, it does have a brown color which makes the sherbet have a darker color. If you want "pink," you'll have to use white sugar . . . uh, and maybe food color (eek)!