Y'all know I like to get my daily dose of lean protein — particularly beef, fish and Greek yogurt (though not all mixed together)!  But sometimes I like a meal that focuses on veggies and alternative proteins – I don't discriminate!   This recipe for Black Bean, Zucchini and Corn Tacos shows off my favorite bean source for protein (the black bean) and some yummy seasonal produce – it's the perfect recipe for al fresco feasting, inviting vegetarians over dinner  or a #MeatlessMonday meal.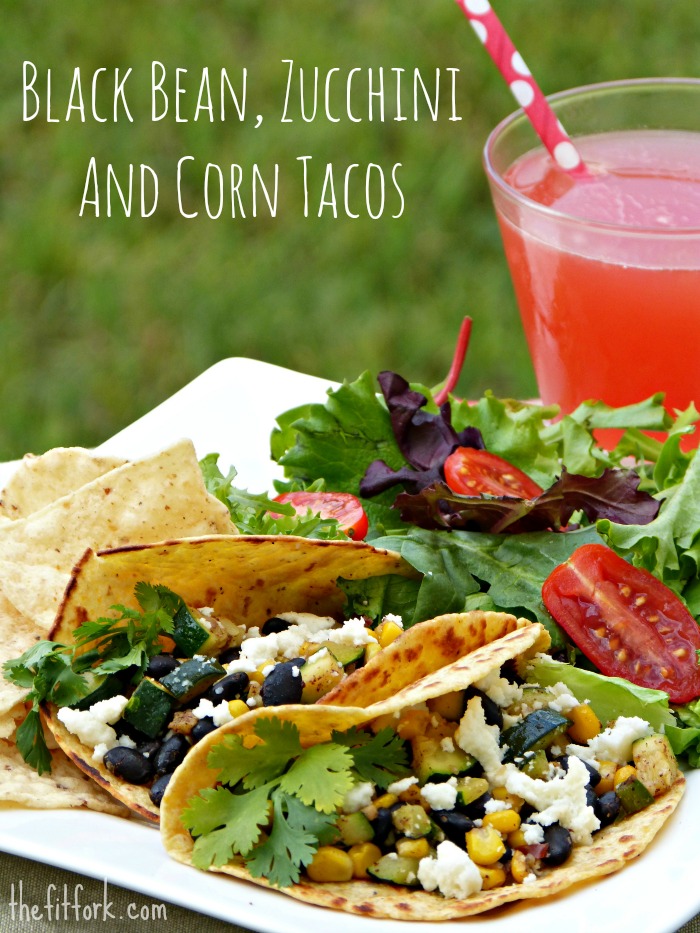 Black beans are plain awesome, not just because they taste good but because they work in so many different types of cuisines – South American, Mexican, Cuban, Indian, Creole, Cajun and more!  They are super-packed with phytonutrients, rank low on the Glycemic Index (meaning they provide long-lasting energy) and are, I'm pleased to report, the highest-fiber bean around.  In addition to providing 15 grams of fiber per 1 cup serving (almost 60% of DV), the same size serving offers about 15 grams of protein.
I like to put black beans in my omelets, in soup, on salads, sprinkled on baked sweet potatoes – and of course as the star of tacos.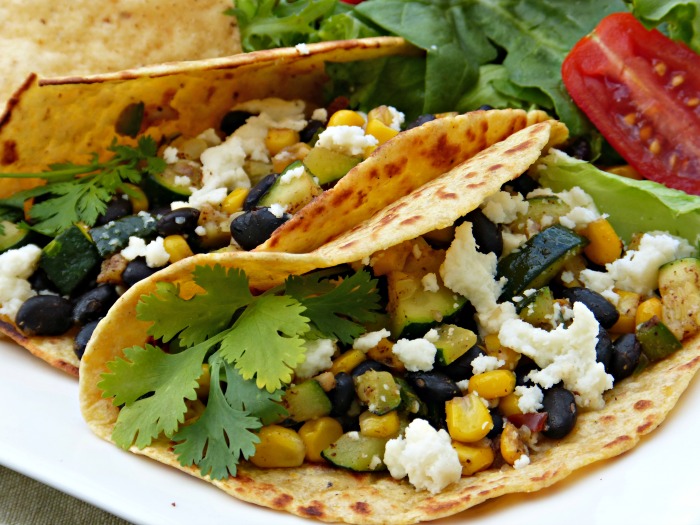 Black Bean, Zucchini and Corn Tacos Recipe
1 tablespoon olive oil
1 medium zucchini, chopped ¼'
¾ cup fresh corn kernels (or frozen)
¼ cup diced red onion
1 jalapeno, seeded and minced
1 cup cooked black beans, rinsed and drained
1 tablespoon minced garlic
1 teaspoon ancho chile powder
½ teaspoon ground cumin
½ teaspoon salt
4 ounces queso fresco, crumbled
8 tortillas (I like the corn-flour mix tortillas)
Cilantro springs for garnish
Add olive oil to skillet and bring to medium-high heat. Add zucchini, corn, onion and jalapeno and sauté for 4 to 5 minutes, or until veggies are softening and zucchini is starting to turn lightly brown.  Add black beans, garlic, chile powder, cumin and salt to skillet and stir around for approximately 2 more minutes, or until heated through.
If desired, lightly crisp tortillas over gas burner or in a skillet. Add 1/8 of mixture to each tortilla, top with ½ ounce of crumbled cheese, and garnish with cilantro. Serves 4 (2 tacos each)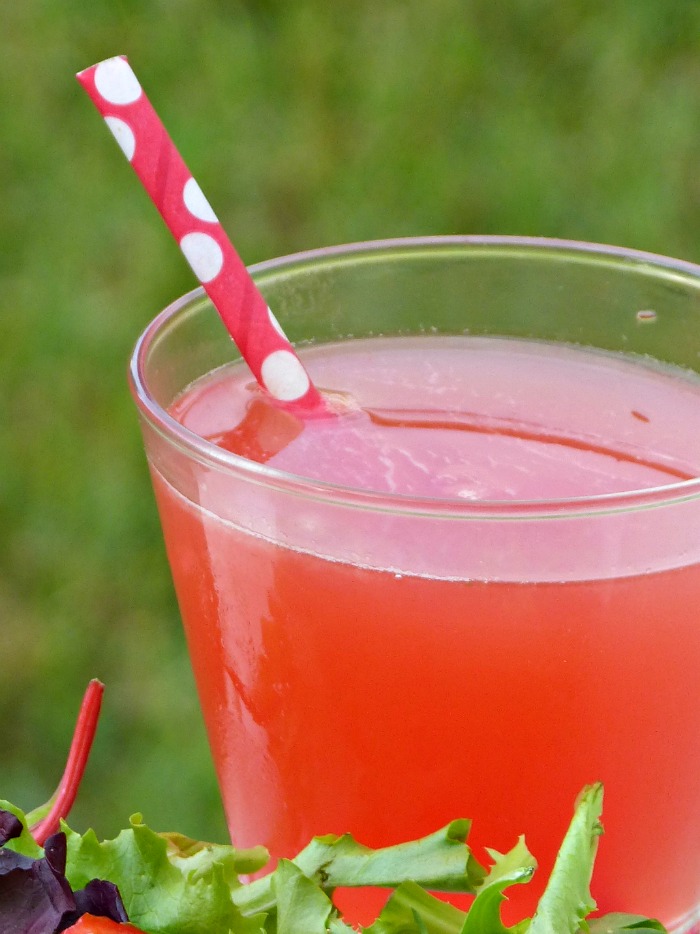 If you are wondering what I'm drinking with the tacos (the pink beverage) – it's watermelon juice and a Nuun Hydration Electrolyte Tab. In the Texas heat, it's hard to stay properly hydrated – but Nuun is a tasty, sparkling and sugar-free way to keep everything in check. To make the drink, pour about 8 ounces of watermelon juice in a glass (just the stuff that collects in the bottom of your bowl when cutting up a melon or you can puree watermelon chunks) and add ½ Nuun tablet in the flavor of your choice – they even have watermelon!
Just a little hint of things to come starting July 1 – WATERMELON!!! I'll be talking all things watermelon , every day, for one week – including how watermelon juice actually can benefit athletic performance and recovery!
So, what are you eating for dinner tonight? Please share in the comments, I am always looking for new ideas!