Sweet potatoes. It's hard to believe that I strongly disliked them until just a few years ago. I thank some overly sweet marshmallow sweet potato casseroles for the aversion and an amazing array of more savory dishes for my newfound love. In fact, I adore sweet potatoes so much today that they are my go-to carb source for pre-marathon race fuel. Plus, my recipe for Spicy Beef and Sweet Potato Samosas almost won me a million dollars in the Pillsbury Bake-Off.  Oh, some other potato appetizer won, but that's okay — I still stand by the funky orange tuber!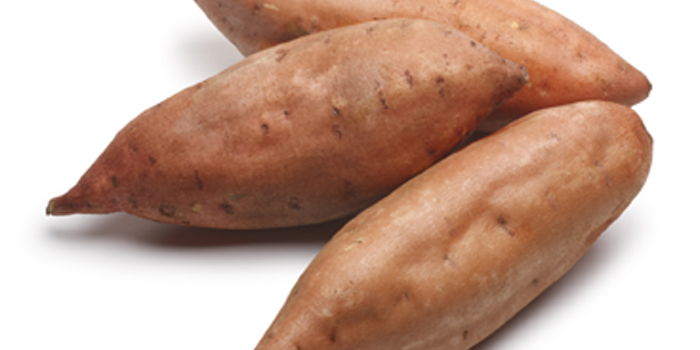 Not native to America, the sweet potato was brought over by Columbus from the West Indies. Thriving in many parts of the country, folks during the Revolutionary War relied on this early "superfood" as a primary source of nourishment. One physician during the era anointed the tuberous root as an "indispensable vegetable" and I couldn't agree more. The sweet potato is loaded with calcium, potassium and vitamins A and C. The Center for Science in the Public Interest rates sweet potatoes as the number one most nutritious vegetable on the planet because they such are so nutritionally rich. Sweet potatoes rate low on the glycemic index which keeps blood sugar levels from spiking. Sweet potatoes have a glycemic load of just 17 while a regular white potato comes in at 29. Finally, a carbohydrate you can feel great about eating!
Since I was planning soup as our main dish for dinner, I wanted to add something to maximize the protein – chickpeas seemed an innocuous ingredient choice that would pump up the overall protein by 6 grams per serving (for a total of about 18 grams per serving) without altering the taste.  Knowing my family likes slightly spicy, southwestern flavors, I also added just enough Ancho chile powder to take down the sweet a notch without making it "hot."  Soup's on — hope you enjoy!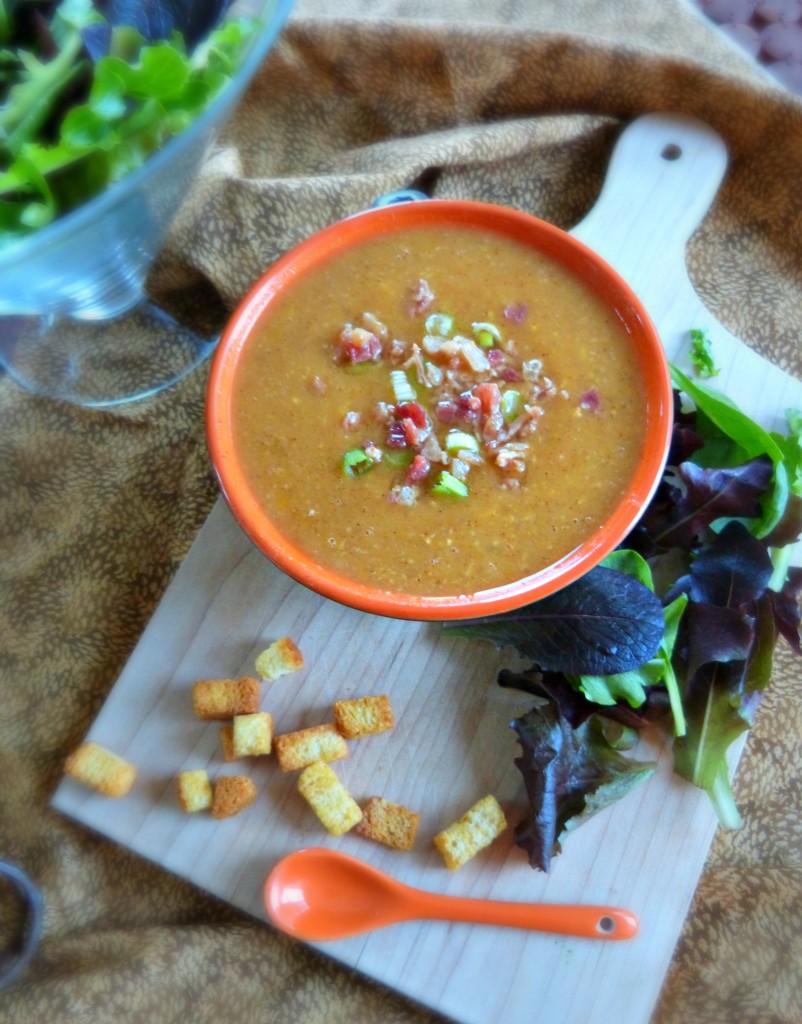 Update March 2017: This soup was featured in Taste of Home's Healthy Cooking Annual Recipes cookbook.
Southwestern Sweet Potato Chickpea Soup Recipe
 1 ½ pounds sweet potatoes, halved lengthwise (about medium)
1/4 cup water
2 teaspoons olive oil
1 cup chopped onion
1/2 teaspoon ground cumin
2 teaspoons ground Ancho Chile pepper
4 cups vegetable stock (eg: homemade, canned or reconstituted)
1 15-oz can chickpeas (garbanzo beans), drained
1/4 teaspoon salt
1 ounce fresh Parmesan cheese, shaved (about 1/4 cup)
2 green onions, bubs and greens sliced
Place potatoes, cut sides down, in an 11 x 7-inch microwave-safe baking dish. Add 1/4 cup water; cover with plastic wrap. Microwave at HIGH 15 minutes or until potatoes are tender. Cool slightly; discard potato skins.
Heat stock pot over medium-high heat. Add oil; swirl to coat. Add onion; sauté 1 minute or until translucent. Stir in cumin and Ancho powder. Scoop sweet potatoes out of skin and add to pot along with stock and chickpeas.
Place half of sweet potato mixture in a blender. Remove center piece of blender lid (to allow steam to escape); secure blender lid on blender. Place a clean towel over opening in blender lid (to avoid splatters); blend until smooth. Pour pureed soup into a large bowl. Repeat procedure with remaining mixture. Stir in salt.
If serving as an entrée, divide soup evenly among 4 bowls (6 to 8 bowls for soup course); sprinkle Parmesan cheese evenly over top. Garnish with sliced green onions.
Oh, and if you're in a breakfast-for-dinner mood don't miss my "Top of the Morning" Sirloin Sweet Potato Hash, it's great way to fuel up for the weekend and the leftovers make fast and filling breakfast tacos come Monday.