I love living life on the "wedge." I'm crazy like that. Watermelon is one of my favorite fruits. Actually, it's a vegetable related to cucumbers and squash, but don't tell that to my kids. Everyone in the family agrees that there's not much that tastes better in the heat of the summer than a big slice of juicy watermelon – the five of us have no problem polishing off a whole melon in one day! A simple and healthy dessert for picnics and pool parties, watermelon can be enjoyed right off the rind or dressed with a little spicy surprise – check out my recipe for Watermelon with Spicy Salsa that was once featured in Better Homes & Gardens.
Last night I decided to add a little sophisticated spin to watermelon and put it on the dinner plate as something other than just a sweet side. My experimenting has been named Spicy Sesame Salmon on Seared Watermelon and it is super delish, especially topped with my favorite fish – salmon. Hey, that's two superfoods in the same recipe for maximized nutrition!  I served it on a bed of organic red quinoa and broccoli, but you can tweak that to suit your tastes.
Spicy Sesame Salmon on Seared Watermelon Recipe
For Watermelon & Fish:
1 cross section watermelon (1″ thick)
1 tablespoon olive oil
Sea salt
2 wild caught salmon filets, skinned
For Sauce:
¼ cup sweet chili sauce
1 teaspoon Sriracha sauce
2 tablespoons soy sauce
2 tablespoons rice wine vinegar
1 tablespoon dark sesame oil
2 tablespoons toasted sesame seeds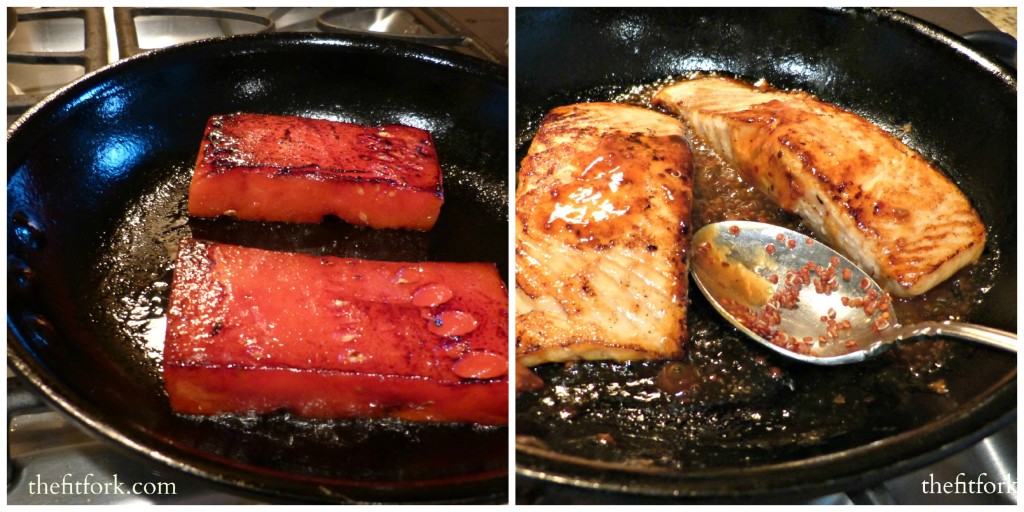 Cut watermelon into 2 planks approximately 1" thick, 6" long and 3" wide. Add olive oil to skillet and bring heat to medium high. Add watermelon and sear for approximately 2 minutes on each side, or until watermelon flesh is beginning to caramelize.  Remove from skillet, season with sea salt and set aside until fish is ready.
Keep heat on and add fish to skillet used for watermelon; leave residual juices and oil in there.  Saute for approximately 5 -6 minutes per side until cooked through and fish is lightly browned on the outside, firm and flaky.
In a small bowl, whisk together chile sauce, Sriracha sauce, soy sauce, vinegar, oil and sesame seeds. Pour over fish during last 2 minutes of cooking to glaze salmon and warm up.
To serve, place fish atop seared watermelon plank and spoon extra spicy sesame sauce from pan over the top.*
Serves 2.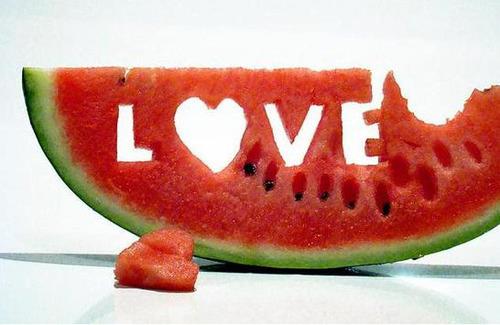 More reasons to love watermelon:
Low Calorie: Watermelon is basically free of fat, cholesterol and sodium and has only 80 calories in a 2 cup serving. Plus, with a high water content, along with some fiber, this melon gives you a feeling a fullness that will help curb unhealthy snacking.
Nutrient Rich: An abundance of vitamins and minerals are found in watermelon including Vitamin A (25% DRV), Vitamin B6 (6% DRV), Vitamin C (30% DRV), Thiamine (6% DRV), Magnesium (6% DRV), and Potassium (8% DRV).
Lycopene Leader: Watermelon actually trumps tomatoes when it comes to lycopene, offering up to 20 milligrams in a two-cup serving. Not only does this amazing antioxidant give watermelon its pink-red pigment, it's an efficient oxygen scavenger that helps to repair cell damage caused from daily living.
Heart Health: Eating six cups of watermelon (not that hard, trust me) increases free arginine which maintains cardiovascular function. Plus, a diet rich in fruits and vegetables, as opposed to a diet filled with bad fats and processed foods has been shown to contribute to longer living.
Hydration: Watermelon is a tasty way to replenish body fluids, plus it is naturally infused with electrolytes.  Because watermelon flesh is comprised of 92% water, eating 1 cup of diced watermelon is the equivalent of drinking 7.36 ounces of water.  Get super hydrated with my recipe for Watermelon Blueberry Nuun Agua Fresca!
Facts come from the National Watermelon Promotion Board.