This shop has been compensated by Collective Bias, Inc. and its advertiser. All opinions are mine alone. #GladeHolidayJoy #CollectiveBias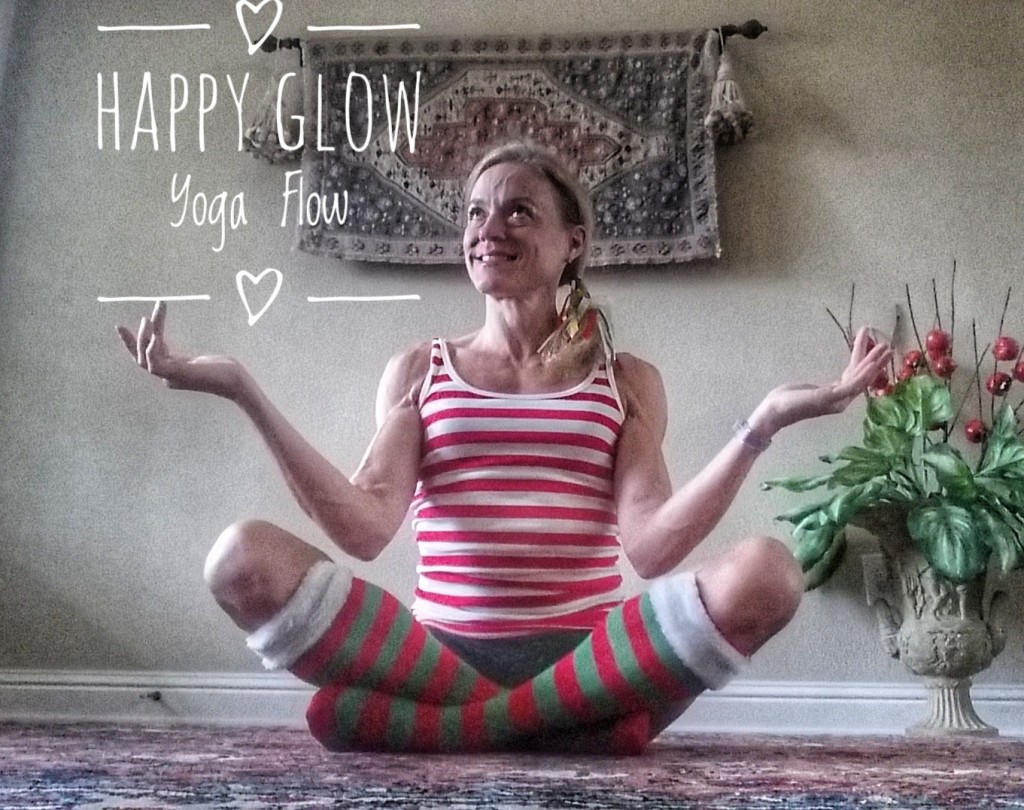 On the morning after Halloween, my neighbor started putting out her winter holiday decorations. Later that afternoon, I noticed my grocery and big box store were doing the same. I also bumped into a friend who was already getting a head start on Black Friday shopping. Being a little competitive in nature, these harbingers of the holiday season triggered a wave of stress that I knew a brisk jog around the block couldn't completely cure.
With so many other life obligations piled high on my plate right now, I knew I wasn't ready to deck the halls, fatten the goose, and jump on the sleigh to start celebrating just yet. In fact, because of this chaos in my life, I needed to find a new routine to slow down and relieve stress before all the winter festivities start ramping up.
Yoga has always made me feel calmer during times of heavy turmoil or just minor everyday stress. That's because yoga forces me to connect my body and mind in a way that I never do normally day-to-day, hour-to-hour, minute-to-minute (that is, unless I'm yoga-ing)! I also notice how certain scents can trigger an emotional and, often, physical response in me. For example, the smell of lemon makes me feel really alert and focused while lavender can put me to sleep.
I recently found out that cinnamon, a scent I already love, has a prolific list of perks. According to the Illustrated Encyclopedia of Essential Oils (1995) the scent of cinnamon has numerous benefits including the ability to ease depression and stress . .. and relieve constipation and indigestion (come on, you know this can be a problem when stressed out)! Plus, I personally have so many wonderful childhood memories centered on cinnamon – like those hard candies my dad used to sneak to me in church and cinnamon apple pie, my all-time favorite dessert. There is no way to NOT be comforted in a hug of cinnamon.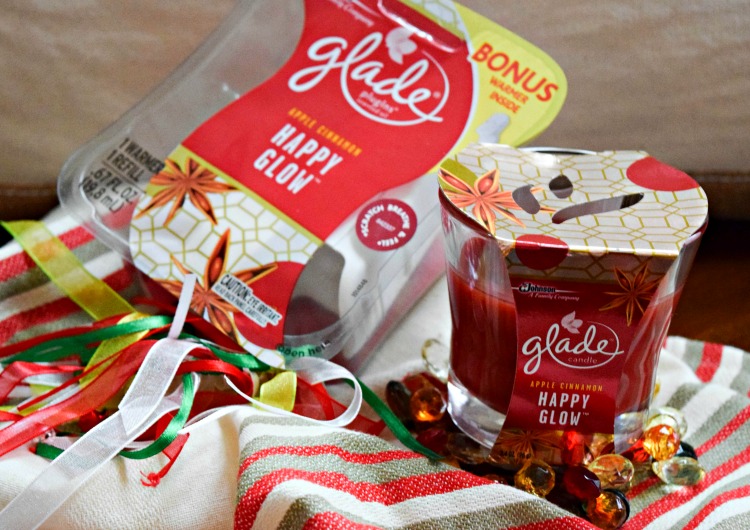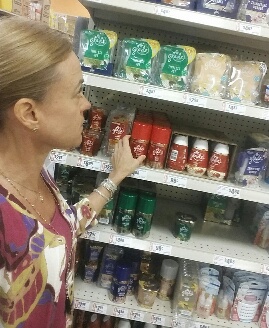 That's why I was so excited to see the Glade® Limited Edition Holiday Scents  on my last visit to HEB, my local market. There are a lot of different home fragrance options from Glade®, but I picked up the Glade® PlugIns® Scented Oil Warmer and Glade® 3.4 oz. Small Jar Candle in the Happy Glow Apple Cinnamon Scent. The Glade® Limited Edition Holiday Scents aren't found on the regular home fragrances aisle, instead they will be on end caps (like at my HEB store) or in special wood rack displays.
The candle is absolutely fantastic! Not only has the apple cinnamon scent been calming me down, it's lasted a long time and blends beautifully into my home décor thanks to the stylish glass container. However, I NEVER keep candles burning when I leave the house or go to sleep. The Glade® PlugIns®  Scented Oil Warmer allows me to enjoy my home fragrances 24/7 safely with no open flame, the dispenser just plugs into the wall outlet to warm the oil.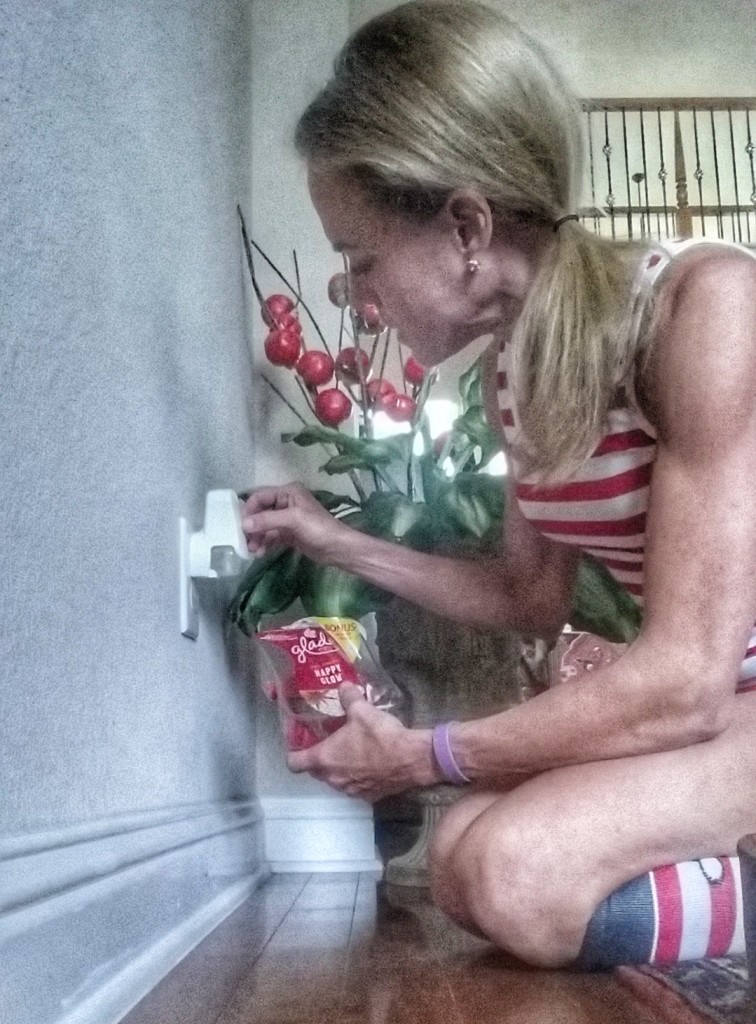 Putting Glade® PlugIns®  Scented Oil Warmer in my Yoga Space to enjoy the Happy Glow™ scent without worry.
So, in addition to smelling the Happy Glow™ scent to feel more joy and less "oh boy" this holiday season, I also have been doing a 10 minute yoga flow with poses that are calming. You need to try these easy yoga poses, surely you have 10 minutes for a surprising burst of joy!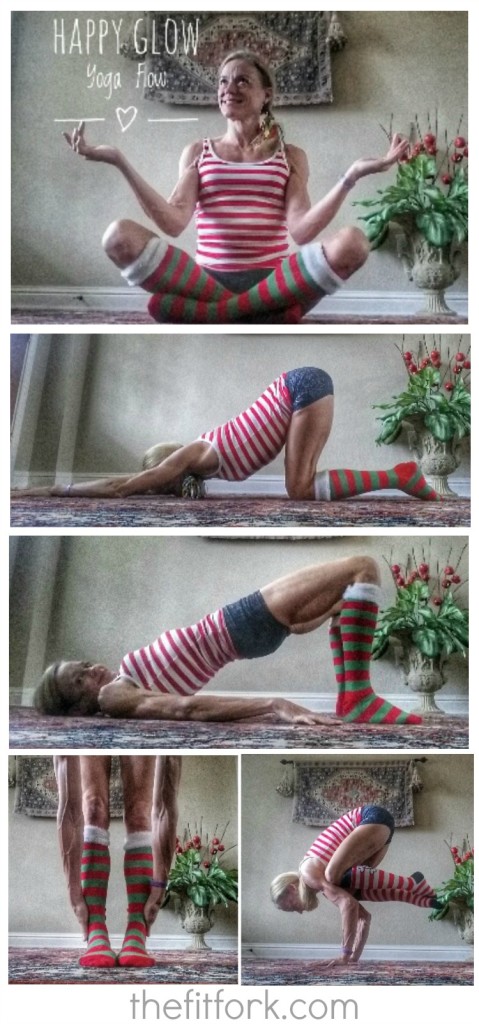 Here is my Happy Glow Yoga Flow breakdown (practice each pose for about 2 minutes):
Lotus (or just criss-cross legs): Relax in this seated position while you settle your busy mind and let negative thoughts start to melt away.
Puppy Pose: Relieve back tension that is associated with stress and cast away worries that are weighing you down with this playful, stretching position.
Bridge: Elevate hips and engage glutes as you breath slowly in this pose that opens the chest and heart and promotes circulation.
Forward Fold: Relax and bend forward at the hips, reaching down downward the ground as far as possible while moving nose into knees. Slowly rise, rolling up the back, and repeat several times.
Crow or Corpse: Practice crow pose or variations for a couple minutes unless you find it too hard or stressful. I like a challenge at the end of of my yoga sessions, even if I am trying to relax. But, if still stressed, lay on back looking upward with arms and legs slightly splayed in corpse pose – try not to fall asleep!
Are you ready to Feel Joy, Feel Glade™? Work my YOGA FLOW into your day and check out Glade®  and how their Limited Edition Holiday Scents can help you take control of the mental and physical chaos during this stressful time of year! For more information and more surprising burst of joy, connect with Glade® on Facebook, Pinterest, Twitter, YouTube and Instagram.
What is your favorite holiday scent? What is your favorite yoga pose? Please share in the comments below – XOXO, Jennifer