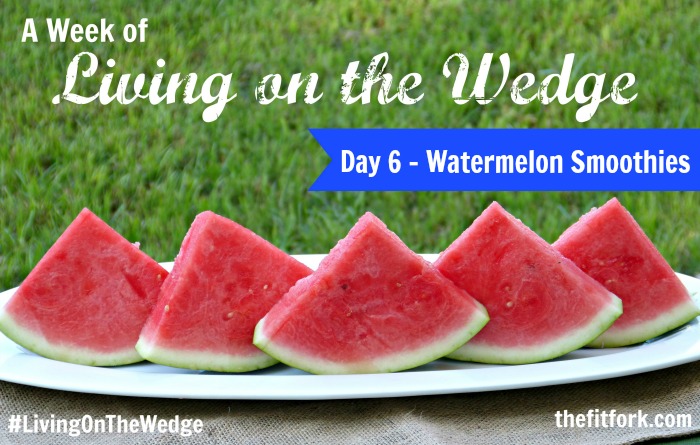 Come over to my house in the morning and you'll hear the low hum of my blender – it seems to be in constant use!  My husband makes a smoothie to drink during his commute to work and I whip one up to cool down and rehydrate after a run. And, the kids love them for breakfast or as a healthy snack anytime of the day – especially when watermelon is an ingredient.  Everyone loves my recipe for this Watermelon Chia Seed Smoothie. It's very good for you and very versatile – use the milk product of your choice and put in (or omit) protein powder based on your dietary needs.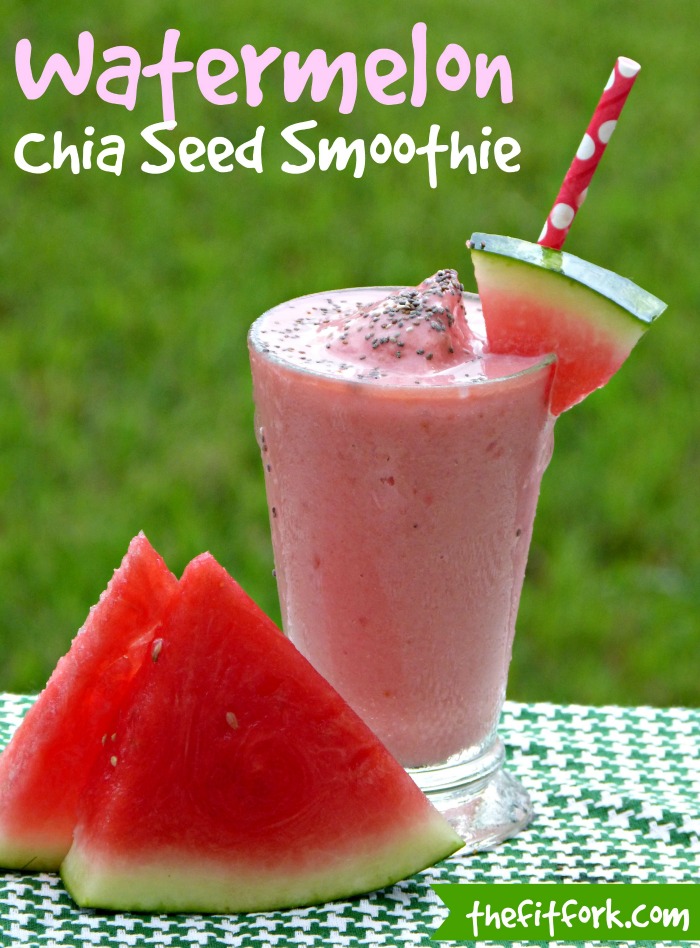 Directions: Pour 6 ounces of milk (cow, soy, coconut or almond) into blender pitcher. Add 2 cups watermelon chunks and process until smooth. If desired, add one scoop (about 1/3 cup) vanilla protein powder and another 2 tablespoons of milk; process again until smooth.  Add 1 teaspoon chia sees and pulse a few times to mix through. Serves 1.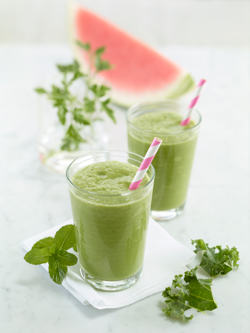 I place a priority on "eating clean" as much as I can. That being said, I'm no saint – a burger with fries or pizza with the works are two of my favorite ways to splurge. After all, as Julia Child once said, "All things in moderation including moderation"! When I need to hit the "reset" button, this Super Green Detox Smoothie from Watermelon.org helps me get back to my healthy eating plan. It's packed with watermelon, kale, avocado, hot chile paste and other nutritious ingredients that will get your engine humming once again.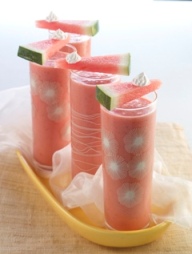 This yummy Watermelon Malibu Surf Smoothie is blended with strawberries, watermelon, coconut cream and a little something extra — rum! Sure to be a popular drink at your next outdoor party. If you prefer a non-alcoholic drink or are looking for a kid-friendly version, just swap the rum for extra watermelon juice.
I'm getting toward the end of my #LivingOnTheWedge week, and I am not anywhere near running out of things to share about watermelon.  I've talked a lot about how the vitamins, minerals and other nutrients in watermelon can help improve your workouts and keep you hydrated during running and other outdoor, but I shouldn't fail to mention the basics in nutrition this healthy sweet treat offers everyone.
Vitamin A found in watermelon promotes healthy eyes and supports your immune system by bolstering the infection-fighting ability of lymphocytes (a type of white blood cell).
Vitamin B6 found in watermelon assists in the production of antibodies that your immune system uses to fight disease. Vitamin B6 also helps keep your nervous systems in tip-top shape, aids in the restoration of red blood cells, and synthesizes protein.
Vitamin C found in watermelon helps keep your body "younger" by warding off cellular damage and medical conditions that can be created by free radicals. Vitamin C also helps promote a healthy immune system ready to combat invading infections and viruses.
Potassium found in watermelon helps keep your electrolytes in balance and helps keep you from getting dehydrated.
Low in calories, watermelon fills you up and satisfies cravings for "sweet" – this can help in weight management.  A 2 cup serving of watermelon chunks has only 80 calories and no fat.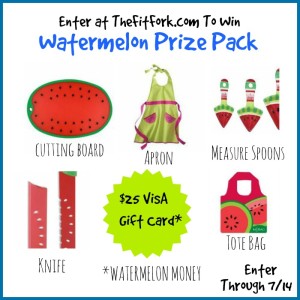 Also, check out all the other posts on watermelon I'm featuring all week and don't forget to enter the giveaway for a great Watermelon Prize Pack! I also have a group pinterest board to share all the #LivingOnTheWedge love — you are invited to join!
The National Watermelon Promotion Boardnofollow is providing me with compensation to share my love of watermelon. However, the opinions and content (unless otherwise noted) shared are my own and NWPB did not tell me what to say or how to say it.