Yes, I work out frequently, often twice a day. It's not a punishment; I crave it. But, when my body needs to recover, I take a rest day. I'm not a slave to any training plan.
Yes, I eat with my health in mind, usually every meal of the day. Again, it's not a punishment; my body craves the lean proteins and fresh produce. But, when my taste buds need a treat, I have something sweet. I'm not an extremist or a denier when it comes to what I eat.
Full disclosure, I eat M&Ms, cinnamon jelly beans and other sugary things on occasion. I don't even feel regret. Here's a peek at an unashamedly sugary recipe I created for a special celebration (It was actually just published in Simple & Delicious Magazine – August issue). Say so in the comments and I'll send you the recipe.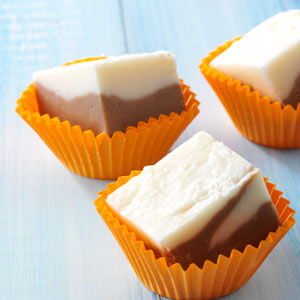 However, usually my "sweet" will be something that provides a higher level of satiety like nuts and dried fruit, fresh fruit and Greek yogurt, or (yum) a protein smoothie. I like these options because my energy stays high; there is nothing worse than eating snack and then crashing a few hours later. Right now, I'm really digging Designer Whey's   "Sustained Energy" Premium Protein Powder. They sent me a couple canisters to test out, Chocolate Velvet and Vanilla Bean. Each serving size only has 100 calories yet provides long-lasting energy thanks to a blend of fast-absorbing whey protein and slower absorbing soy and casein proteins (16 grams of protein per serving). In addition, each scoop provides 5 grams of fiber (20% DV), an excellent source of 19 vitamins and minerals, and delicious taste made with all-natural flavors and sweeteners – including real cocoa or vanilla bean pieces. And, for those of you with special dietary needs, this protein powder is Kosher-certified and gluten-free.
Without a doubt, the Chocolate Velvet is really delicious. But, I may have a slight preference for the Vanilla Bean because it makes an excellent starting point for so many flavor profiles in my smoothie making mania – strawberry-banana, chai-spiced, pina colada, peppermint (pictured above) and more! Since my mind has been fixated on root beer floats (ahh, remember the fudge?), I decided a root beer float smoothie would satisfy my soda shop hankerings. So, simple to make yet so yummy, this smoothie is a perfect way to refuel after a workout or run. Remember, you need to take in adequate protein within 30 minutes of an intense session to aid in muscle recovery.
Root Beer Float Smoothie (with Designer Whey Sustained Energy Protein Powder)
Toss everything in the blender, process until smooth. Add more or less ice depending on a preference for consistency. Pour in a tall glass (preferably a tall float glass or mug for effect) and enjoy!
Serves 1.