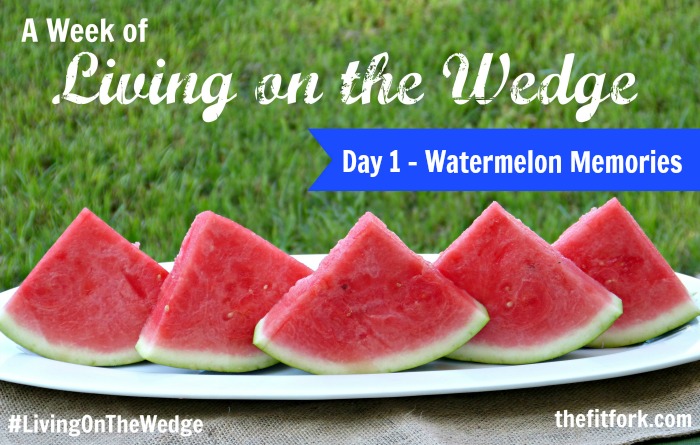 Ready, set, make memories! Summer is in full swing and I have been living on the "wedge" since the very afternoon my children's schools let out for break. This "wedge" isn't the crazy-busy, over-scheduled, about-to-have-a-nervous-breakdown ledge from where I just recently teetered, holding on by only thread. Instead, this "wedge" is the sublimely sweet, slow-motion, swing-by-a-rope-over-a-creek and hang-out-with-the kids kind of attitude adjustment that was way overdue. So, what's behind this purposeful change in perspective and ready to fuel my memory making?  Watermelon, of course! Every single day this week, I will be sharing facts, tips, recipes, and other just plain awesome uses for my favorite fruit (well, actually it's a vegetable, but I'll get into that later) – WATERMELON!
Just one look at a watermelon and I feel relaxed and worry-free — it's like a day at the lake and a day at the beach all rolled into one! Plus, when I take a big, juicy bite, it's like being transported to the magical age of six or seven. It's interesting how certain foods are forever associated with warm-fuzzy feelings and memories. With peak watermelon season (and National Watermelon Month) happening in July, it's no doubt that many of you also have great memories of watermelon – fireworks, parades, picnics, seed-spitting contests, thumps and such! Watermelon also has me recalling fireflies caught in a jar, rivers traversed in tied-together 'tubes, and permission to eat all the watermelon I wanted because "there's no way it was fitting in the fridge."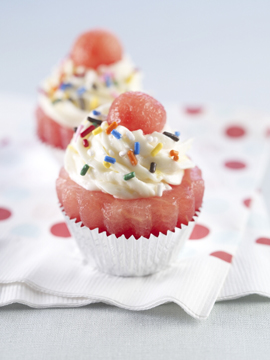 I have even more great memories interwoven with watermelon because my birthday is in July – in fact, it's just a couple of days away! So, what is the perfect gift for the gal that has everything — how 'bout a big ole watermelon with a bow on it!
This year, I'm requesting my kiddos make me these cute and healthy Watermelon Cupcakes as their birthday gift to me.
Even though a slice of watermelon is pure heaven, I've also used watermelon as an ingredient in many of my healthy recipes – both sweet and savory. However, I'm terrible about organizing my recipes, so I've created this "Living on the Wedge" Watermelon Board on Pinterest to help me keep the memories alive so that I can recreate them again and again!  I'd love for you to follow the board and if you have recipes, tips or anything watermelon related, please follow the instructions to join as a pinner to the group!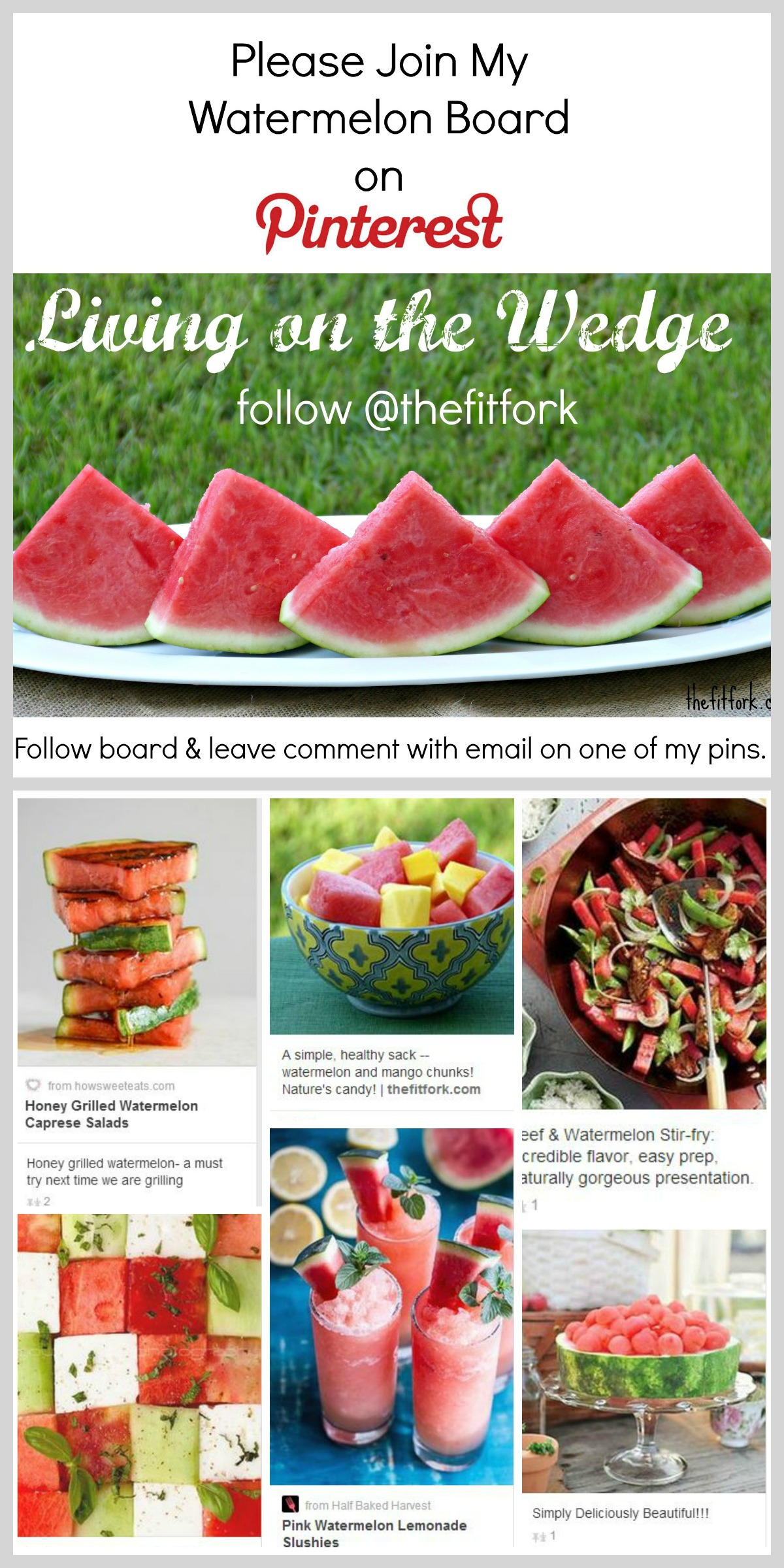 Remember, I'll be sharing a week's worth of sweet ideas on how to use watermelon in recipes, running, workouts and more, you really don't want to miss any of this #LivingOnTheWedge – so come back to visit every day!
The National Watermelon Promotion Board is providing me with compensation to share my love of watermelon. However, the opinions and content (unless otherwise noted) shared are my own and NWPB did not tell me what to say or how to say it.
Also, I'm hosting a giveaway for a fun Watermelon Prize Pack featuring all of these goodies, enter via the Rafflecopter app below.