Perhaps the official vegetable of the holiday season, sweet potatoes are a delicious addition to a healthy diet any day of the year.   It's easy to eat well with sweet potatoes — they are packed with essential vitamins, minerals and other important nutrients that are naturally designed to help your body attain peak performance.  If you don't like sweet potatoes, keep an open mind (and mouth) and look beyond your grandmother's icky-sticky, marshmallow sweet potato casserole — there are so many delicious ways to enhance the taste of this sweet, mildly earthy tuber. In a list I originally compiled for Core Power, here are my top 10 reasons to be thankful for the humble sweet potato — my favorite reason may be #5 – a healthy source of complex carbohydrates. Unless logistically impossible, I always include sweet potato with my night-before-a-big-race meal. Also, don't forget to read down to discover my collection of Family Favorite Sweet Potato Recipes:
Inexpensive Eats: The cheap price tag on sweet potatoes (less than $1/lb.) chops the "it costs too much to eat healthy" argument to the core.
Year-Round Availability: While peak season for sweet potatoes is in the fall, this produce department staple is easy to load-up on year round thanks to a long shelf life and global economy.
Stockpile Friendly: Don't rush out and buy a lifetime supply, but do fill your cart when you see a sale — sweet potatoes stay good in the pantry for a season or two. Freshness can be maintained for up to six months when stored in a pantry, cabinet, unheated garage or other dark, cool space ideally in the 50 F degree range.
Versatile Veggie: Sweet potatoes are awesome baked and eaten plain or can be cooked with much for creativity. Try them mashed, grilled in planks, oven-roasted in wedges, or add chunks to salads, stews and sandwich wraps. Sweet potato puree also adds lots of interest to smoothies, soups and baked goods. See my round-up of personal sweet potato recipes below!
Healthy Complex Carbohydrates: Natural sugars in sweet potatoes are the "good" kind of carbs that are slowly released into the blood stream, providing sustained and balanced energy to fuel your body and brain. No blood sugar spikes and subsequent sugar crashes with this tasty tuber!
Amazing Antioxidants: Orange-fleshed sweet potatoes are a super source of beta-carotene (from vitamin A) that can help protect eyes and damage from the sun, among other things. Purple-fleshed sweet potatoes feature powerful anthocyanins which have important antioxidant anti-inflammatory properties.
Vitamin Rich: Sweet potatoes are packed with vitamins, high in vitamin A, vitamin B5, B6, thiamin, niacin and riboflavin. In fact, this veggie offers 100 percent of the daily value for Vitamin A, a powerhouse shown to be beneficial for anti-aging, eyesight and cancer prevention.
Quercetin Factor: Quercetin, a dietary flavonoid, is abundant in sweet potatoes. Studies have shown that quercetin can help lower LDL cholesterol, reduce inflammation and serves as a natural antihistamine to fight seasonal allergies. Additionally, studies on athletes have shown that this phytochemical bolsters health during the 3 to 72 hour window of impaired immunity following heavy training and also may help increase endurance.
Potassium: Potassium is a mineral that helps your body balance fluids and minerals, maintain a health blood pressure, and keep your neuro-muscular system function normally. A medium, baked sweet potato offers about 450 mg of potassium (about12 percent of your daily value) — even more than the famous banana!
Iron: Grown under the soil, sweet potatoes are a great source for iron, a mineral needed for oxygen delivery throughout the blood system. A surprising number of athletes are low in this important mineral (foot strike can actually be a contributor to deficiency) and an iron boost can help restore energy, resistance to stress and optimal immune functioning.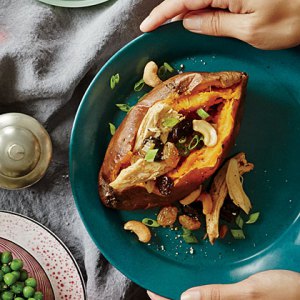 I also love this no-recipe "recipe" from the CookingLight.com blog, Simmer & Boil — Cinnamon Chicken and Cashews on Baked Sweet Potato. Just toss a half-teaspoon or of ground cinnamon with warmed shredded chicken, pile on top of a baked and fluffed sweet potato, sprinkle with cashews and dig in!  What an quick and easy solution for busy weeknight dinners during the holiday season!
What is the one Thanksgiving dish you can't live without? Do you have any big plans for the holiday?  Please share in the comments below – XOXO, Jennifer