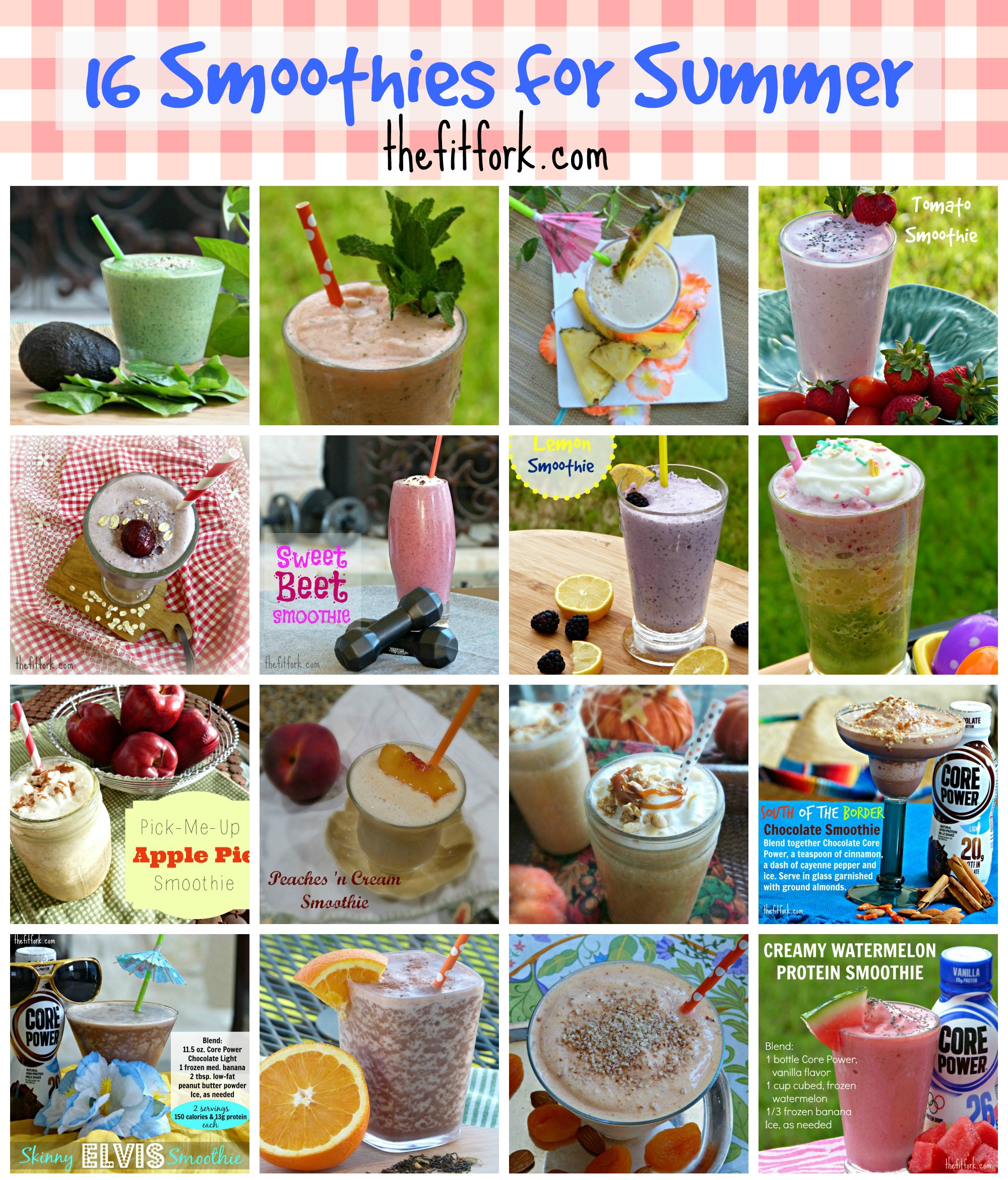 Ready, get set, blend! I have 16 special smoothies to keep you cool as a cucumber (or frozen banana) through this warm weather season. Whether you're slurping one up for breakfast, as pool side refreshment or refueling post-workout or run, these healthy frozen beverages will keep you hydrated and help you beat the heat. Plus, smoothies are an easy way to help you meet your daily fruit and vegetable intake goals, so start pureeing your produce, my friends!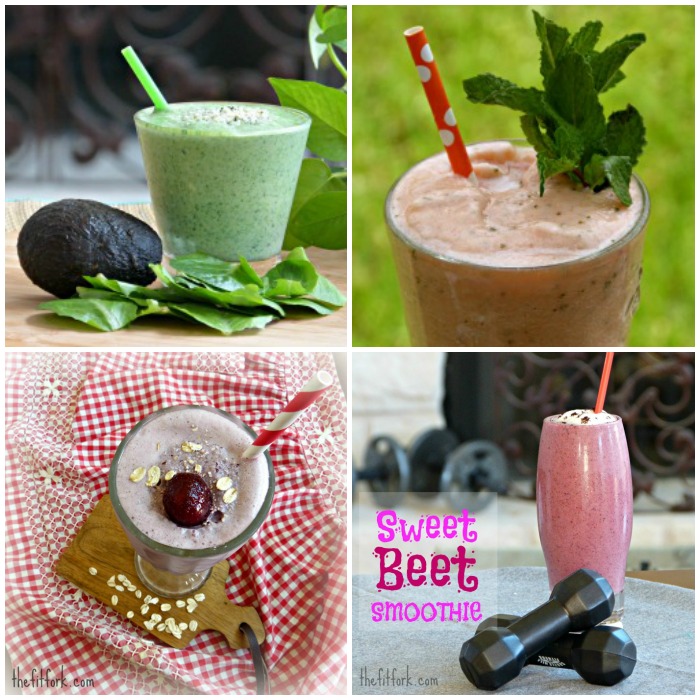 Simple Green Smoothie – Avocado gives this straight-up spinach and almond milk smoothie a creamy, dreamy richness.
Mint Melon Smoothie – The fresh mint in this cantaloupe smoothie will give your health and mood a lift!
Cherry Crisp Smoothie –  Nature's sweetest cherries and oats will have you reminiscing about Grandma's famous desserts a la mode!
Sweet Beet Smoothie – Beet juice, red berries and cherries make this smoothie perfect for improving athletic performance and recovering afterward.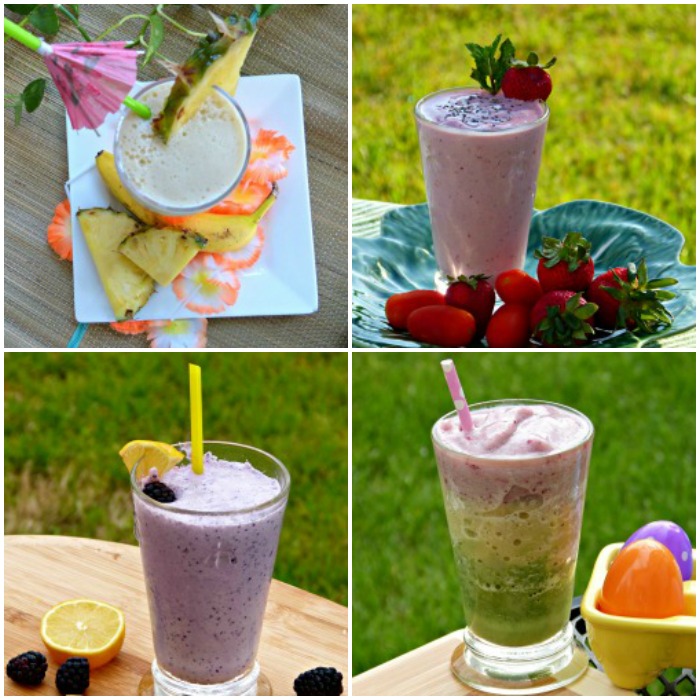 Pineapple Express Smoothie – The caffeinated tea in this tropical smoothie gives your morning jump start, mon!
Tomato Strawberry Smoothie A tomato is a super nutritious fruit, after all! It's about time it found its way in a smoothie.
Layer Spring Smoothie – Three layers of yumminess make this smoothie three times the fun – banana, spinach and strawberry!
Blackberry Lemon Smoothie – The blackberry is the trendiest fruit for 2014 and gives this smoothie a hip vibe.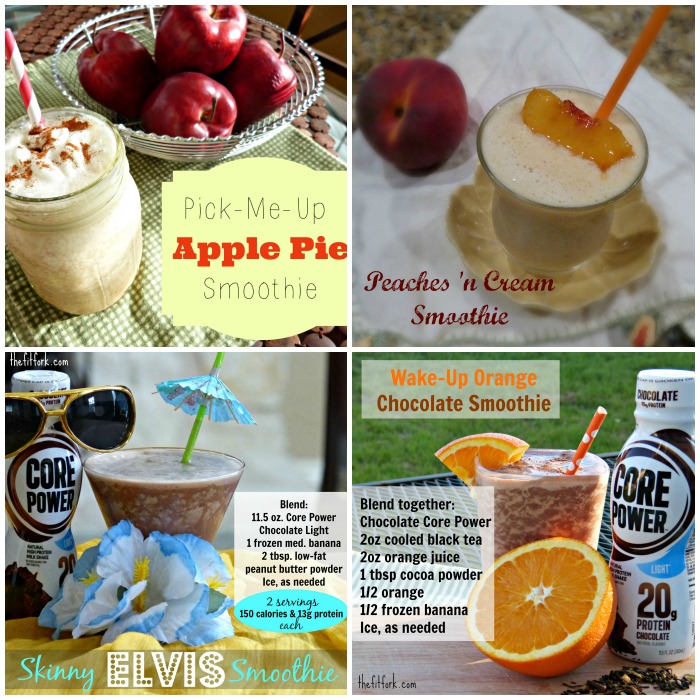 Apple Cider Cinnamon Smoothie – Even in the heat of summer, this sweet and healthy smoothie will have you dreaming of a fall harvest. It's a bushel of all the best, whirled up in a glass.
Peaches 'n Cream Smoothie – Sometimes simple things are the best and this straightforward smoothie makes the summer's best peaches shine bright!
Skinny Elvis Smoothie – Don't leave the room without this awesome banana, chocolate peanut butter smoothie! Recipe in the photo.
Chocolate Orange Smoothie – Citrus and dark chocolate come together beautifully; this smoothie might remind you of those chocolate oranges popular at Christmas!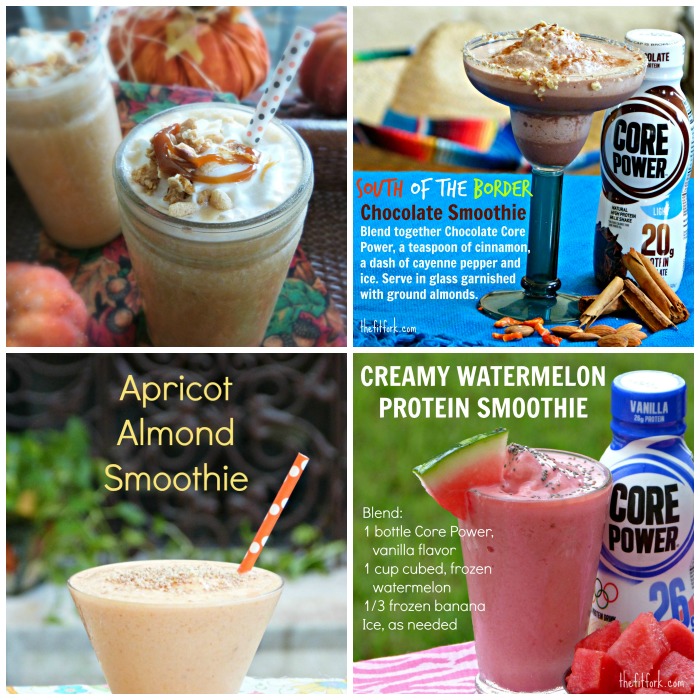 Caramel Pumpkin Pie Smoothie – Instead of a slice, take a slurp of this holiday-inspired smoothie that is worth celebrating year round!
South of the Border Chocolate Smoothie – A hint of cinnamon and cayenne pepper make this rich but healthy chocolate smoothie practically shout out "Ole!" Recipe in the photo.
Apricot Almond Smoothie – Use fresh apricots or dried ones that have been soaked overnight – a super smoothie that is surprisingly rich in iron.
Creamy Watermelon Protein Smoothie – So refreshing, so hydrating! This sweet smoothie is the perfect post-workout reward. Recipe in the photo.
If these aren't enough smoothie ideas for you, then check out the extravaganza of healthy smoothie recipes from Cooking Light – there are 26 different varieties!