This post is sponsored by Hamilton Beach. However, all opinions, suggestions, recipes and content are my own.
Now that we're well into the back-to-school routine, it's time to kick back and enjoy the blessings of fall – however these are busy blessings that require chauffeuring, chaperoning and cheering from the stands. So, how am I supposed to provide a hot home cooked meal and gather the family round the table with everyone coming and going and looking at me for a ride? And, when I'm rewarded with a couple rare hours to take a break from mom mode, I'm often finishing up a work project or squeezing in a run  — typically cooking dinner is not at the top of my priority list, even as a food blogger!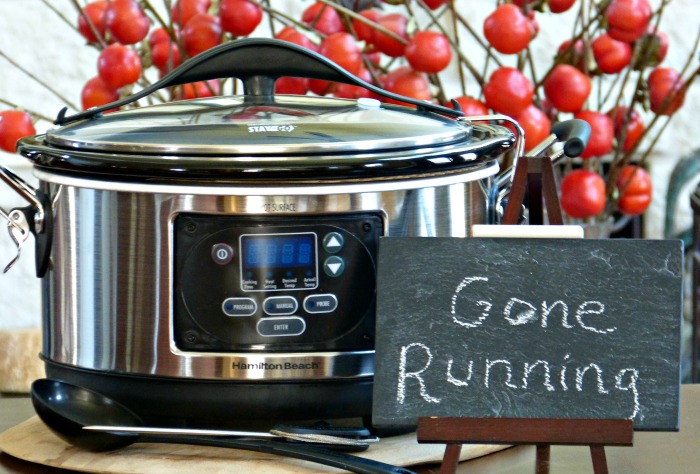 You parents with equally over-the-top schedules already know the two lifesaving words I'm going to say – SLOW COOKER! It was only just a few years ago that I fell in love with slow cooking, my prior history with the method was only that of an innocent child dutifully eating her dinner – I have some not-so-fond memories of old-school slow cooker meals. Mom, I know you're reading this and it wasn't you, I think mushy carrots and fatty meats were just culinary trends of the 70s.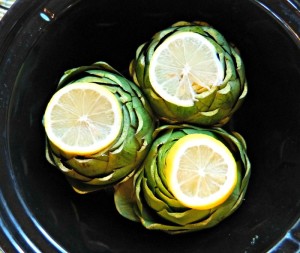 These days, there are many creative and healthy recipes that can be made in a slow cooker. One of my favorite recent creations is a side dish recipe for Slow Cooker Caesar Artichokes. Side dishes, desserts, beverages – all these things can be made in a slow cooker. But, probably the most convenient slow cooker recipe is to make a big batch of beef, chicken or pork that can be rationed out over the week or frozen for later in the month. Since I'm a big fan of doing some global variation of chuck roast in the slow cooker (insane flavor and fall-apart fork tender), I thought I'd branch out and do some chicken breast  — enough to last me through a few recipes for my family of 5!

Needless to say, I was pretty excited that Hamilton Beach sent me the Set 'n Forget® 6 Qt. Programmable Slow Cooker With Spoon/Lid – the stainless-steel beauty is a real workhorse in the kitchen that will cook up ever your biggest batches in hands-free, stress-free style. It's really helpful that this particular model has three modes — program, probe and manual. The "program mode" is super convenient for those SUPER busy days – just set the cook time and then when it's up, the slower cooker automatically shifts over to warm.  To avoid overcooking, I really appreciate the "probe mode" – here you stick a metal probe into the thickest part of a roast or other hunk of meat and, once the internal temperature you've indicated has been reached, it switches to warm.
Do you like to bring hot meals to holiday parties or pot luck gatherings? Another useful feature of this slow cooker is that it has travel-friendly clips that lock down the lid so you don't end up with a big batch of chili all over your car. Want to get in on the fall slower cooker craze? I have a great chicken recipe below that can be used in three meal variations and I'm also hosting a giveaway for the Set 'n Forget® 6 Qt. Programmable Slow Cooker with Spoon/Lid (bottom of post).
Slow Cooker Balsamic Honey Chicken Recipe
5 pounds boneless, skinless chicken breast
1 cup chopped sweet onion (like 1015 or Vidalia)
2 teaspoons dried thyme
3/4 cup chicken broth
1 ½ cup balsamic vinegar (don't use your best)
1 cup ketchup
1/3 cup honey
1 tablespoon Worcestershire sauce
1 tablespoon Sriracha (this can be omitted if you don't want spicy)
1 tablespoon minced garlic
1 teaspoon ground black pepper
½ teaspoon salt
 Place chicken breasts in bottom of 6-quart slow cooker; cut into pieces if needed. Cover chicken with chopped onion
In medium bowl, whisk together broth, vinegar, ketchup, honey, Worcestershire, sriracha, garlic, pepper and salt. Pour over chicken in slow cooker.
Cover and cook on low for 9 – 10 hours or high for 5 – 6 hours.
Transfer chicken breasts out of liquid and place on rimmed baking sheet. Let cool for 10 minutes and then shred with fingers or fork.
Take 4 cups of cooking liquid (discarding any fat) and place in medium sauce pan. Bring to a boil and simmer uncovered for approximately 30 – 40 minutes or until volume reduced in half.
Drizzle approximately ¾ cup sauce over shredded chicken and lightly toss. Reserve remaining in refrigerator for use in other recipes.
To serve, serve between a bun or with one of the three recipes below. Leftovers may be kept in the refrigerator for up to 3 days or in the freezer for 3 months. Serves 20.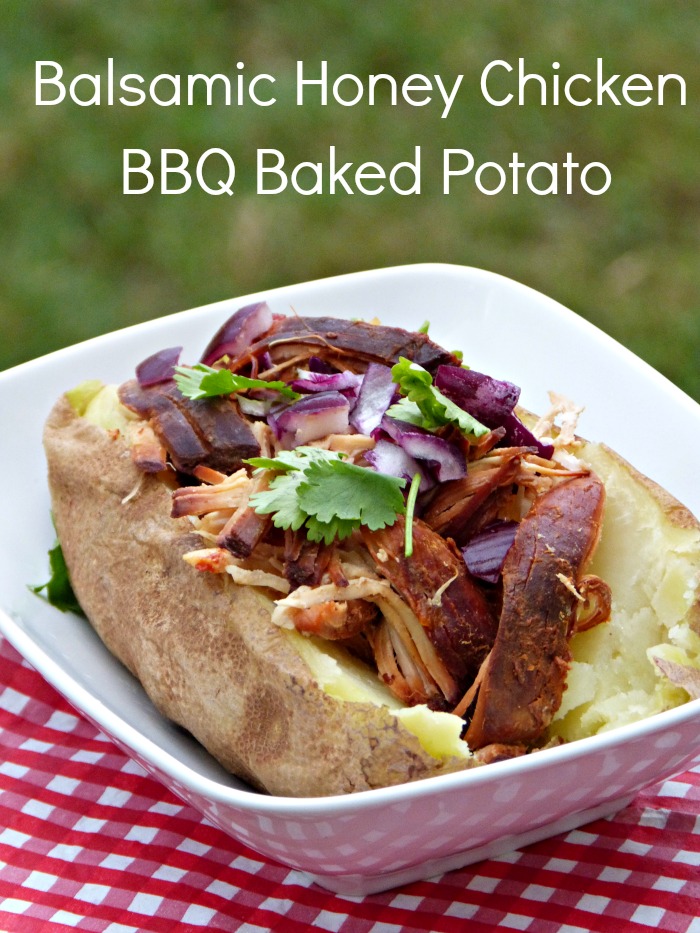 Balsamic Honey Chicken BBQ Baked Potato Recipe
1 lb. cooked, shredded Honey Balsamic Chicken (recipe above)
4 large russet potatoes
½ cup BBQ sauce (may use reserved sauce from chicken recipe)
Suggested toppings: pico de gallo, fresh cilantro leaves and queso fresco crumbles
 Bake potatoes in microwave or oven until steaming and fluffy.
Slice each potato lengthwise (without cutting through bottom) and top with ¼ pound warm shredded chicken.
Drizzle with bbq sauce and favorite toppings.Serves 4.
Balsamic Honey Chicken with Fig & Snap Pea Salad Recipe 
1 lb. cooked, shredded Honey Balsamic Chicken (recipe above)
6 ounces baby spring mix lettuce
½ pound figs, quartered
4 ounces sugar snap peas, halved lengthwise
2 ounces blue cheese crumbles
For dressing:
 1/4 cup reserved cooked down sauce from chicken recipe (or any BBQ sauce)
1 tablespoon apple juice
1 tablespoon balsamic vinegar
1 tablespoon olive oil
1 tablespoon chopped parsley
½ teaspoon ground black pepper
Divide lettuce among 4 plates and top each portion with ¼ pound shredded chicken.
Add figs and sugar snaps; sprinkle with blue cheese
In small bowl, whisk together sauce, juice, vinegar, oil, parsley and black pepper. Drizzle over salads. Serves 4.
Balsamic Honey Chicken Pineapple Pepper Stir Fry Recipe
You just get the photo today – recipe coming next week so check back!
To enter the giveaway for a Hamilton Beach Set 'n Forget® 6 Qt. Programmable Slow Cooker with Spoon/Lid, just follow the rafflecopter instructions below:
Related articles across the web