I made some time before the new year got back into full swing to tackle my stack of new (or new to me) books! Not a lot of novels here, but a wonderfully random assortment of the best health, fitness & recipe books.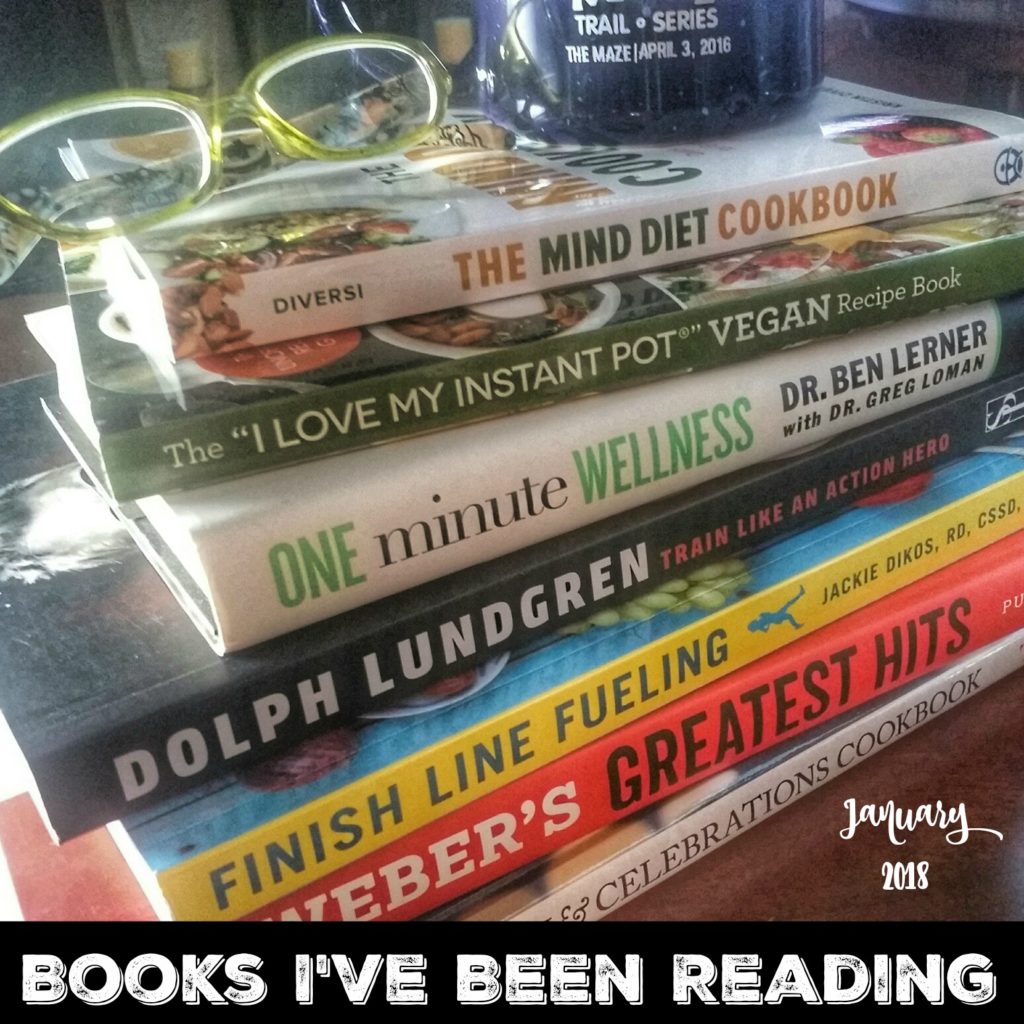 Check out Best Health, Fitness & Recipe Books I've Been Reading January 2018, maybe something will pique your interest!
The Mind Diet Cookbook Quick and Delicious Recipes for Enhancing Brain Function and Helping Prevent Alzheimer's and Dementia by Kristen Diversi
It never hurts to be proactive, I say, and that's why I really appreciated the 135 delicious recipes that help to improve memory, concentration and mental acuity. The MIND diet is combines the best of the Mediterranean Diet and the DASH diet, both of which I'm a fan. Here are a few of the recipe that jumped out at me – pumpkin muffins, mango guacamole, salmon tacos, beet hummus, chocolate pecan pie and more!
The "I Love My Instant Pot" Vegan Recipe Book: From Banana Nut Bread Oatmeal to Creamy Thyme Polenta, 175 Easy and Delicious Plant-Based Recipes by Britt Brandon
Go plant-powered in the Instant Pot! It's now simpler than ever to create plant-based dishes for breakfast, lunch and dinner thanks this countertop multi-cooker. This cookbook provides 175 vegan recipes with photographs throughout – you don't have to be an official vegan to incorporate these type of recipes in your diet every now and then (I do!) Some of the recipes that caught my attention were Beet Red Burger, Spinach and Portabello Benedict, Molten Fudge Pudding Cake, Banana Bread Oatmeal and more!
Finish Line Fueling: An Essential Guide to Runner's Nutrition by Jackie Dikos
Optimum training and race day performance for a runner hinges on what foods to eat, how much and when! This book, written by a sports dietician and runner, helps athletes make the best choices for breakfast, lunch and dinner – as well as pre and post workout snacks and carb-loading options leading up to a big event. Along with loads of recipes with beautiful photos (like as Sweet Potato Avocado Deviled Eggs, Buckwheat-Oat Granola, High Heat Roast Beef), there are sections that offer all sorts of useful nutrition advice.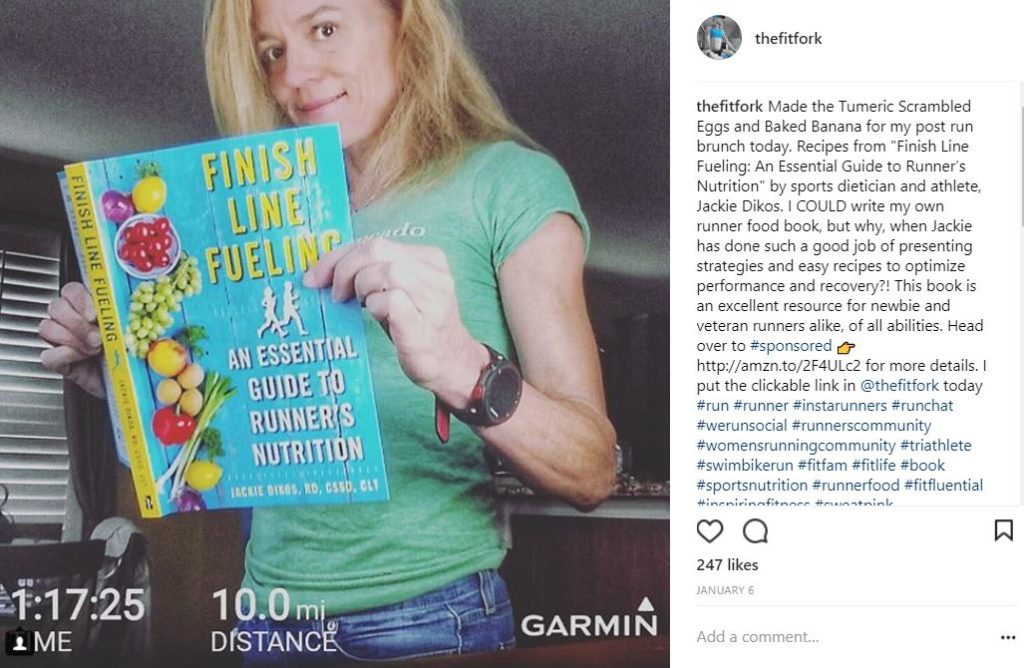 Dolph Lundgren: Train Like an Action Hero: Be Fit Forever by Doph Lundgren
When I see a book titled "Train Like an Action Hero," I'm all in! Who doesn't want to be kicking butt all over the planet?! Dolph Lundgren presents a part autobiographal, part workout guide that combines yoga, martial arts, strength training, endurance sports and more. I did really appreciate how he called running, the "original exercise." Many of the workouts seem old school if you've spent any time in a gym, and his "Military 8-point Exercise" really sounds and looks like a burpee. But that's fine with me, if it's not broke don't fix it. The extensive photography, how-to, weekly plans and tips for getting exercise in when there's no time are super motivating – and this guy still looks amazing at age 60! WOW!
SPARTAN Fit Book by Joe DeSena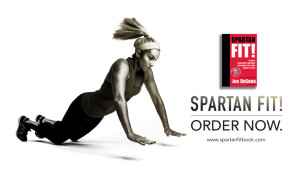 This is the tomb that will take you from the couch to a Spartan finish in no time with om a complete 30-day workout and diet plan to help you reach peak performance. Joe DeSena uses his "take no prisoners" approach to deliver no excuses way to improve strength, flexibility, endurance, speed and mental fortitude. If you're already a veteran obstacle course runner, you'll still find great tips, advice, and inspiration to help you optimize and own your next event. What I like about the 30-day workout plan in Spartan Fit is that they are full-body workouts requiring no gym, no weights. Just honest, old-school exercises that help you get it done, wherever you are.
Weber's Greatest Hits: 125 Classic Recipes for Every Grill by Jamie Purviance
The king of backyard grills presents their best, most delicious, most majestic grill recipes ( from past and present – from classic burgers and ribs to veggies and contemporary inspireations. Beautiful, updated photography will have your mouth watering and actually make you hungry. Also lots of grilling tips from Jamie Purviance, one of America's top barbecue experts and Weber's master griller.
The Subtle Art of Not Giving a F*ck: A Counterintuitive Approach to Living a Good Life by Mark Manson
Not for the faint-of-heart, this book shares how we can become better people and happier in our lies by NOT thinking positive all the time. He believes improving our lives is based not on our ability to turn lemons into lemonade, but instead learning to tolerate lemons better. Humans are flawed and limited—"not everybody can be extraordinary, there are winners and losers in society, and some of it is not fair or your fault." His arguments are backed both by academic research and crass humor which help underscore the idea that "there are only so many things we can give a f**k about so we need to figure out which ones really matter."
Holiday & Celebrations Cookbook 2017 by Taste of Home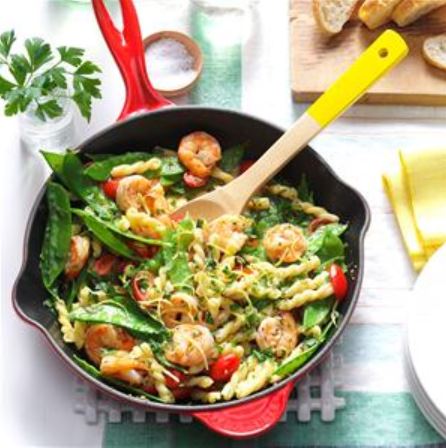 I was so excited to share this as part of my Best Health, Fitness & Recipe Books with you for a couple reasons. First, who doesn't like Taste of Home recipes and this book has the compiles the annual best of the best for all the holidays (like Christmas, Easter, Halloween, etc) as well as just scrumptious, fancy yet "doable" dishes for cocktail parties and other entertaining. Second – I'm featured on page on 169 and also the chapter lead for "Spring Staples" (above). They did a beautiful job with my Lemony Shrimp and Snow Pea Pasta, a light and vibrant meal that makes the most of seasonal produce. I was so sad to not find the product link yet, even in the Taste of Home store – I'll share that as soon it hits the shelves!
What are your Best Health, Fitness & Recipe books to recommend? Do you read more non-fiction or fiction? Please share in the comments – XOXO, Jennifer