This post and giveaway are sponsored by Hamilton Beach. While they provided products for review, all opinions, editorial comments and recipes are my own.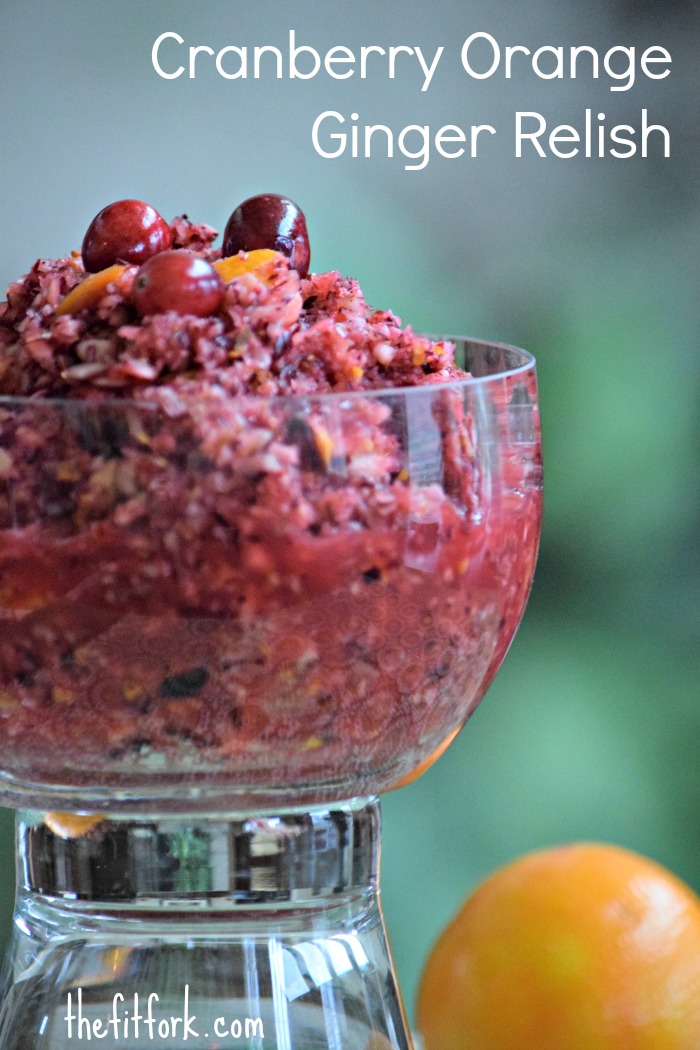 Looking for an easy, healthy holiday side dish you can make CHOP, CHOP?! My recipe for Cranberry Orange Ginger Relish is a real winner that beats that nasty canned jelly stuff with a wallop of fresh, zingy flavor. Versions of this recipe have been served at my family's Thanksgiving and Christmas celebrations for as long as I can remember – while Grandma used to dump in a cup of granulated sugar, I keep it lower carb by using Stevia instead.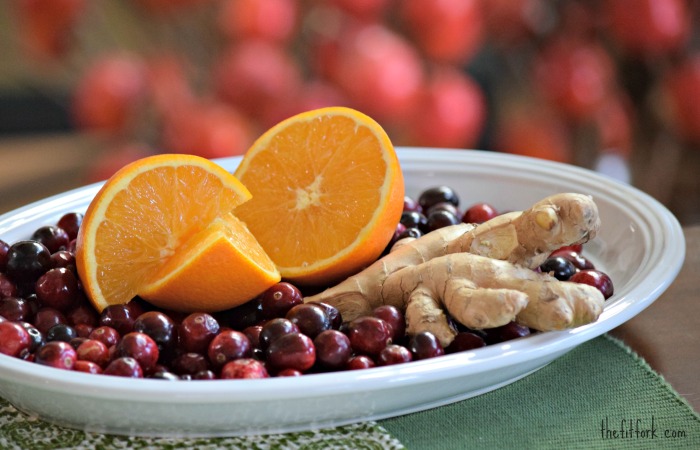 Can you believe there are only four (FOUR!) ingredients in this simple recipe and it can be whipped up in two minutes or less with the help of a food processor. Seriously, all you do is wash the fruit, quarter the orange (leave skin on!) and peel the ginger, throw all the healthy ingredients along with a touch of Stevia (or you could use honey) into the food processor and pulse for about a minute. Viola, you're done – it' tastes even better the next day and can be used as a side salad, relish for lean proteins, topping for yogurt, or as a way to add some seasonal razzamatazz to your turkey sandwich or roast beef wrap. And, for those of you with dietary concerns, this fruit recipe is sugar-free, gluten-free, dairy-free and appropriate for Paleo, vegetarian, vegan and raw diets.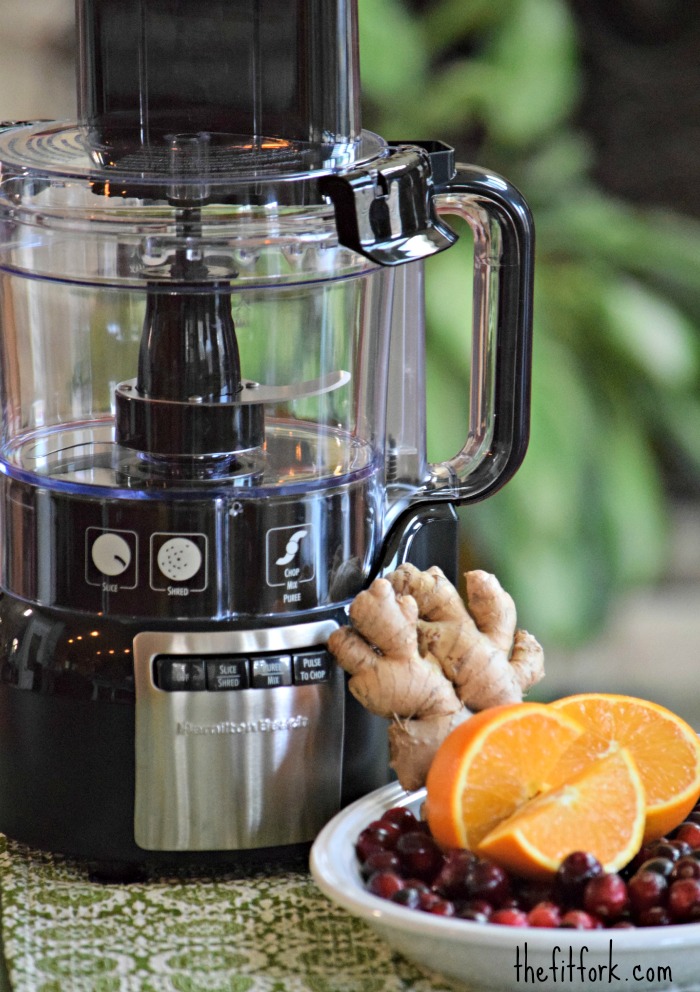 I was so excited to receive a brand spanking new Stack and Snap™ 10 Cup Food Processor from Hamilton Beach just in time for the holidays. My old one is almost 24 years old (wedding gift) and a pain in the butt to use – although, back then it was AWESOME! Today my new awesome is this good-looking Stack and Snap™ processor – it's super easy to use thanks to a simple function guide that shows you which blade to use and which button to press. Another thing I appreciated right out of the box is that everything assembles with ease — there's no twisting, turning or locking required when assembling the food processor. Uh, I hated using my old one because I could never remember how to put it together. I would have to holler for my husband to come into the kitchen to fix it because it was "broken." Hey, don't judge – I do all the cooking, he should make himself useful in the kitchen too!
With a powerful 450 Watt motor, this healthy-food-making bad boy can chop, slice, shred, mix and puree in no time, making my recipe prep time nearly non-existant. The Stack and Snap™ 10 Cup Food Processor is also leak-proof, has a lock-down blade that won't fall out when pouring and a Big Mouth® feed tube that can handle many whole-sized food (less pre-chopping by me)! Oh, and clean up's a breeze, the parts (except for the base) are dishwasher safe.  So, you know it – I'm giving one away! Enter via the Rafflecopter app at the end of the recipe. 
Raw Cranberry Orange Ginger Relish Recipe
1 lb. package fresh cranberries
1 large navel orange
2-inch chunk of ginger root, peeled
2 teaspoons powdered Stevia
Rinse cranberries and drain in colendar.
Wash and quarter orange, remove any seeds but leave peel on.
Peel ginger with paring knife and cut into chunks.
Place all ingredients in work bowl of processor and pulse intermittently for one minute, or until coarsely chopped.
Serves 6 – 8.
If you're looking for another cranberry relish idea, check out this Bourbon Apricot Pecan Cranberry Relish recipe I did for last year's feast. It is also sugar-free, but has a more syrupy, cooked on the stove top taste.