January is National Soup Month and, of course, I've been celebrating my favorite course (either as a meal starter or main dish) with in all the ways that I see fit! And that means, ladling up lots of wholesome, hearty and holistically nourishing goodness into bowls, mugs and thermoses. I love ALL the soup and I have A Dozen Days of Soup for for Everyone! You get soup, and you, and YOU get soup (Oprah style).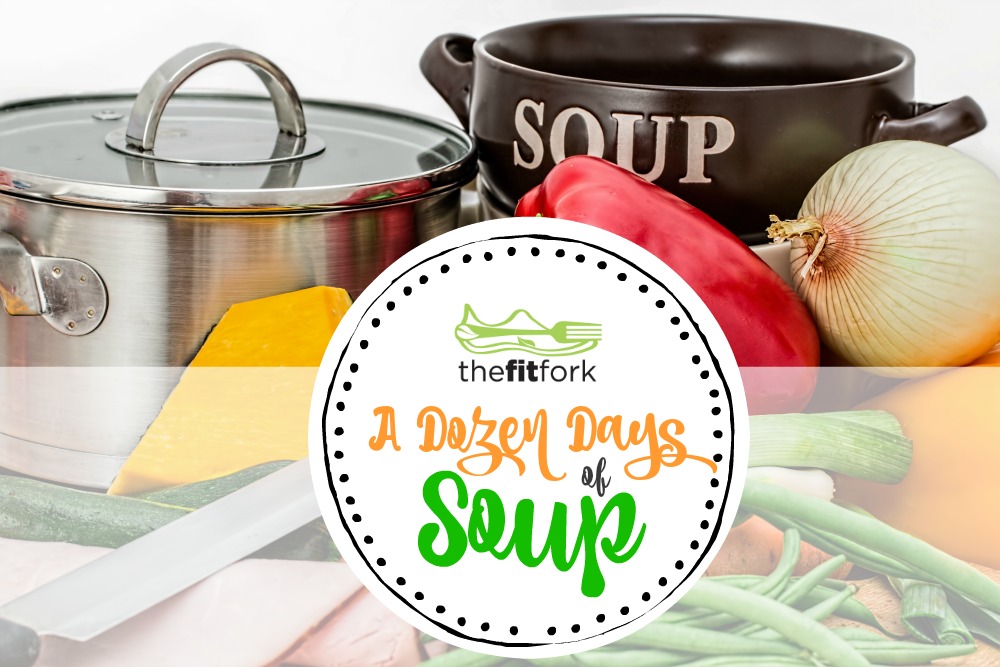 As I rifled through my soup recipes (there are so many more than I'm sharing today, just search "soup" in the upper right bar), I noticed themes – meal prep suitable, medicinal spices like turmeric and ginger, gluten-free noodle and grain options like rice vermicelli or quinoa, and unique interpretations on traditional favorites. Some of the soups are vegan, some are loaded with meat – just like I love ALL the soups, I love ALL the foods. Read on to get the recipes for a dozen days of soup!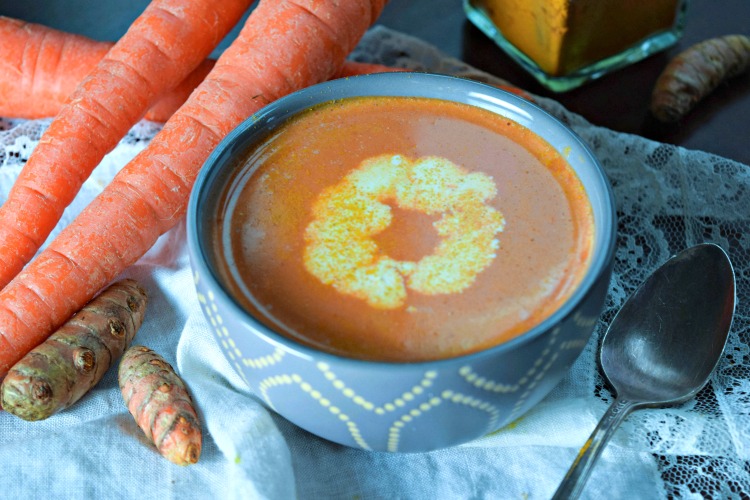 Turmeric Carrot Tomato Soup: The first of my dozen days of soup is a colorful soup uses turmeric juice (can substitute ground turmeric) which comes from a brightly hued root prized for its powerful antioxidants and medicinal properties. There is also carrot juice and marinara sauce (without sugar )—make life easier and buy these bottled rather than make your own.  Let me also mention that it's Paleo diet and Vegan friendly and also dairy-free, gluten-free, and added sugar free.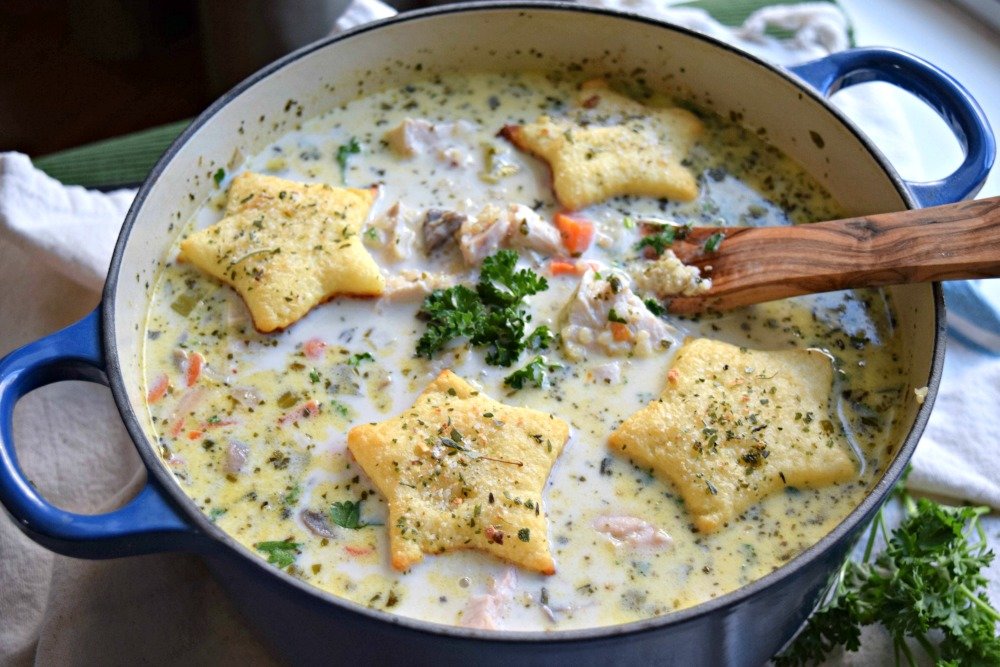 Skinny Turkey Quinoa Pot Pie Soup: The collision of pot pie and soup is super satisfying and super delicious. Swapped out with low-fat dairy, cleverly upgraded with quinoa and crustless, this bowl full of comfort is completely guilt free. If no turkey scraps on hand, a shredded-up rotisserie chicken works well!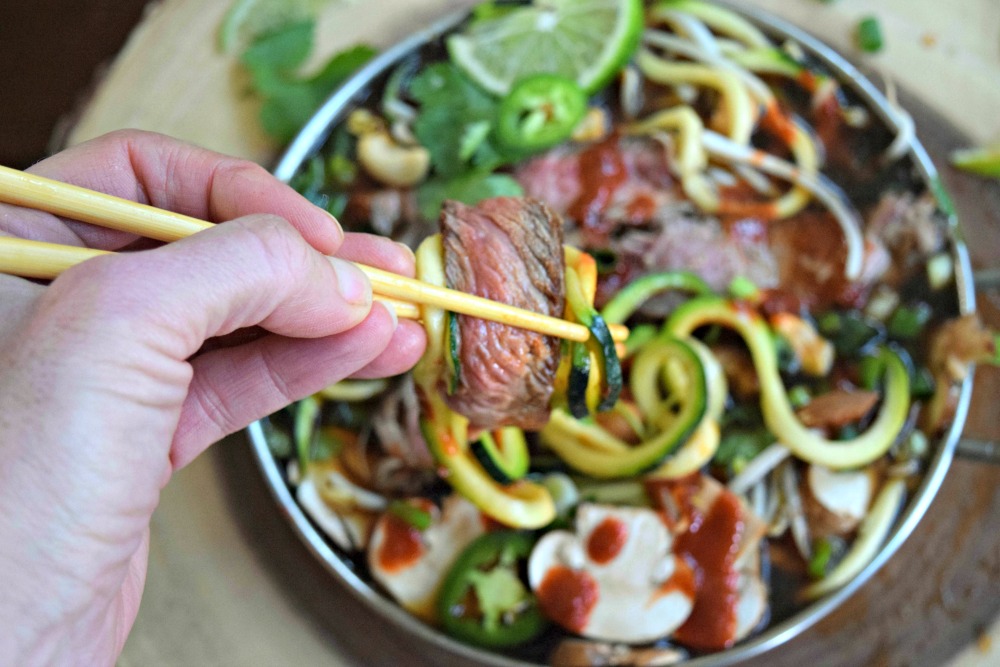 Fit and Fast Beef Pho with Zucchini Noodles: I will spare you all the pho puns and just say that my take on this Vietnamese soup is good enough pho yo; mama! Okay, I had to do one pun.  I figured out the fastest wat to make pho that still tasted like it had been simmering all day – plus kept it low carb and gluten free with zoodles!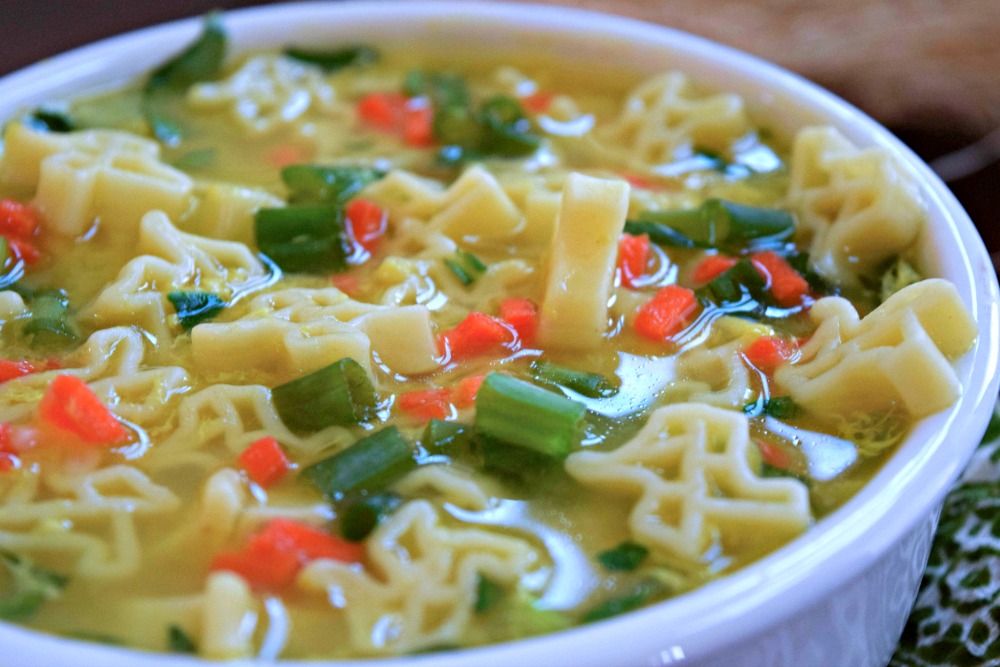 Turmeric Egg Drop Soup with Pasta: This creative soup might sound like a bit of everything . . . and it is! The beauty of a soup is that you can dump a bunch of stuff in a pot, and 95% of the time it turns out fabulous! It's a smart way to use up all those little bits and pieces of veggies leftover from the week's meals, I had a handful of spinach, onions and carrots on hand. From the pantry I grabbed a true melting pot of spices including turmeric, ginger, garlic and Tajin – a Mexican chile-lime seasoning. Also, a carton of broth, soy sauce and pasta – use any shape 'ya got! 
Slow-Cooker Steak & Squash Harvest Stew: Get your slow cooker going in the morning and come home to a house fill with delicious aromas and a belly soon to be filled with delicious food. Featuring butternut squash and pumpkin with smoky hints of chipotle pepper.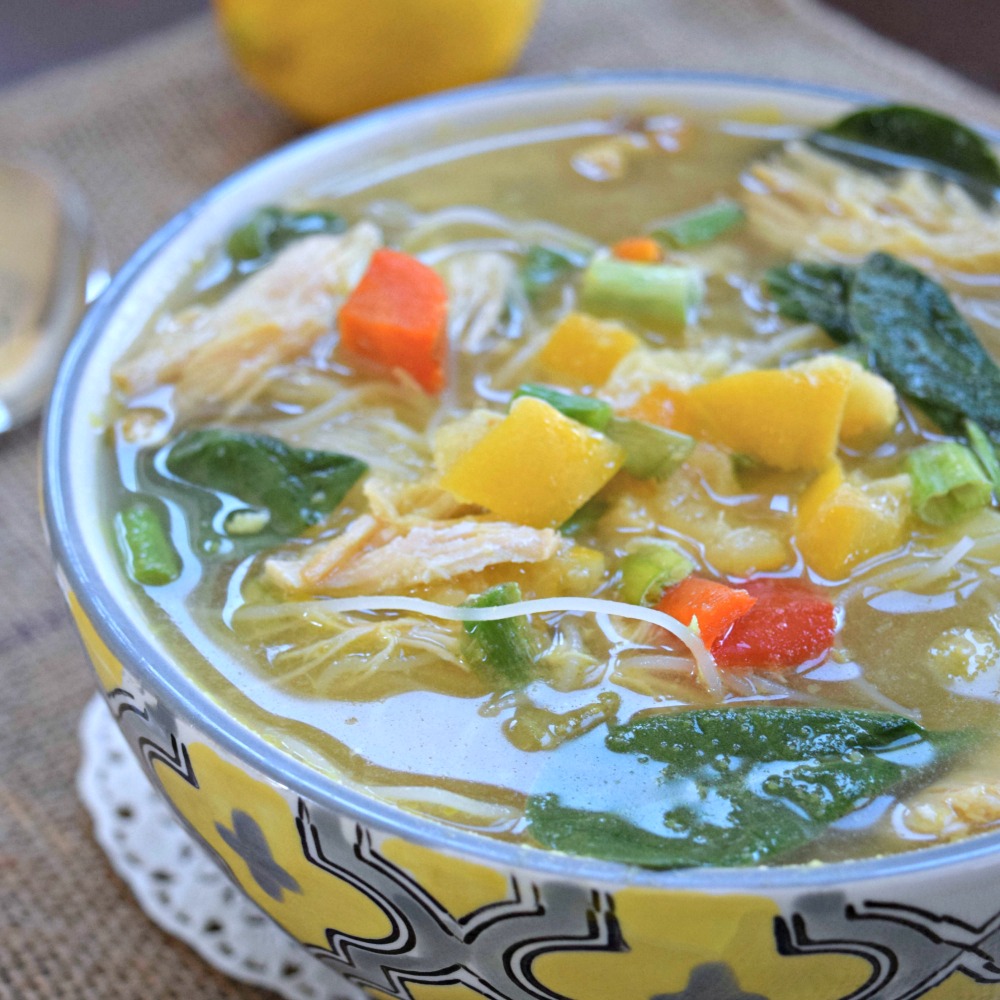 Lemon Ginger Chicken Noodle Soup: Light, bright and vibrant, this easy-make soup comes together in 15 minutes and has instructions for meal prepping. The lemon and ginger not only add flavor, but help to boost immunity – which is a good thing in cold and flu season. Made with rice noodles to keep gluten-free.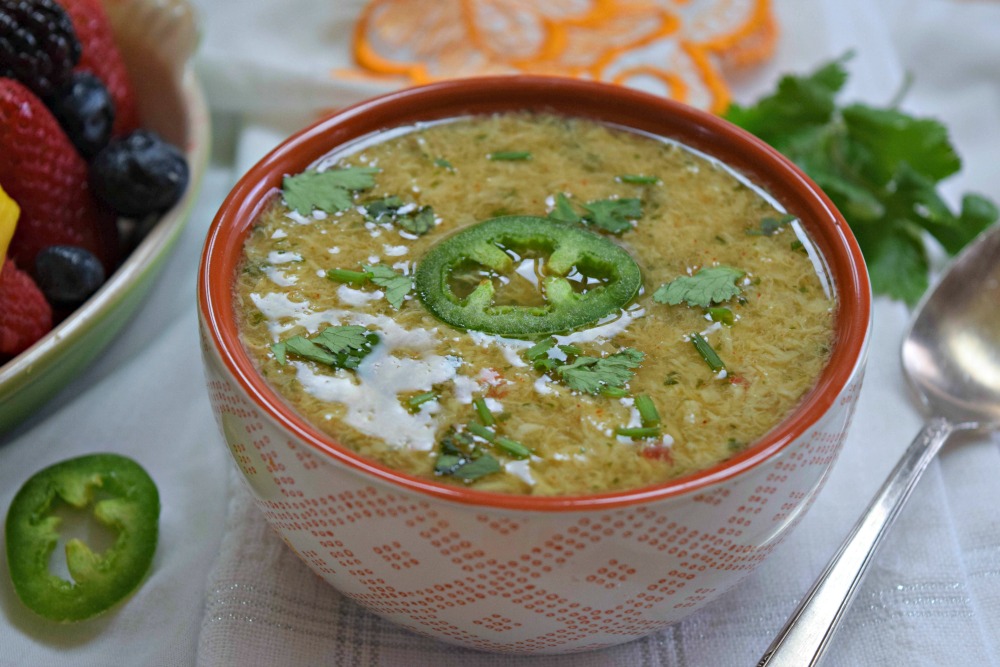 Tex-Mex Egg Drop Soup: I like to joke and say that I've got so much Texas in me that it's overflowing into my soup! Prepared like traditional egg drop soup, this silky soup gets a zesty attitude with herbs and a bit of chili pepper! When topped with chopped avocado and jalapenos yer boots will get scootin' for seconds!
Feel-Better Chicken Rice Soup: There is truth the old wives' tale that chicken soup is a remedy for colds, flu and the crud. Studies supporting chicken soup say it does everything from unblock stuffy airways with its hot temperature to help shorten the duration of illness thanks to zinc found in certain soup ingredients. Plus, my soup also has ginger and turmeric, two spices long linked with wellness.
Chipotle Sweet Potato Soup with Cilantro Chimichurri: This vegan, main-meal soup is thick and hearty as opposed to thin and brothy. It will fill you up and fuel you for whatever challenges lay ahead thanks to the healthy complex carbs in the sweet potato and sneaky source of protein – pureed white beans.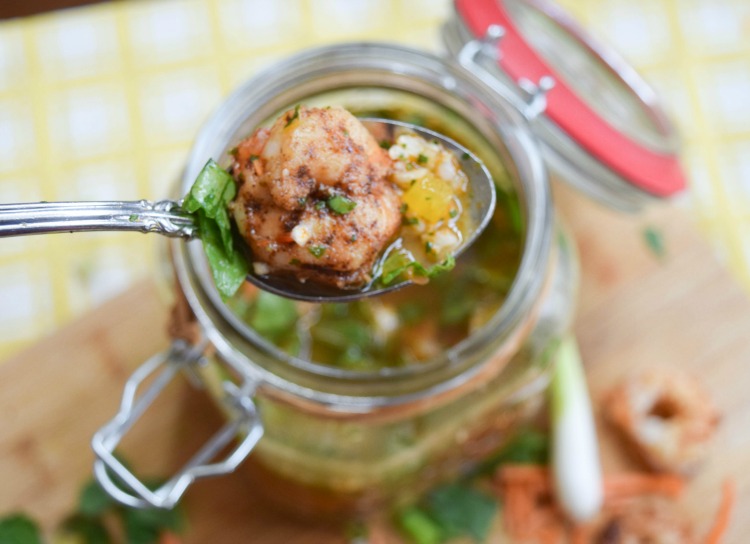 "Almost Instant" Spicy Shrimp Soup with Spinach: I love to meal prep this soup in mason jars for a quick lunch during the week. Fresh ingredients and dried herbs and dried seafood stock are packed about half-way up in a container. When ready to eat, just add boiling water, stir and let sit for a couple minutes to cook!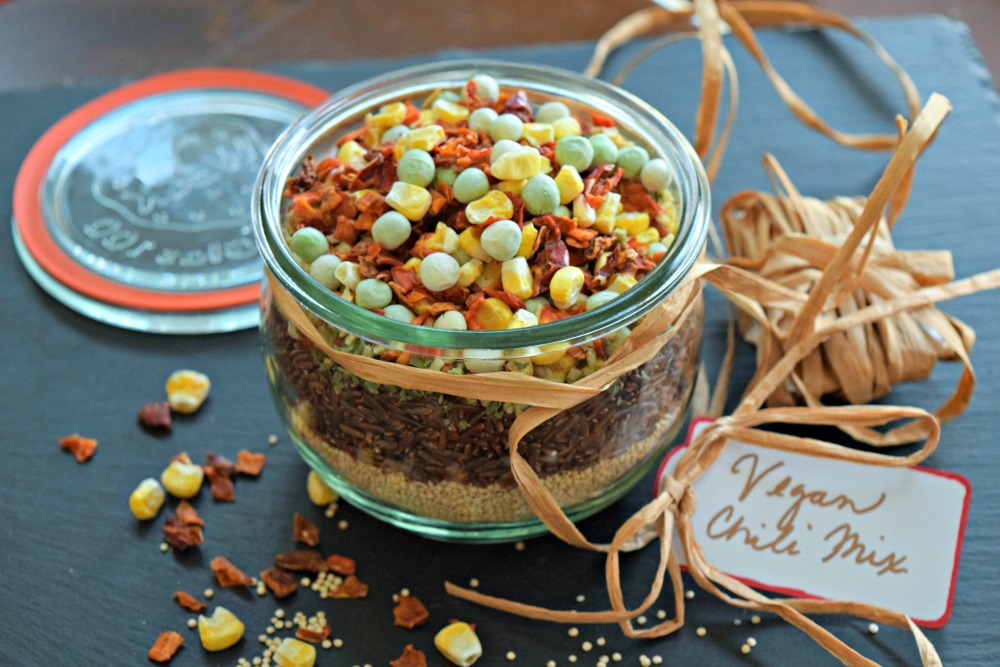 No Beans, No Bull Vegan Chili Mix: Compared to a "real" ground meat chili, this vegan chili mix has a legit taste and texture when prepared. Lentils, quinoa and rice create a hearty base for all the familiar spices. Made with pantry staples and a near-forever shelf life, this chili mix is idea for meal-prep and situations where no refrigeration is available (like camping). To make, all you do is add canned vegetable stock and simmer. Gift this to a friend so they can have a dozen days of soup.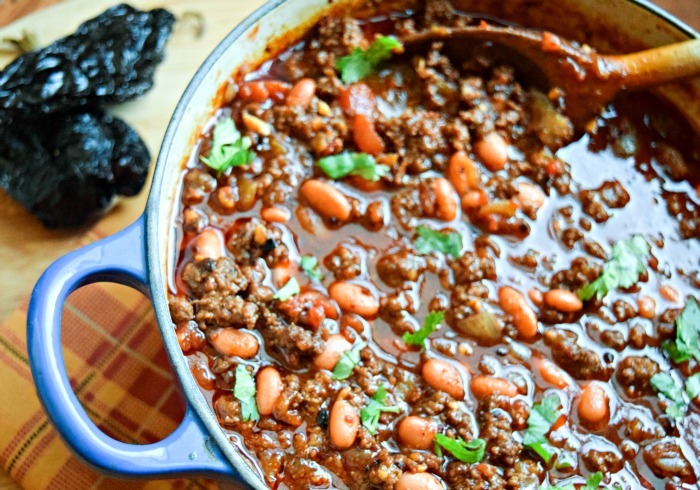 Best-ever, Super-secret Beef Chili: Even though I like the vegan "chili" on occasion, nothing beats chili in the classic sense – with loads of beef! Not all beef chili is created equal and my version uses a special meat browning technique and the perfect blend of spices to make it  . . . . well . . . the best EVER!
<— PIN THIS FOR LATER!
What soups are you eating this month? Would you eat a Dozen Days of Soup? Do you prefer as a side dish or a main dish? Do you eat hot soup in summer, or is it just a seasonal thing? Please share in the comments – XOXO, Jennifer