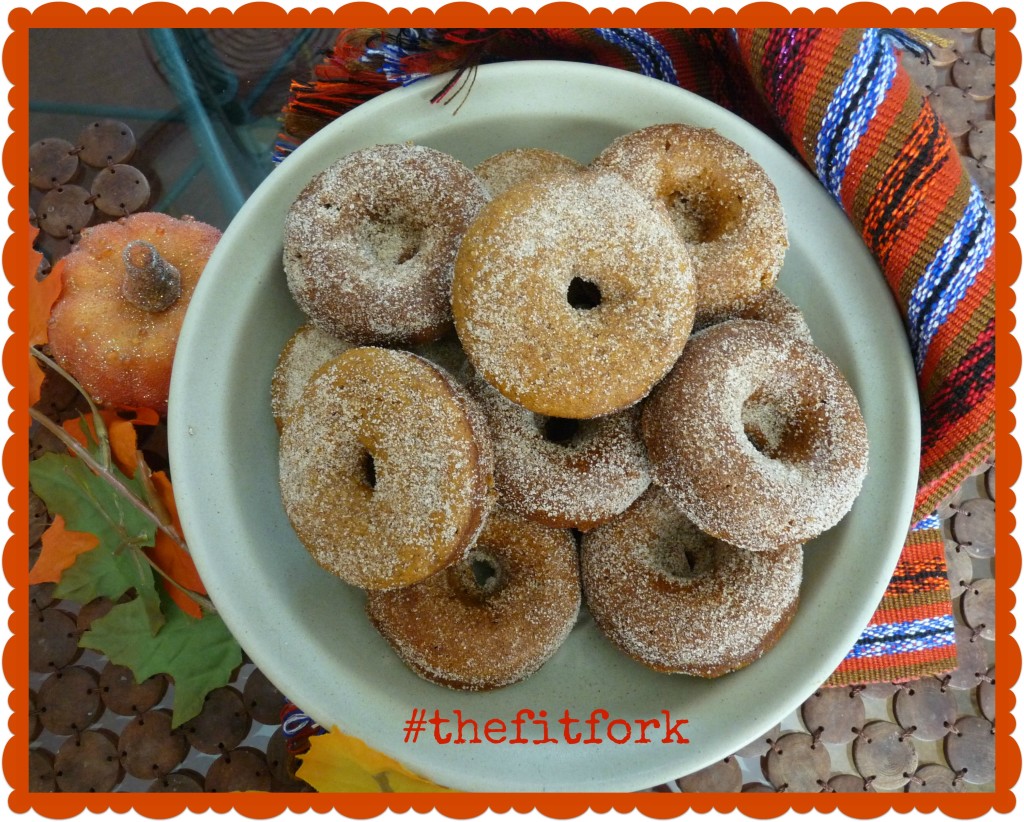 Another protein donut recipe just in time for Thanksgiving morning! Oven-baked, scaled down in size and packed with nutritious, anti-oxidant filled pumpkin puree, there's not much more you could want in a breakfast treat or late-night snack. Oh, except for protein, fabulous PROTEIN! I've snuck in a wallop of whey powder to give these goodies some sticking power. Really, you can use any flavor of protein powder you like from vanilla to cake batter (really!).  This time I used an unflavored brand of whey protein from BiPro so that the natural flavors of the pumpkin spices would shine through. You can make these protein doughnuts ahead and keep in the freezer until you're ready to munch; just defrost and warm slightly in the microwave before dusting with the cinnamon sugar.
Baked Pumpkin Protein Mini Donuts Recipe
1 (15-ounce) can pumpkin puree
1 egg
¾ cup egg whites
½ cup canola oil
1 ½ cup granulated sugar
¾ cup white all-purpose flour
¾ cup whole-wheat flour
¾ cup whey protein powder (unflavored or vanilla)
1 teaspoon salt
2 teaspoon baking soda
1 ½ teaspoon ground cinnamon
½ teaspoon ground nutmeg
½ teaspoon ground ginger
Topping: additional sugar and cinnamon
 Directions:
Preheat oven to 350 F degrees.
In large bowl, use a spatula to mix together pumpkin, eggs, oil, and sugar.
In another bowl, mix together remaining dry ingredients including flours, protein powder, salt, baking soda, cinnamon, nutmeg, and ginger.
Mix combined dry ingredients into pumpkin mixture, and stir, scraping down sides of bowl as needed, until well-mixed.
Line a large 32 or 44 ounce cup with a 1-gallon zip-top bag, folding excess length down over sides of cup. Spoon in batter and secure top; snip a 1/2 inch triangle out of bottom corner to serve as your "pastry bag."
Squeeze batter from bag into mini-donut tin, filling about halfway full.  If you don't have a donut pan, use a muffin tin instead (donuts will like muffins though, obviously).  Give tins a spritz of baking spray in they don't have a non-stick coating.
Bake in 350 F degree oven for approximately 12 – 15 minutes or until turning golden and springy to touch.  Remove from oven and let cool in pan for 2 – 3 minutes.
Flip out of pan and gently toss in zip-top bag or bowl filled with ¾ cup sugar and 1 tablespoon cinnamon.
Makes 36 mini-donuts.
Nutrition Information (per 1 mini doughnut)