I must say, I slayed yesterday's tempo run and I think it was the dragon fruit smoothie I made for my afternoon snack.  Just like the perfect run, where speed comes without too much suffering, can be elusive . . . so is the dragon fruit.  You don't see this beautiful tropical fruit very often, mainstream markets don't usually carry them – so if you ever do see one, snatch it up!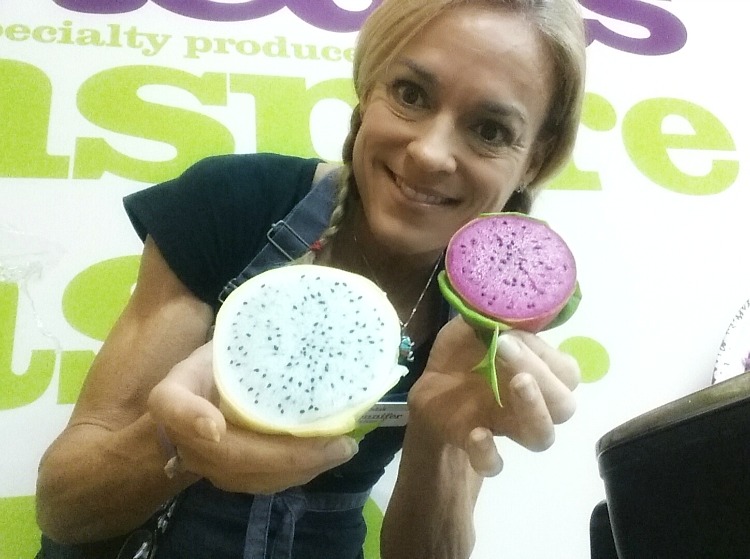 The Dragon Fruit, also known as a Pitaya, Strawberry Pear or Mood Flower, is the unusually striking fruit of a cactus – don't worry, there are no thorns or stickers on it!  There are different varieties – pink or yellow exterior and white or magenta interiors speckled with tiny edible seeds. Despite their showy appearance, the taste is quite mild, similar to a kiwi – I have found the yellow variety to be the sweetest.
Health Benefits of Dragon Fruit: First of all, like most fruits, dragon fruit is hydrating and provides healthy complex carbohydrates to fuel to body and brain. Dragon fruit is also surprisingly high in phytonutrients. Rich with beneficial antioxidants, this pretty (and pretty powerful fruit) a serving contains 10% Daily Value of vitamin C, polyunsaturated (good) fatty acids, a bit of protein, carotene, and several B vitamins that are essential for the optimal metabolism of carbohydrates.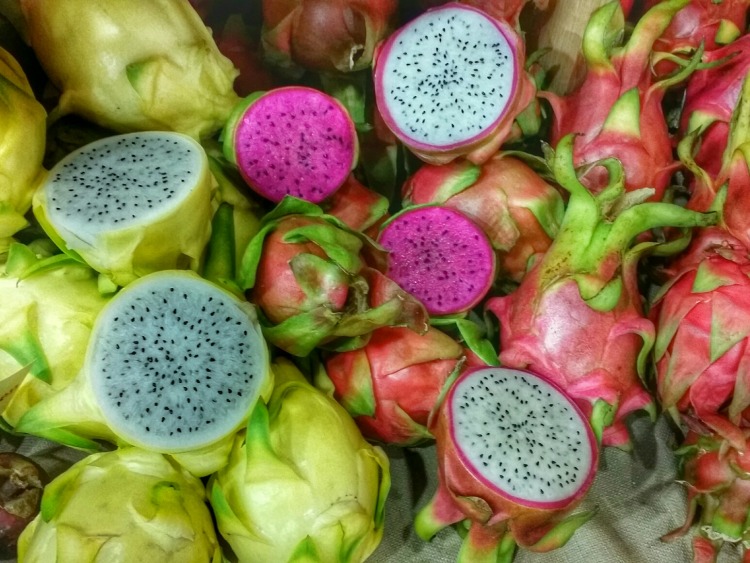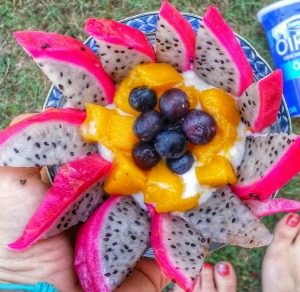 I recently came into a huge windfall of dragon fruit from Frieda's Produce, so I ate all I could simple by slicing open and digging out the flesh with a spoon! I've also sliced the fruit and put on my salads, in my yogurt and used in salsas.  They keep for about a week in the fridge (wrap in plastic wrap to extend the life) and can also be cut up or pureed to freeze. Later this week, before I go into freezer storage mode,  I'll be  making Dragon Fruit Chia Jam. Stay tuned for that!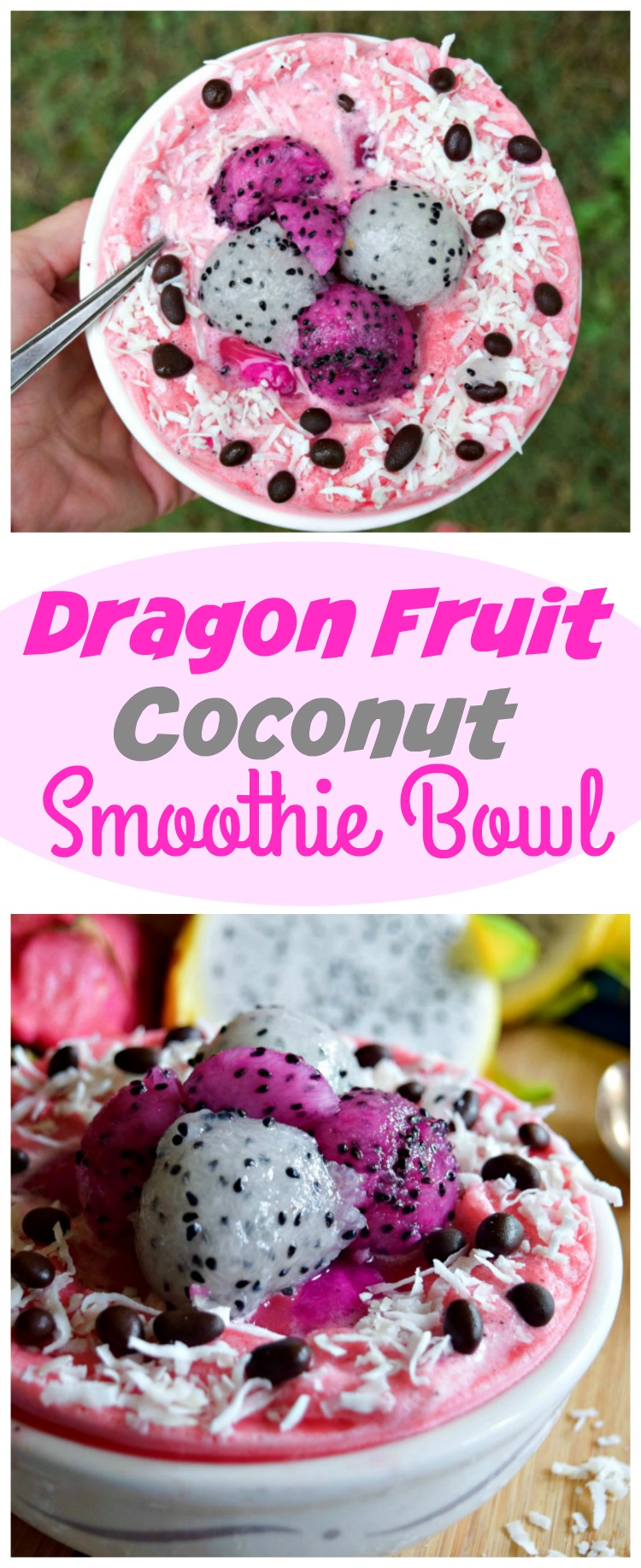 Today, I'm sharing that smoothie I hinted at, the one that made me run fast – haha!  My recipe for a Dragon Fruit Coconut Smoothie Bowl is a nourishing sweet treat that is a quick fix for breakfast, a pre or post workout snack or healthy dessert. It was almost too pretty to eat. Almost.  If you can't find the fruit fresh, I've noticed that many upscale grocery stores sell it in the frozen fruit section.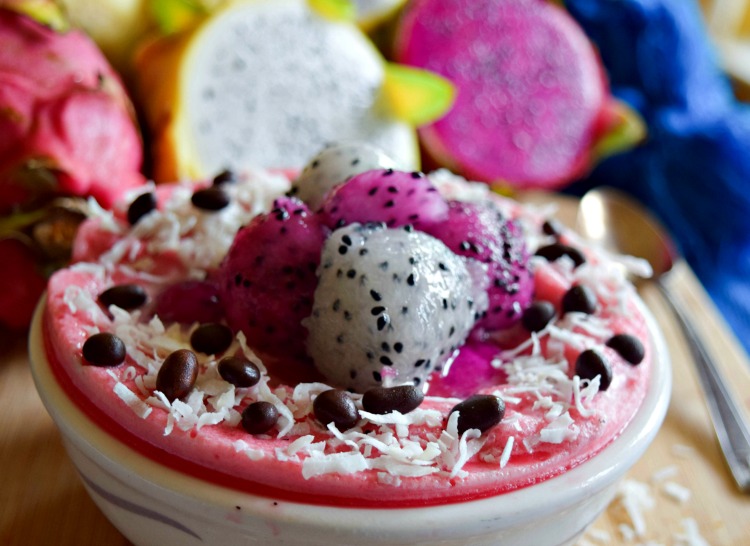 Dragon Fruit Coconut Smoothie Bowl
1 cup dragon fruit flesh (fresh or frozen)
12 ounces almondmilk/coconutmilk (the carton kind from refrigerated section like Blue Diamond)
1 scoop vanilla protien powder (or substitute 1/2 banana)
Ice
2 tablespoons shredded unsweetened coconut
1 tablespoon cacao nibs (I like the ones from NOW Foods)
Additional dragon fruit for garnish
To prepare, add dragon fruit, unsweetened coconut milk, and protein powder to blender. Process until smooth. Pulse in enough ice until desired consistency achieved. Pour into bowl (or tall glass)  and top with shredded coconut, cacao nibs and additional dragon fruit if desired. Serves 1
Have you ever tried a Dragon Fruit? What is your favorite smoothie ingredient? Had a good, end-of-summer run lately? Please share in the comments – XOXO, Jennifer