Are you expecting a herd of carnivores for Christmas and aren't sure where to begin when it comes to making a holiday roast? Don't fret, it's super easy to roast a hunk of meat that will make a jaw-dropping, mouth-watering, plate-licking impression with your guests. I'm sharing tips for beef roasting success and some delicious roast recipes that may make you even more popular than jolly old St. Nick.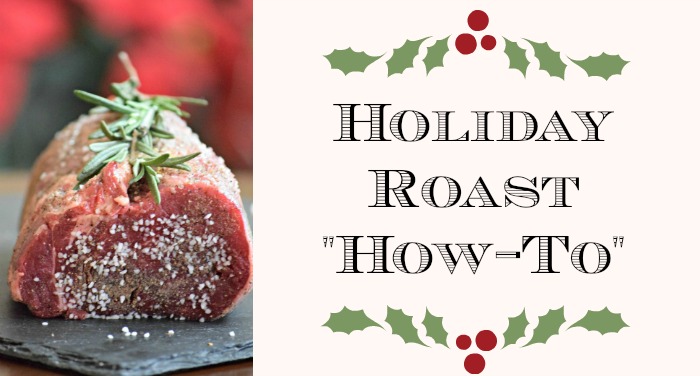 Select the proper cut. Personally, I love a beef tenderloin roast, but other cuts that are easy to roast in the oven include rib eye, tri tip, sirloin and even the economical round roast. Check out the Interactive Butcher Counter  before you head to the market it helps you match the right cut of beef for your recipe and budget.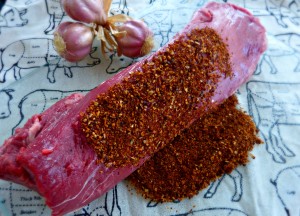 Rub in flavor. Dry rubs are a simple way to elevate the flavor of your roast and – often salt and pepper is all you need! But it can be fun to experiment with different herbs and spices to make a roast suit your personal taste preferences – one of my favorite easy rubs is my Countdown Rub.  There's not much to remember when it comes to applying a rub other than do so liberally on all sides of the meat – this makes a nice crust when it caramelizes that not only adds flavor but locks in juices.
Use the right roasting gear. You'll need a metal pan with an approximate 2 to 3-inch rim, no lid needed as roasting is a dry heat cooking method.  Also, a roasting rack helps to raise the meat above the pan so that the heat can get around to the underneath side. You can make a makeshift rack in a pinch simply by twisting heavy-duty aluminum foil up into a figure-8 shape and placing it under the roast.   A reliable meat thermometer will ensure your roast is cooked to your expectations  – instant-read thermometers are only a couple bucks at the grocery store.
Know when it's done. I like my beef medium rare (which is 145 F degrees), so that means I pull it out of the oven about 10 degrees earlier. Why? Because a roast continues to cook on the counter as it rests! If you like your beef cooked to a lesser or greater degree of doneness, please visit the  Beef Roast Table Times to determine the finish temperature and approximate cook time.
Let your roast rest.  Do NOT cut into a roast or steak immediately after removing from the heat! All the flavorful juices will come flowing out and pool around your roast – what you'll have left is a tough mess of meat. A short rest period (about 10 minutes) allows juices to redistribute around the relaxing muscle fibers and create the tender, succulent bit of meat you were dreaming of. By the time the thermometer has dropped back down to 120 F degrees, your roast should be ready to enjoy.
Now, on to the recipes! Head over to BeefLovingTexans.com to get my recipe for Garlic & Rosemary Rubbed Tenderloin with Roasted Root Vegetables. Soooo good and perfect for a Christmas feast!
While this isn't my own personal creation, I'm also fond of Nut Crusted Sirloin Roast with Radish Fennel Salad.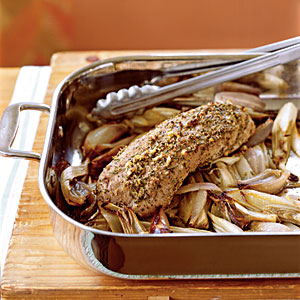 Cooking Light also has a good Roasting 101 that will get you up to speed on this tried-and-true oven cooking technique that yields succulent meats and richly browned vegetables.
What type of main course do you make over the holidays?