This post is sponsored by Blue Diamond Almonds.
Runners and obstacle course athletes need superfoods to perform optimally – you know, to run faster than a speeding bullet and jump tall things in a single bound. Not one single wall or hurdle got in my way the other weekend at Spartan Race (recap to come) and nor could Batman beat me to the finish line of a local 5k, probably because I was fueled up with some really good super food energy for superheroes!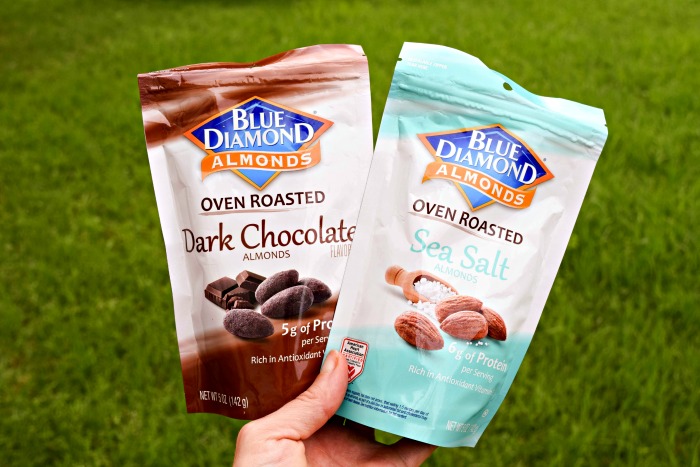 If you're heading out for some weekend warrioring, it's not realistic to stick a bunch of kale and quinoa or even a beef tenderloin (I've tried) into your backpack. But, there are plenty of superfoods that can take the rough and tumble of nearly any outback course – almonds are one! Stick a pouch of almonds in your bag, and you'll have a sustaining snack when you need to fuel up the tank. Personally, I love the Blue Diamond Sea Salt Almonds and Blue Diamond Dark Chocolate Almonds (the latter are dusted in cocoa, not dipped — so no worries of melting).
Almonds are going to pump up your super powers by offering protein and heart-healthy fats. One recent study suggest that almonds might help athletes mobilize more previously reserved carbohydrates rather than breaking down fat as an energy source during intense exercise.  This means you might not "hit the wall" – have you ever seen a superhero hit the wall? I think not. Almonds are also a great source of energy-boosting manganese and copper, minerals which minimize the damage free radicals can do to the mitochondria that power our cells.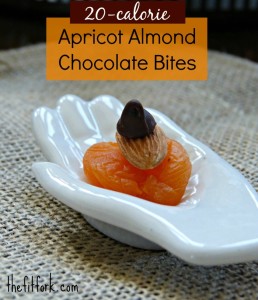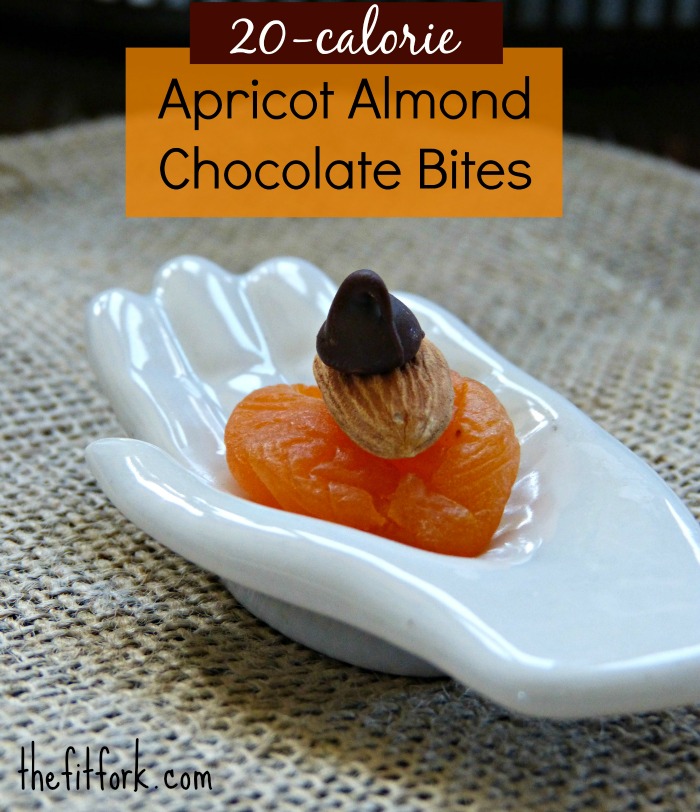 For quick energy, I like to pair almonds with a the concentrated complex carbohydrates that come from dried fruit – again, an easy, mess-free food to pack in your bag for races, hikes and expeditions of epic proportions. Dried apricots are a personal favorite because they are high in iron –an impressive 41% DV for a cup. Anemia, or even a moderate iron deficiency (a surprisingly common problem in athletes), can make a superhero feel tired, hinder athletic performance, work capacity and lessen VO2max.
If you want something a little more "fancy" than almonds and dried fruit, it's not hard at all to make your own energy bars with ingredients like nuts, apricots, feel-good chocolate and dash of salt for extra electrolyte balance. My no-cook recipe for Apricot Chocolate Almond Energy Bars can be whipped up in the food process in less than 10 minutes. Stick them in the freezer for 30 minutes to cut precise bars if you're into perfection – you can also roll them up into balls and carry along for race fuel. And, they taste really, really good!  If you'd like to make these more abundant in protein, like if you think you might me skipping a meal or have intense workout recovery need, just swap out the almond meal (although keep the ground up chocolate ones) and swap measure-for-measure with your favorite brand of protein powder.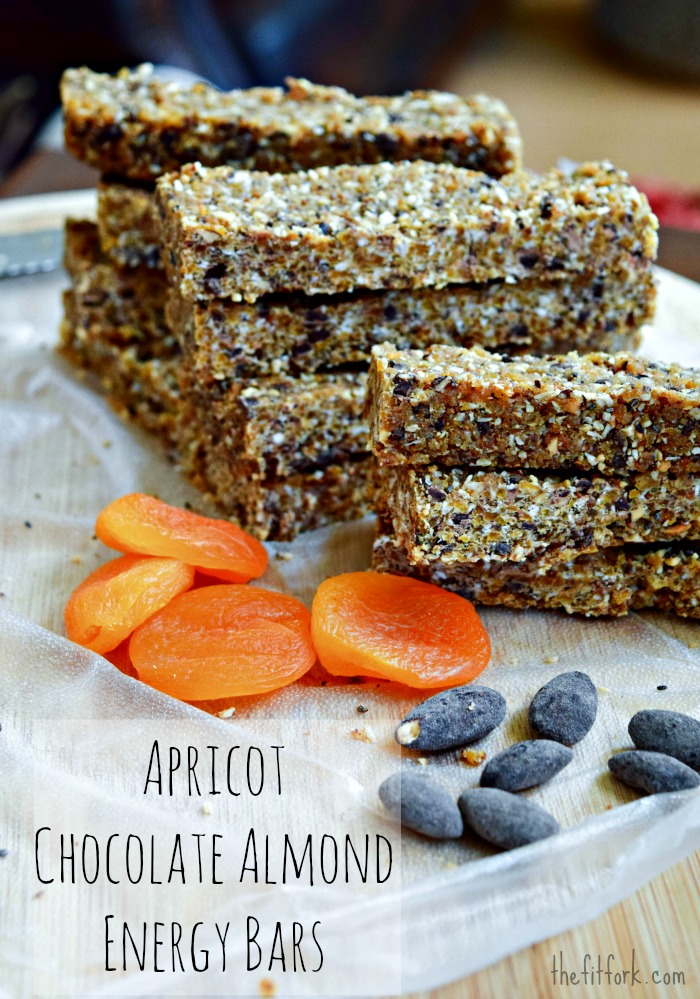 Also, depending on how strict your interpretation of Paleo diet is, these should fit in your diet — definitely Paleo-ish and made with whole foods. Drop the chia seeds and protein powder if these rub you the wrong way.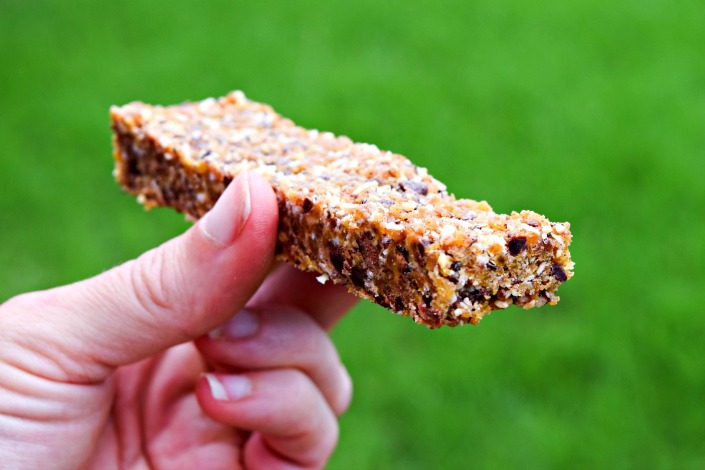 Have you ever tried to make homemade energy bars? What flavor and how did it turn out, please share in the comments!
This no-cook recipe for Apricot Chocolate Almond Energy Bars are great to grab for breakfast, a sensible snack or for pre and post workout fuel.
Servings

Prep Time

12

bars

10

minutes
Servings

Prep Time

12

bars

10

minutes
This no-cook recipe for Apricot Chocolate Almond Energy Bars are great to grab for breakfast, a sensible snack or for pre and post workout fuel.

Servings

Prep Time

12

bars

10

minutes

Servings

Prep Time

12

bars

10

minutes
Line and 8 or 9 inch baking pan with plastic wrap, and set aside.

Pulse Blue Diamond Chocolate Almonds (these are dusted chocolate almonds, not chocolate coated) in food processor until coarsely ground, leave in work bowl.

Add in coconut, apricots, almond meal (or protein powder), palm sugar, chia seeds and sea salt in food processor and process until apricots chopped and well combined with other ingredients.

Drizzle and pulse in coconut oil one tablespoon at a time until mixture begins to stick together when pinched between fingers. The amount of coconut oil you need to use will depend on the size of apricots and whether you used almond meal or protein powder as a binder.

Gently pulse in mini chocolate chips. If using regular sized chocolate chips add them to step 3.

Firmly press the apricot mixture into the baking pan, using the flat surface of a measuring cup or drinking glass to create a flat even layer.

Place pan in the freezer for 30 minutes, then remove and cut into 12 rectangle bars or roll up in balls (size of your choosing). Keep in an airtight container and store for up to one month in the fridge.