When it comes to appetizers, are you looking for a starting player for your football parties and other fall-season entertaining? It's the winning call to move my Light Truffle Mushroom Burger Queso to the top of any line up. This creative hamburger-inspired dip is insanely flavorful, fun to serve, and quite likely to cause a celebration dance in the chip-and-dip zone.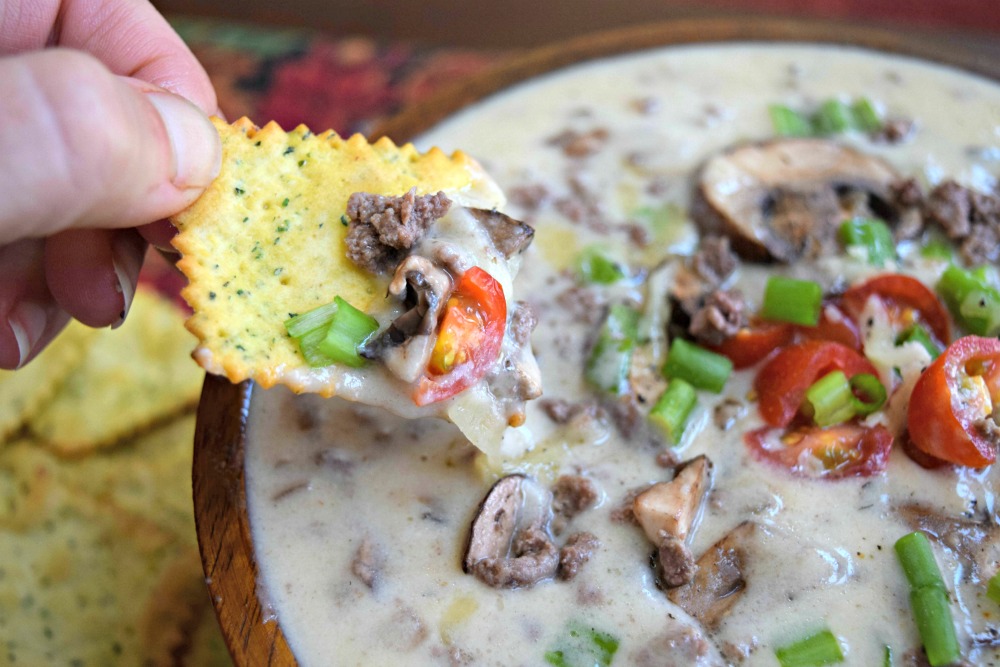 Oh, and did I mention that in the scheme of indulgent, creamy, cheesy dips, this queso is not the diet disaster that you might assume it to be? I've lightened it by using lower-fat milk and cheeses along with lean ground beef! Read on to get all the deets and this winning recipe.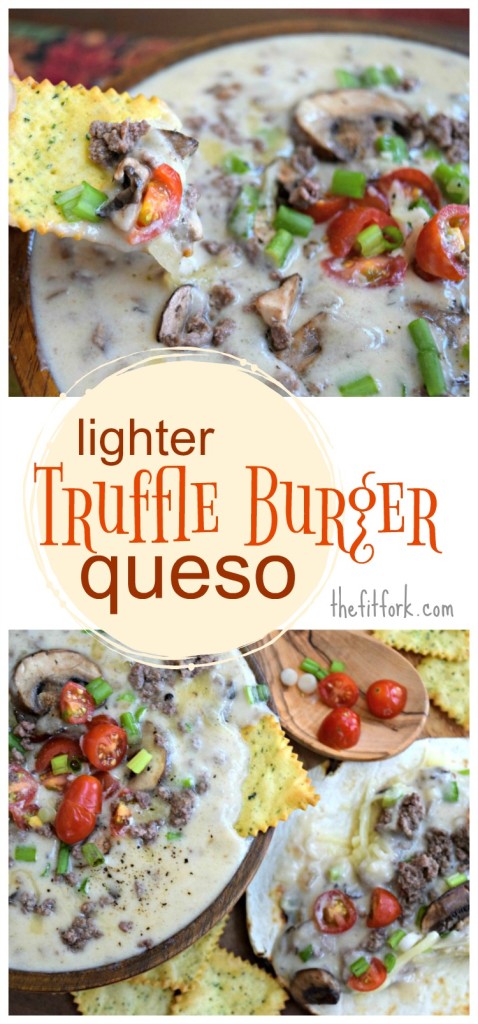 Instead of going the route of mystery "processed cheese product," when making queso dips, I always opt to make my own roux and whisk in milk and a blend of real cheeses. Not that I'm a control freak or anything, but I appreciate that I can make a yummy treat for myself, family and friends that is based on real, whole food rather than laboratory-made, heart-clogging trans fats and a whole bunch of ingredients and preservatives I can't pronounce.
Plus, I can sneak in veggies to boost the nutrition, like onions, tomatoes and vitamin D-rich mushrooms. 
And, by adding lean ground beef I'm upping the protein of this party snack, making it a little more sustaining to tackle that deep, down hunger. Win your busy weeknight dinners with the leftovers – the reheated hamburger queso is AMAZING serving in tortillas or stirred into pasta. Score!
Instead of using a truffle oil, I opt for black truffle salt to add a burst of savory flavor and umami taste the ground beef. In my experience, the oil goes rancid faster than I can use it, but the salt lasts forevaaaahhhhh . . especially since only a tiny amount is needed for big flavor (that also justifies the expense)! I like to sprinkle it on popcorn, scrambled eggs, and potatoes, too!

I originally made Light Truffle Burger Queso for my friends at Beef Loving Texans. Head over and see all their other delicious recipes showing off beef in every flavorful form and fashion!
Also, don't miss my Lower-fat Blue Cheese & Fire-roasted Tomato Queso, it's another cheese dip recipe FTW. 
In skillet, brown ground beef into crumbles, drain and set aside.

Wipe out same skillet, reserving a tiny bit of the burger fat and sauté mushrooms and onions for 3 to 5 minutes or until softened. Stir in Worcestershire sauce and set aside.

In large glass measuring cup, warm milk in microwave for 2 to 3 minutes on medium power (without boiling), stirring occasionally.

At the same time, heat butter in a large, heavy-bottomed saucepan over medium heat until melted. Add flour to melted butter and whisk continuously, cooking until it is bubbling and has turned lightly golden brown, 3 to 4 minutes.

Stream in heated milk, whisking continuously, and continue to cook over medium heat until mixture bubbles and thickens slightly. Add cheeses and whisk well until melted smooth and incorporated. Next mix in mushrooms and onions (including any juices) and cooked ground beef. Season with pepper and truffle salt.

Pour into serving bowl, garnish as desired, and serve with chips, veggies or crusty bread chunks. Also good leftover heated and stirred into pasta or scooped into tortillas.