This post is sponsored by The National Watermelon Board (Watermelon.org), however all comments, opinions, enthusiasm and content is my own.
I can't even count how many watermelons have met their final fate at my house, at least dozens of dozens (meaning hundreds) if not more! Watermelon, after all, is my favorite fruit and I eat it every which way including whacked into a wedge and as a featured ingredient in smoothies and on salads, skewers, sandwiches and such.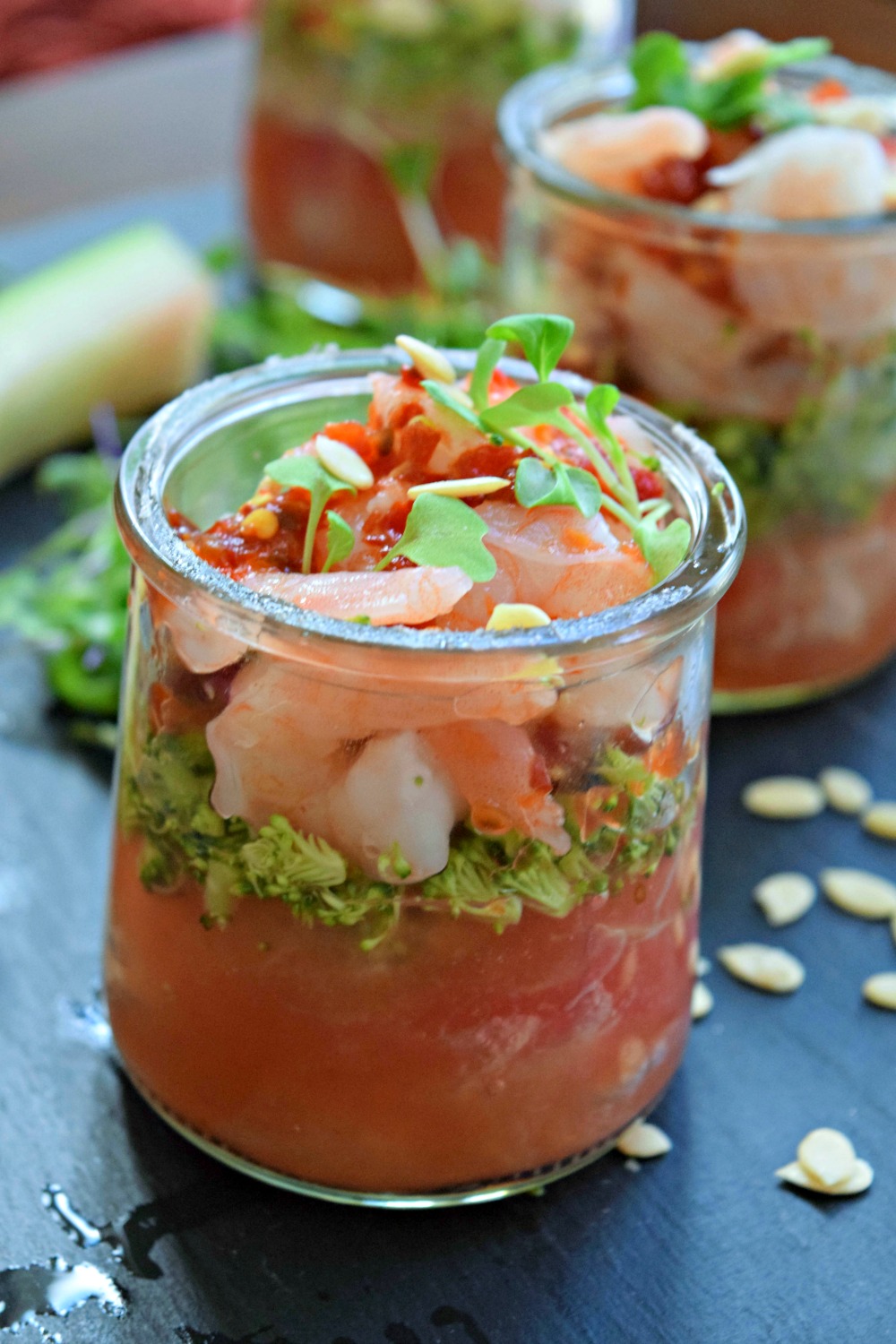 I've used the typically discarded watermelon rind in recipes too – my latest creation is Thai-style Watermelon Rind Shrimp Ceviche!  Check out the recipe and join me to #LeaveNoRindBehind !
First of all, let me assure you that eating the rind of a watermelon is perfectly safe and actually quite smart. Think of it as a really juicy vegetable, remember the watermelon is kin to the cucumber! Popular ways to incorporate watermelon rind into your daily plate include to stir-fry, pickle or stew –bold spices transport the flavor from mild to wild!
People all over the world eat the watermelon rind, I'm not just making this up!  However, as an American with access to all the food I could ever care to shove down my face, I've grown up throwing away the rinds just like most everyone else. But after I started thinking about food waste, it made my stomach turn – in the U.S., by some accounts, we toss up to 40% of our food.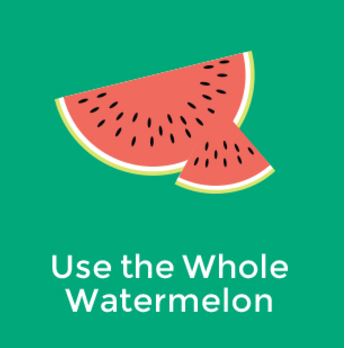 Of course, this includes all parts of the food chain including farms, processing, distribution, and retail, not just what we let carelessly spoil in our fridge or toss because no one wants to eat the leftovers. Lately, I've been much more mindful of my purchasing, meal planning and "attitude" habits so that I can do my little part in reeling this statistic back in. Learning how to use the whole watermelon is one place I've started!
So, back to my recipe for Thai-style Watermelon Rind Shrimp Ceviche. Not only does it use watermelon rind, but also watermelon juice and watermelon seeds – all of this is edible and good for you! Have I mentioned yet that the rind actually contains more of the amino acid citrulline than the pink flesh?! You may remember in past summers touting how drinking watermelon juice before a hard workout helps to reduce an athlete's heart rate and next-day muscle soreness thanks to the L-citrulline.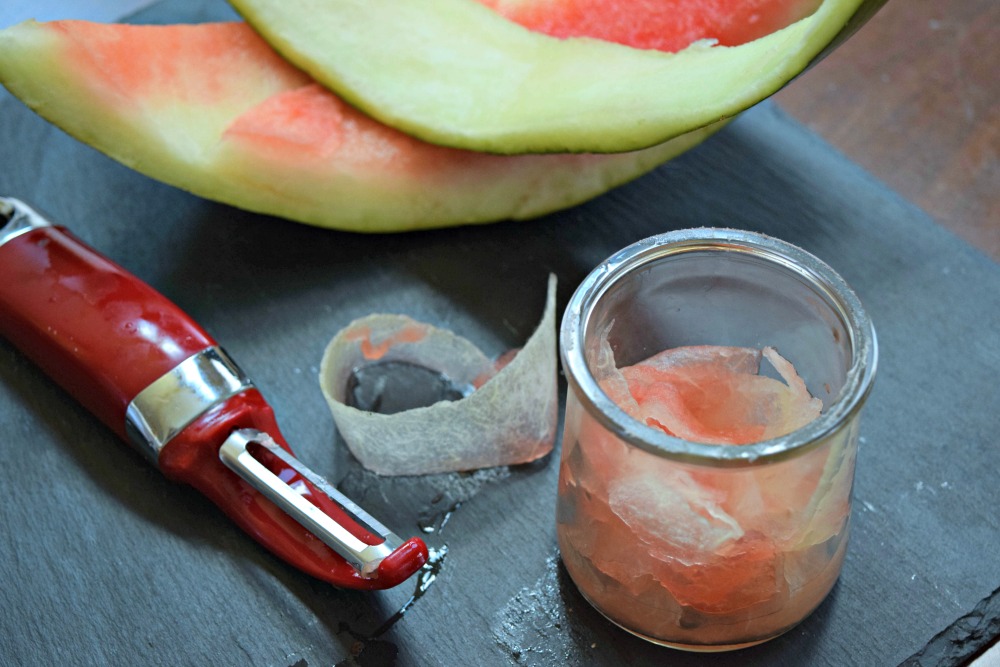 For this ceviche preparation, I've used a potato peeler in a sweeping motion to make long, super-thin slices of the watermelon rind. The result reminds me of those wide rice fun chow noodles at my favorite Asian restaurant! 
The rest of the recipe is even easier! Finely dice up broccoli florets to the texture of coarse green sand, gather up some shrimp, and whisk up a simple sauce of watermelon juice, rice wine vinegar, lime juice and sambal oelek, a garlicky chili paste. BAM, 15 minutes max!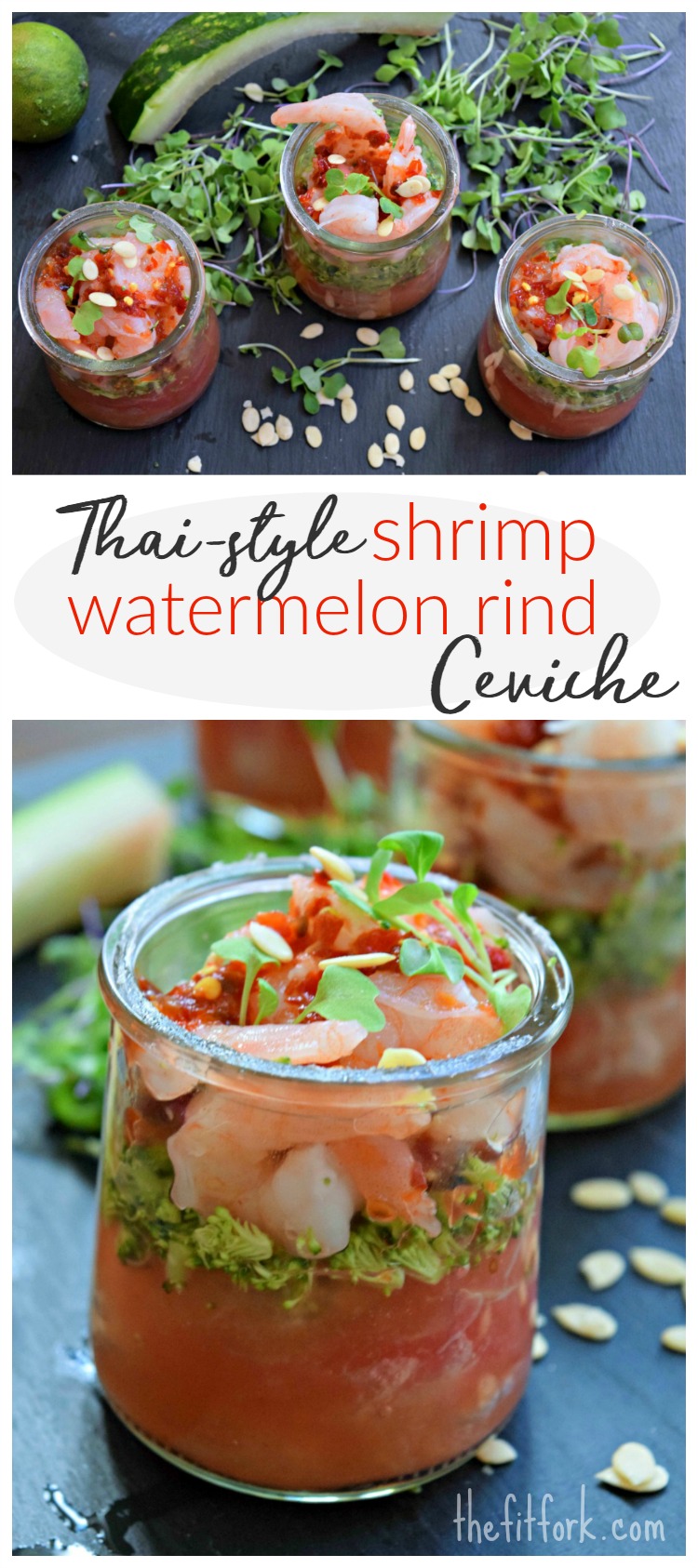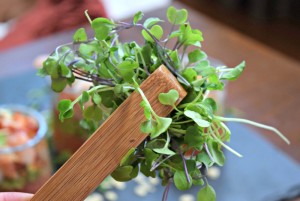 Oh, and I top with adorable little microgreens and sprouted watermelon seeds! Full disclosure, I did not source the watermelon seeds from my actual watermelon. I already had a bag of sprouted watermelon seeds in the freezer that I needed to used up and was also working with a seedless watermelon! However, those with a patient green thumb can sprout their own watermelon seeds. Just grab a handful of black seeds from the watermelon, soak in water overnight, then transfer them to a very damp kitchen towel. Fold the towel over, ensconcing the soaked seeds, and then wait a few days until they have sprouted and are shedding the black outer shell. At this point, you can take the little white inner seed and dry it out in the oven or sun before eating!
I hope you get a chance to try this unique watermelon rind recipe. It's perfect served as an appetizer in little glasses as I've shown or also add to bed of lettuce to make a larger meal. If looking for more recipes that use the whole watermelon, head over to Watermelon.org and check out their amazing collection of recipes.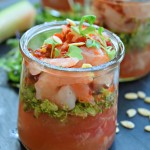 Incorporate the whole melon with this easy, no-cook appetizer recipe for Asian-inspired shrimp ceviche that uses watermelon rind, juice and seeds!
Servings

Prep Time

4

servings

15

minutes
Servings

Prep Time

4

servings

15

minutes
Incorporate the whole melon with this easy, no-cook appetizer recipe for Asian-inspired shrimp ceviche that uses watermelon rind, juice and seeds!

Servings

Prep Time

4

servings

15

minutes

Servings

Prep Time

4

servings

15

minutes
In long sweeping motions, use a potato peeler to make thin strips of watermelon from the white part of rind. It's okay if some of the pink gets in there too.

Place these rind noodles in the bottom of 4 individual bowls or containers.*

Top watermelon rind with finely diced broccoli. Next add equal portions of thawed, pre-cooked frozen shrimp to each container.

In small bowl, stir together watermelon juice, lime juice, vinegar, and chili paste. Pour over tops of shrimp in container.

Top with a sprinkling of sprouted watermelon seeds and microgreen sprigs. Keep chilled until serving time.