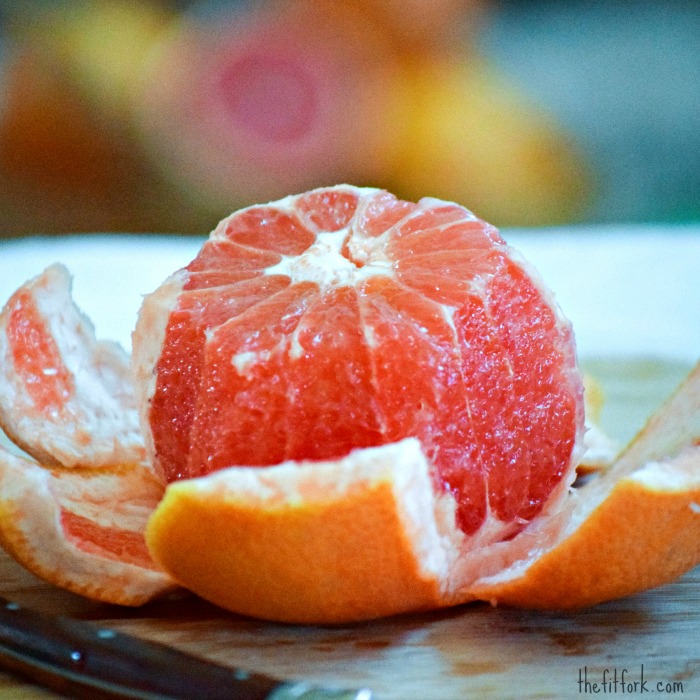 Don't you just love grapefruit?! It's both sweet and tart at the same time which makes my mouth initially confused, but ultimately happy. Plus, grapefruit is super healthy — just one half of a grapefruit provides 64 percent RDA of vitamin C, 28 percent of vitamin A, 5 percent of vitamin B-6, 166 milligrams potassium and 2 grams dietary fiber (all for just 52 calories).

The complex carbs found in grapefruit are your friend, especially if you are looking for some healthy quick energy for your workout. Plus, some studies suggest that consuming ½ grapefruit before meals helps to balance blood sugar levels and encourages the liver to burn, not store, excess fat. And, the antioxidents and flavinoids in grapefruit may help lower cholesterol and reduce in incidence of cardiovascular disease.
So, you can see I have a lot of love for the grapefruit. However, it's not one of the easiest fruits to prep for recipes. The skin is hard to remove, the pith usually doesn't peel off easily and the segment membranes are a little tough to chew. Plus, with all the hard work of removing the flesh, there always seems like a ton of waste. However, if you follow this How to Segment a Grapefruit tutorial, you'll be enjoying juicy whole segments in no time – with less mess and waste!
Check back next week when I share some new recipes I created for the blog at Litehouse Foods – meanwhile, check out past recipes for Broiled Grapefruit with Feta and Zingy Citrus Salad.
Step 1.  Using a sharp knife, cut the top and bottom off grapefruit just enough to expose the pink flesh. This creates a stable object to work with rather than a round sphere that keeps rolling around!
Step 2. Slice off grapefruit peel, cutting downward from top to bottom, following the curve of the fruit. After removing all skin, go back to remove any remains of the white, bitter pith.
Step 3. To start removing the grapefruit segments, cut from the outside to the center just inside the membrane on one side of a section. Leave knife in center of fruit and gently "roll up" to the opposing side of the segment membrane, gently lift and remove. Repeat for remaining sections.
Step 4. One large grapefruit should yield about one cup of segments. Enjoy!
What is your favorite way to eat grapefruit?