Taught a class on economical cuts of beef last night – ground beef immediately comes to mind when the word "budget" is tossed around. However, top sirloin and chuck roast are both versatile cuts that can stretch your family's food allowance and still give you that "mmmmmm" satisfaction that comes along a nice, hearty and yet healthy beef dinner.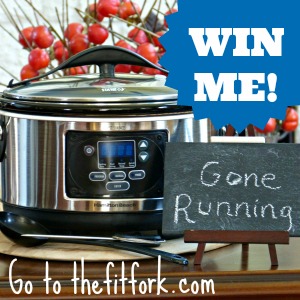 I've been in slow-cooker mode for the past few weeks and want to remind you about my giveaway for a programmable slow cooker from Hamilton Beach – this modern convenience will transform your life. I broke in this bad boy with Honey Balsamic Chicken (with 3 recipes) earlier this week.  Typically when I pull the slow cooker out of the cabinet, I think of time-honored comfort foods like a fork-tender, juicy pot roast.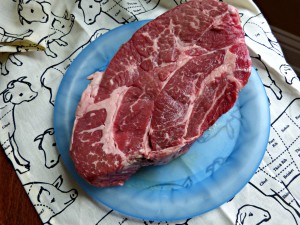 A chuck roast is THE cut of choice when it comes to fall-apart, fork-tender deliciousness.  This budget-friendly hunk of meat may look intimidating, but there is no way you can mess it up with any type of liquid-based, low-and-slow cooking method like braising or the slow cooker. Chuck roast in the slow cooker will rock your world, just add some chopped up veggies, a little broth, the spices you like and then WALK AWAY. IT'S JUST THAT EASY. I now reclaimed the time I need to manage my crazy life and workout routine —  and even indulge in frivolous hobbies  like gardening, reading and catching up with friends.
If you love southwestern foods, you'll be all over this slow cooker recipe for Ancho Mama's Pot Roast.  Ancho is just a dried poblano pepper –  this flavor profile adds a mild heat and smoky flavor to recipes. For convenience, I buy ground ancho chili powder at the market – you can usually find the McCormick brand on the spice aisle.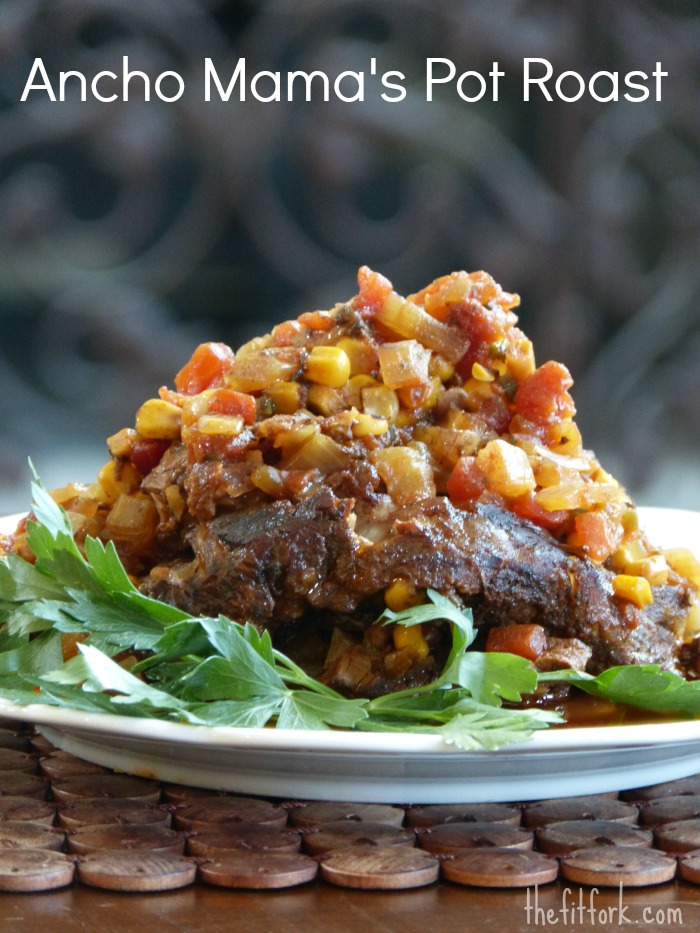 Ancho Mama's Pot Roast Recipe for Slow Cooker (aka Crock Pot)
1 2 ½ to 3 lb boneless beef chuck pot roast
1 medium red onion, chopped
1 cup frozen corn
2 cloves minced garlic
1 tablespoon ancho chili powder
1 teaspoon pepper
½ teaspoon salt
1 16-ounce container salsa (I used fresh salsa from produce dept.)
Trim fat from meat and cut down, if needed, to fit into 4 qt. slow cooker.
Add onion and corn to slow cooker and top with meat.
Sprinkle garlic, chili powder, pepper, and salt over meat. Pour salsa over spices.
Cover and cook on low heat in slow cooker for 8 – 10 hours or on high heat for 4 – 5 hours.
Transfer roast to rimmed baking sheet and shred. Top with strained corn, onion and salsa mixture.
Serves 8
So how can you serve this delicious dinner – well, one night we usually have it over rice and the next night is TACO NIGHT!  You can't beat the leftovers on this recipe for tacos, quesadillas or mixed into a breakfast hash.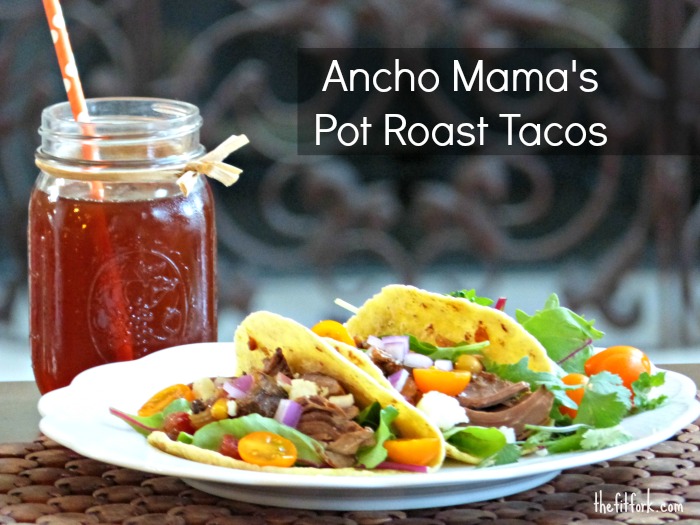 Also, check out these 23 slow cooker meals from Cooking Light — I love this collection of recipes that represent a healthy, balanced eating plan. Easy to make comfort food CAN be good for you!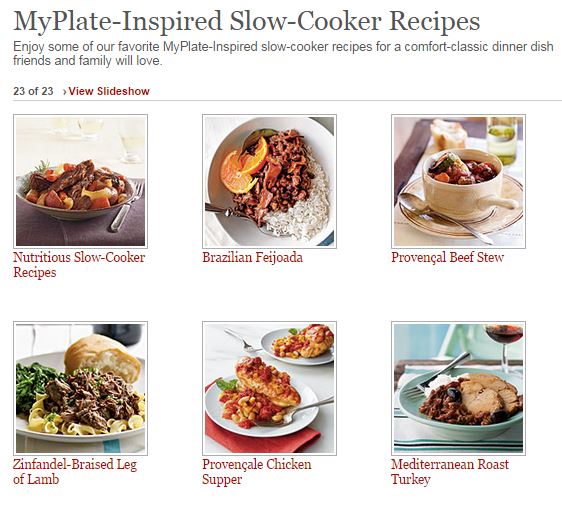 What would you do with the time saved by preparing dinner in a slow cooker? Please share in the comments.