You don't have to be vegetarian to enjoy the wholesome goodness of this Southwestern-Spiced Roasted Veggie Wrap. A spinach tortilla is lightly charred on the grill (or gas burner) and then stuffed with roasted vegetables kicked up with a light dusting of cumin and chipotle chile powder. Perfect for a #MeatlessMonday meal.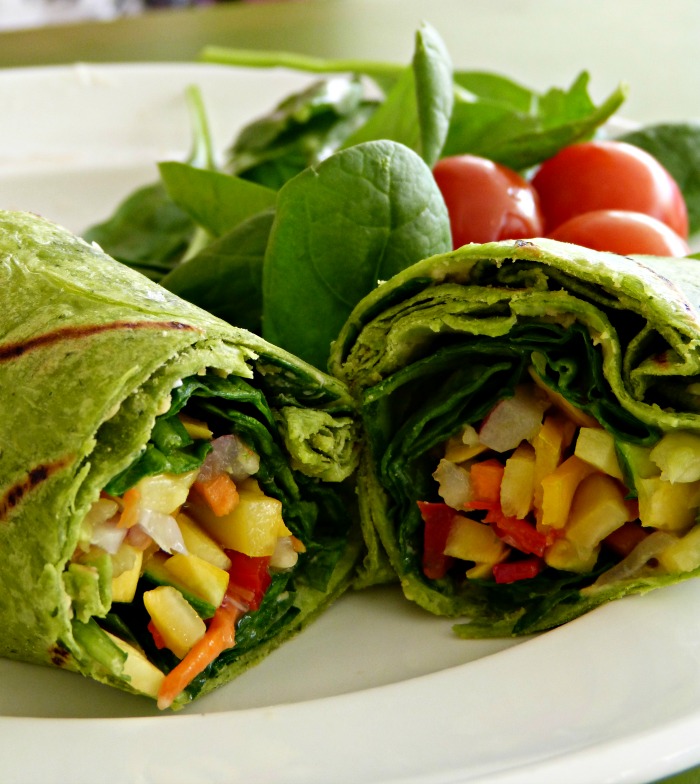 Southwestern-Spiced Roasted Veggie Wrap Recipe
1 medium zucchini, cut into ¼" planks
1 medium summer squash, cut into ¼" planks
1 red bell pepper, quartered
2 carrots, quartered lengthwise
2 tablespoons olive oil
1 teaspoon sea salt
2 teaspoons ancho or chipotle chile powder
1 teaspoon cumin
4 spinach tortillas
1 large avocado
2 teaspoon lime juice
4 spinach tortillas
4 ounces fresh spinach leaves
Preheat grill or broiler. In large bowl, toss together zucchini, squash, red bell pepper and carrots with olive oil, salt, pepper, chile powder and cumin with oil. Place in single layer on large baking sheet. Grill or broil vegetables 4 to 6 minutes per side, turning once.
Remove veggies from oven and let cool for 5 minutes; cut into long julienned strips approximately ¼ inch wide.
In small bowl, mash avocado with lime juice. Spread in even portions across each tortilla, leaving a ½ rim at the border.
Spread out a pile of fresh spinach on top of each tortilla. Arrange remaining filling ingredients in a row along in the center of tortilla.
Roll of tortilla as tightly as possible, cut in half crosswise and secure with toothpicks if needed.
If packing in a lunchbox, switch the avocado and spinach steps so that tortilla doesn't become soggy. Serves 4.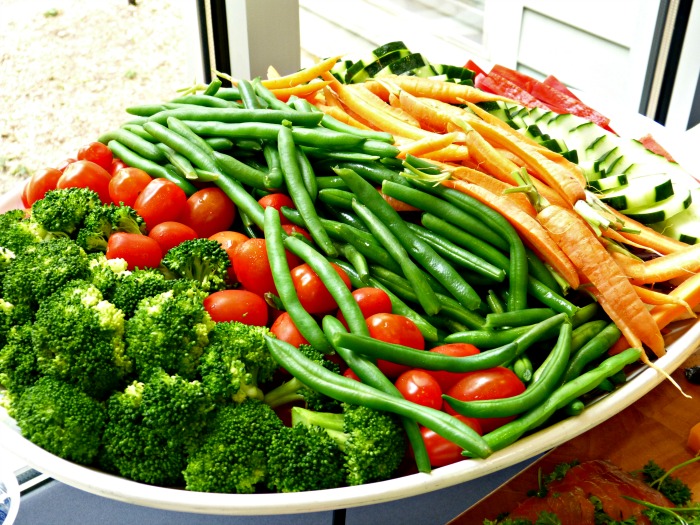 Three servings of veggies are the recommended bare minimum amount for the daily diet of an adult – are you getting enough?  Snacking on vegetables is a great way to help you meet and surpass this good health goal. this Forget about the chips and cookies; it's so much easier to reach for a healthy handful of veggies if you've prepped them and have them waiting in the fridge.  Keep cut up veggies in single-serve zip-top baggies for on-the-go grabbing – I also love to make mini veggie dip cups to serve the kids after school (great for a party too).
Oh, one last thing to mention! In a rare moment of organization, I pulled all my workouts and put them on one page that is easily accessible by the category bar under the header.  The precious minutes you save by not having to hit the search bar can be reallocated to some extra burpees. You can thank me later!