It' National Strawberry Day, why this food holiday is not during peak summer season, I don't know — but who cares! Let's start off the with an easy protein-rich breakfast featuring this beloved and beautiful berry — Strawberry Cacao Nib Protein Oatmeal.
If you're anything like me, waking up before dawn to measure out cups full is this and tablespoons before the cooking even begins is unthinkable. So, in anticipation of my fuzzy headedness and crazy morning schedule, I meal prep dry oatmeal "mix" chock full of wholesome ingredients over the weekend. In the morning I only need to measure out just how much I need, microwave with a bit of water or milk and then get after my daily goals!
Making a big batch of Strawberry Cacao Nib Protein Oatmeal Mix is so easy-peasy. Within 5 minutes max, I've raided the pantry of wholesome ingredients, measured out into a big zip-top back and given the bag a "toss" to mix-up.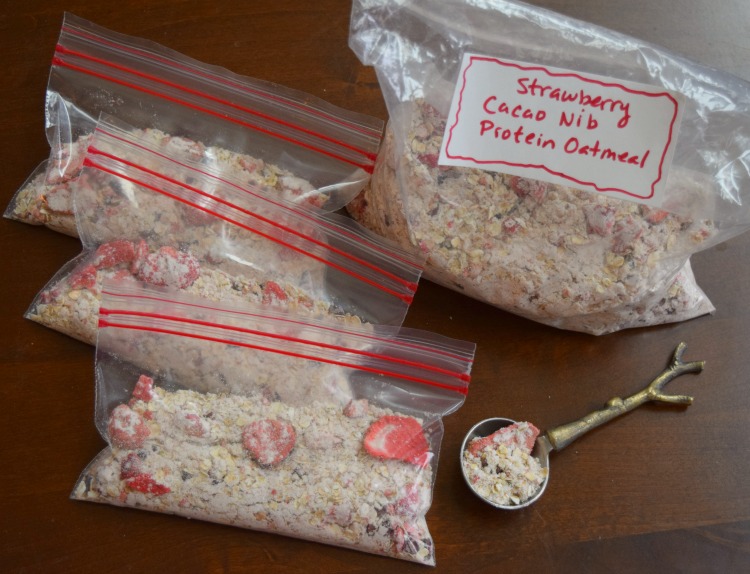 It's then up to you to decide whether or not to re-package into single-sized servings (for those too tired to even use a scoop in the morning).  I will often toss an individual portion in a baggie in my suitcase when traveling and then mix up with boiling hot water from the coffee maker.
It's also beautiful to layer the ingredients in a Mason jar or other glass container to give as a thoughtful gift to the health-conscience folks in your life.
Everything in these DIY Oatmeal Packets / Mix are shelf-stable and should, properly sealed, stay fresh for quite a few months. I'm using instant oats, protein powder, cacao nibs, hemp seeds, a stevia-based sugar substitute and freeze-dried strawberries (not dehydrated). The reason I use freeze-dried fruit over dehydrated fruit is that it doesn't add any moisture to the mix, extending the shelf life.
Strawberry Cacao Nibs Protein Oatmeal Mix Recipe
2 cups instant oatmeal, gluten-free if needed
2/3 cup strawberry (or vanilla) flavored protein powder
1/3 cup stevia-based sweetener (a baking blend w/ cup-to-cup equivalency)
1/4 cup cacao nibs
1/4 cup seeds of choice (pepitas, hemp, flax, a mixture, etc.)
4 oz. freeze-dried strawberries, lightly broken into pieces
Measure all ingredients into large plastic zip-top bag. Gently toss, to mix together. When ready to serve, place 1/2 cup in microwave-safe bowl and cover with about 3/4 cup water; stir. Microwave for 45 seconds, stir, and let sit for another 30 seconds. Mix in milk, cream and additional toppings, if desired. Serves 8.
When serving, feel free to add fresh strawberries or any other toppings you crave!  I also have a similar recipe for Cinnamon Apple Protein Oatmeal, check it out.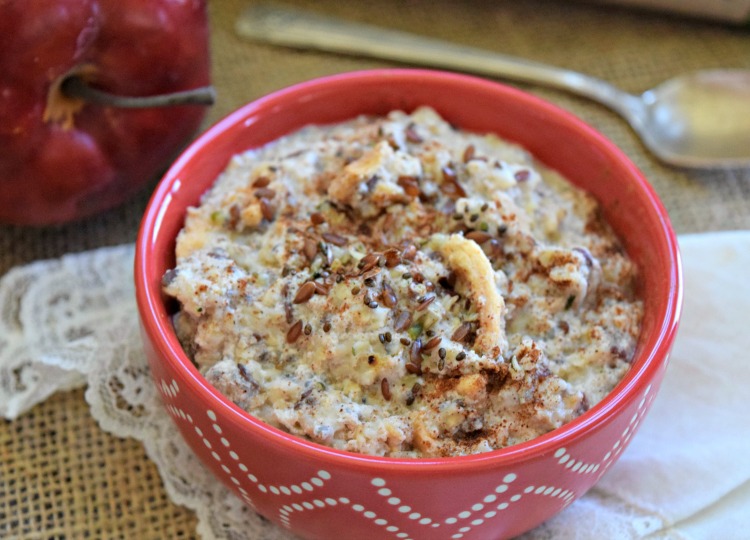 More Strawberry Breakfast Inspiration
Linking up for Meatless Monday with The Fit Foodie Mama and Running On Happy
What are you eating for breakfast lately? Do you get good fresh strawberries year-round where you live? What is your favorite flavor pairing with strawberries? Please share in the comments below – XOXO, Jennifer